Jaguar XJS
Built between: 1975-1996, number sold: 115,413, cool cat rating: 4/5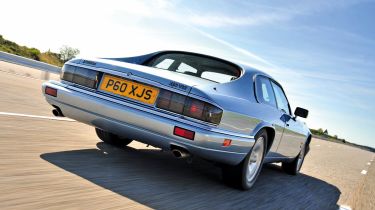 Any car that stays in production for 21 years can't be bad! That's what the XJS did, assuring its place here. Introduced in September 1975, it was equipped with a 5.3-litre V12 engine, and at the time was the most expensive production Jag ever sold.
With oblong headlights and big rubber bumpers at the front, plus flying buttresses and a cut-off tail at the back, the bold styling was a break from tradition. Its considerable size also caused a stir, but the XJS was conceived as a grand tourer rather than a sports car. It impressed with its long- distance refinement and silky performance.
A reputation for poor reliability and fuel consumption slowed sales of early V12 models. From 1983, a new 3.6-litre straight-six broadened its appeal. A cabriolet was introduced in the same year. It used a central bracing hoop, as Jaguar couldn't afford to re-engineer the body to increase rigidity. When a full convertible arrived in 1988, it proved extremely popular. A major restyle in 1991 kept the XJS alive, and it was now fitted with a 6.0-litre V12 and 4.0-litre straight-six units.
Helped by success in Touring Car racing, sporty variants were popular and 115,413 XJS models were sold. The car in our picture was the last off the line in April 1996. Once maligned, this long-serving cruiser has become an appreciated classic. The XJS was a flagship coupé for more than two decades, and is now seen as one of the greatest Jaguars.
Details
WHY: E-Type successor has gradually won fans over.
For an in-depth buyer's guide on the Jaguar XJS from Classic and Performance Car click here...