Skoda Octavia Estate vs VW Golf Estate vs Renault Megane Sport Tourer
Three cars packing style, comfort and the latest tech go head-to-head in this battle of the best practical and spacious estates
In the age of the rugged SUV and trendy crossover, it would be easy to overlook the humble estate. With their emphasis on practicality, these are cars that are bought with the head, not the heart.
However, look past the pedestrian image and you'll discover the latest compact load-luggers have more to offer. Not only are these cars roomier than similarly priced SUVs, hatchback underpinnings mean they're cheaper to run and better to drive.
The latest entrant into the space race is the revised Skoda Octavia Estate. Blending the class-leading carrying capacity and value of its predecessor with refreshed looks, new trim levels and an enhanced infotainment system, it promises to be a formidable contender. Yet the Octavia isn't the only compact wagon to go under the knife, because the Volkswagen Golf Estate has been treated to the same updates as its hatchback brother, with tweaked styling, more kit and upgraded tech.
Setting the standard is our current leading load-lugger, the Mégane Sport Tourer. Handsome, roomy, refined and cheap to run, the talented Renault won't go down without a fight. But which car comes out on top?
Skoda Octavia Estate
| | |
| --- | --- |
| Model: | Skoda Octavia Estate |
| Price: | £21,790 |
| Engine: | 1.6-litre 4cyl turbodiesel, 113bhp |
| 0-60mph: | 10.0 seconds |
| Test economy: | 57.5mpg/12.6mpl |
| CO2: | 106g/km |
| Annual road tax: | £140 |
Spacious, sensible and great value, the Skoda Octavia Estate has always been a rational and reasonable car. However, this facelift aims to inject a bit of showroom shine, with refreshed looks, updated infotainment and revised engines leading the way.
There are numerous trim variations to choose from, but here we sample what's expected to be the most popular combination of SE Technology trim and 1.6-litre TDI, which weighs in at £21,790.
While there have been some changes inside and out, the Octavia feels remarkably similar to its predecessor on the move. That's no bad thing – the Skoda is a capable family car that effortlessly mixes decent performance with strong economy.
The 1.6-litre TDI has been given more power, but it retains the same 250Nm torque output and the familiar clatter at idle. Try to accelerate in a high gear from low revs and it gets uncomfortably boomy, but beyond 1,800rpm it smooths out and is no more intrusive than it is in the Golf.
Thanks to its relatively low kerbweight, the Skoda set the pace during our 0-60mph sprint, needing a respectable 10.0 seconds, which was nine-tenths up on the Renault. And while it couldn't match the six-speed Renault during our in-gear tests, it had the measure of the Golf in third, fourth and fifth gears.
In the real world, the Skoda feels brisk enough, and has no problem keeping up with faster-moving traffic. Peak torque is delivered at just 1,500rpm, and combines with the well-chosen gear ratios and snappy shift action to make it easy to keep the engine on the boil.
As with other cars in the MQB family, the Octavia benefits from crisp and composed handling. The steering is naturally weighted, there's bags of grip, and body control is excellent – meaning you can carry speed through corners with confidence.
Testers' notes:"Skoda has a number of its Simply Clever options for the Octavia. There's a £55 load bay net for holding loose items, and a neat £85 double-sided, wipe clean boot floor."
Volkswagen Golf Estate
| | |
| --- | --- |
| Model: | Volkswagen Golf Estate |
| Price: | £22,975 |
| Engine: | 1.6-litre 4cyl turbodiesel, 113bhp |
| 0-60mph: | 10.4 seconds |
| Test economy: | 51.4mpg/11.3mpl |
| CO2: | 106g/km |
| Annual road tax: | £140 |
As with the Octavia, the Golf has been treated to a recent mid-life refresh. We've already been impressed by the hatchback, which took a narrow victory on its road test debut (Issue 1,466), but now it's the turn of the practical estate.
Featuring the same trim, engine and infotainment updates of the five-door, it promises to be a formidable opponent. Here we sample the frugal 1.6-litre TDI model in well equipped £22,975 SE Navigation guise.
From behind the wheel, the new Golf feels very similar to its predecessor. Again, this is no bad thing, because you get to revel in a driving experience that perfectly blends refinement and composure.
That's not to say there haven't been any changes. The familiar 1.6-litre diesel is shared with the Skoda and like that car it has been given a 5bhp boost, to 113bhp; torque remains unchanged at a decent 250Nm. Yet at the track, the Golf had to give best to the slightly lighter Octavia, trailing it by four-tenths from 0-60mph with a time of 10.4 seconds.
On the road, the Golf feels livelier than our performance figures suggest. Peak torque arrives at just 1,500rpm, meaning the engine copes well with the more widely spaced ratios of its five-speed gearbox. The transmission benefits from a delightfully slick and precise shift action, but the TDI unit isn't the most refined, emitting a noticeable clatter at idle. Fortunately, matters improve once under way, with the engine only becoming gruff and intrusive when extended.
Enter a series of corners and you'll find the Golf responds swiftly to the direct and well weighted steering. The price you pay for the Golf's agility is a firm ride, which was exaggerated by the optional £615 17-inch alloys wheels, and these upgraded rims also add a touch more road noise.
Testers' notes:"If you want some off-road attitude, Alltrack adds four-wheel drive and hill descent control. The 2.0-litre TDI is the only engine option and prices start at £28,575."
Renault Megane Sport Tourer
| | |
| --- | --- |
| Model: | Renault Mégane Estate |
| Price: | £22,640 |
| Engine: | 1.5-litre 4cyl turbodiesel, 108bhp |
| 0-60mph: | 10.9 seconds |
| Test economy: | 49.6mpg/10.9mpl |
| CO2: | 96g/km |
| Annual road tax: | £140 |
As with the hatch variant, the Sport Tourer's driving dynamics are geared towards comfort and refinement rather than driving thrills. This approach is underlined by the 1.5-litre dCi diesel engine, which packs the lightest punch here with 108bhp. It's smooth and unobtrusive, but at the track it completed the 0-60mph sprint in 10.9 seconds, which was nearly a full second slower than the Skoda.
However, thanks to the Renault's closely stacked ratios and decent 250Nm torque output, it put on a stronger display during our in-gear tests, where it had the edge over both its five-speed rivals. As a result, it doesn't trail its rivals on the road. Here the Mégane responds eagerly enough, and rarely feels as underpowered as its on-paper figures suggest.
The focus on comfort is highlighted by the car's soft and supple suspension. Large potholes can send a shudder through the cabin, but for most of the time the Renault effortlessly soaks up bumps. It's quiet, too, transmitting less wind and road noise into the cabin than the more stiffly suspended VW.
The price you pay for this comfort is less assured handling. The Renault's steering is quick and light with strong grip, but the car rolls more through bends and the suspension struggles to contain bigger body movements as effectively as its rivals.
Testers' notes:"Renault has a number of accessories to make the Sport Tourer even more practical. There's a £125 boot liner and 500-litre roof box for adding extra capacity."
Verdict
First place: Skoda Octavia Estate
The Octavia always made most sense as a spacious estate, and this revised model is no exception. Practical, versatile, well equipped and good to drive, it covers all the family-car bases. SE Tech trim has plenty of kit, while the 1.6-litre
TDI delivers a reasonable blend of performance and economy. It's not all that glamorous, but in this sector, substance counts for more than style.
Second place: Renault Megane Sport Tourer
It was close, but the Renault just pips the Golf to second place. The Mégane isn't the biggest car here, but it's neatly packaged and full of thoughtful touches. It also matches the Golf
for refinement, and has it narrowly beaten on comfort and low running costs. This combination of Dynamique S trim and 1.5-litre dCi engine also shows the Mégane in its best light.
Third place: Volkswagen Golf Estate
Make no mistake; the revised Golf is one of the most accomplished performers there is. However, in estate guise it just misses out against a pair of talented rivals. It's neither as roomy nor as good value, plus it trails fractionally on comfort and pace. Still, it has excellent infotainment and poised driving dynamics, while solid residuals are an added bonus.
Other options for similar money:
Vauxhall Astra ST 1.6 CDTi 110 SRi Nav (New)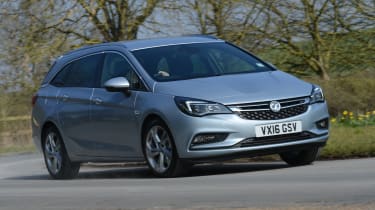 Price: £22,785Engine: 1.6-litre 4cyl, 108bhp
The Astra Sport Tourer is great to drive, reasonably efficient and packed with safety kit, such as the brand's OnStar concierge service. Sleek lines give it plenty of kerb appeal, but the trade off is a cramped 540-litre load bay.
BMW 320d Touring Luxury (Used)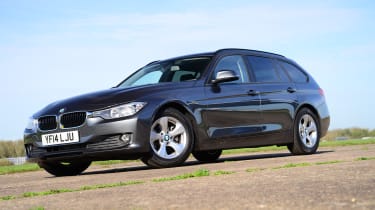 Price: £22,700Engine: 2.0-litre 4cyl, 187bhp
Sharp handling, strong performance and a cabin that oozes appeal make the Touring a desirable family holdall. Its 495-litre boot trails rivals', but opening rear window boosts versatility. We found a 2015 Luxury with 10,000 miles and £7,500 of extras.
Figures
| | | | |
| --- | --- | --- | --- |
| | Skoda Octavia Estate 1.6 TDI SE Technology | Renault Mégane Sport Tourer 1.5 dCi Dynamique S Nav | Volkswagen Golf Estate 1.6 TDI SE Navigation |
| On the road price/total as tested | £21,790/£23,170 | £22,640/£25,285 | £22,975/£26,785 |
| Residual value (after 3yrs/36,000) | £8,542/39.2% | £8,286/36.6% | £10,775/46.9% |
| Depreciation | £13,248 | £14,354 | £12,200 |
| Annual tax liability std/higher rate | £994/£1,987 | £944/£1,887 | £1,054/£2,109 |
| Annual fuel cost (12k/20k miles) | £1,143/£1,905 | £1,325/£2,209 | £1,279/£2,131 |
| Ins. group/quote/VED cost | 13/£783/£140 | 15/£805/£140 | 13/£583/£140 |
| Cost of 1st/2nd/3rd service | £279 (2yrs) | £459 (3yrs/30k) | £288 (2yrs) |
| | | | |
| Length/wheelbase | 4,667/2,686mm | 4,626/2,712mm | 4,567/2,620mm |
| Height/width | 1,465/1,814mm | 1,457/1,814mm | 1,515/1,799mm |
| Engine | 4cyl in-line/1,598cc | 4cyl in-line/1,461cc | 4cyl in-line/1,598cc |
| Peak power/revs | 113/3,250 bhp/rpm | 108/4,000 bhp/rpm | 113/3,250 bhp/rpm |
| Peak torque/revs | 250/1,500 Nm/rpm | 260/1,750 Nm/rpm | 250/1,500 Nm/rpm |
| Transmission | 5-spd man/fwd | 6spd man/fwd | 5spd man/fwd |
| Fuel tank capacity/spare wheel | 50 litres/foam | 47 litres/foam | 50 litres/foam |
| Boot capacity (seats up/down) | 610/1,740 litres | 580/1,695 litres | 605/1,620 litres |
| Kerbweight/payload/towing weight | 1,327/645/1,500kg | 1,452/700/1,400kg | 1,376/629/1,500kg |
| Turning circle | 10.6 metres | 11.4 metres | 10.9 metres |
| Basic warranty (miles)/recovery | 3yrs (60,000)/3yrs | 4yrs (60k)/4yrs | 3yrs (60k)/1yr |
| Service intervals/UK dealers | Variable/135 | 18,000 miles (1yr)/158 | Variable/223 |
| Driver Power manufacturer/dealer pos. | 3rd/15th | 8th/1st | 24th/28th |
| NCAP: Adult/child/ped./assist/stars | 93/86/66/66/5 (2013) | 88/87/71/71/5 (2015) | 94/89/65/71/5 (2012) |
| | | | |
| 0-60/30-70mph | 10.0/9.6 secs | 10.9/10.7secs | 10.4/9.7secs |
| 30-50mph in 3rd/4th | 4.4/7.3 secs | 4.2/6.4secs | 4.6/7.8secs |
| 50-70mph in 5th/6th/7th | 10.4 secs/N/A | 8.8/11.4secs | 10.4/N/Asecs |
| Top speed/rpm at 70mph | 125mph/2,100rpm | 116mph/2,000rpm | 124mph/2,100rpm |
| Braking 70-0/60-0/30-0mph | 49.1/33.2/11.0m | 52.8/32.7/9.4m | 48.9/33.0/9.2m |
| Noise outside/idle/30/70mph | 67/47/59/66dB | 68/42/62/67dB | 67/50/59/67dB |
| Auto Express econ (mpg/mpl)/range | 57.5/12.6/632 miles | 49.6/10.9/513 miles | 51.4/11.3/565 |
| Govt urban/extra-urban/combined | 61.4/74.3/68.9mpg | 68.9/80.7/76.4mpg | 61.4/74.3/68.9mpg |
| Govt urban/extra-urban/combined | 13.5/16.3/15.2mpl | 15.2/17.8/16.8mpl | 13.5/16.3/15.2mpl |
| Actual/claimed CO2/tax bracket | 132/106g/km/23% | 153/96g/km/21% | 147/106g/km/23% |
| | | | |
| Airbags/Isofix/park sensors/camera | Seven/yes/yes/£375 | Six/yes/yes/yes | Seven/y/y/£265 |
| Auto box/stability/adap. cruise/AEB | £1,350/yes/yes/yes | £1,200 /y/£400^/£400^ | £1,415/yes/yes/yes |
| Climate control/leather/heated seats | Yes/no/£250 | Yes/£1,200/no | £415/£2,115/£400 |
| Metallic paint/LED lights/keyless go | £550/£950*/£400 | £545/£500/yes | £570/£975/£365 |
| Sat-nav/USB/DAB radio/Bluetooth | Yes/yes/yes/yes | Yes/yes/yes/yes | Yes/yes/yes/yes |