Citroen confirms e-CMP electric vehicle will arrive in 2020
New Citroen EV will launch brand offensive to electrify every Citroen on sale by 2025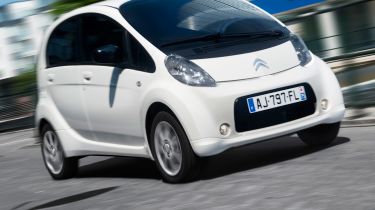 Citroen will release an all-electric vehicle in 2020 intended to play a huge role in the brand's electrification strategy, which will see every Citroen on sale offered with an electrified powertrain by 2025.
It won't be the brand's first EV, though, and instead will build on past efforts including the E-Mehari, C-Zero and electric Berlingo variants. However, it will be released in the same year as Citroen's first plug-in electric hybrid, which will be an all-wheel-drive, 300bhp version of the new C5 Aircross SUV. By 2023 80 per cent of the Citroen range will be electrified, with every one of the brand's new cars from the C5 Aircross onwards arriving with electrified options.
• Best electric cars on sale 2018
Like sister brand DS – which will reveal an all-electric small SUV at the Paris Motor Show, likely called the DS 3 Crossback – the new EV will sit on a pure-electric version of the PSA Group's new CMA platform, which is known as e-CMP.
It's currently unknown just what segment the vehicle will sit in. However, CMP is intended for small to compact cars and able to support city cars, superminis, small saloons and small SUVs.
It won't be a bespoke EV, but a fully electric version of a core model available with conventional powertrains. Speaking with Auto Express at the European reveal of the new C5 Aircross, Citroen CEO Linda Jackson confirmed; "When it comes there will be an electric version, but there will also be an equivalent petrol version and diesel version."
PSA claims that e-CMP platform vehicles will boast all-electric ranges of up to 280 miles on a single charge, and has previously confirmed that four all-electric models using the architecture will be introduced by 2021. It's likely that these four EVs will be split across the group's four brands, with electric versions of the next Peugeot 208 and Vauxhall/Opel Corsa joining the Citroen EV and the DS 3 Crossback EV.
Now read about Citroen's plans to re-enter the D-segment with a new flagship - the next-generation C5