Citroen C4 VTR+ 1.2 e-THP review
Frugal new 1.2 e-THP petrol engine for Citroen C4 VTR+ is pick of the range
The 1.2 e-THP is an impressive engine, and a welcome addition to the Citroen range. However, while the powerplant feels cutting-edge, the Citroen C4 VTR+ doesn't. Compared with the VW Golf, Ford Focus and Peugeot 308, its handling and ride seem a little sloppy. Still, if the C4 is the car you want, then this is definitely the engine to go for.
When Ford introduced the frugal three-cylinder EcoBoost to the Focus, it made the petrol-diesel choice that much harder for buyers. Now, Citroen is hoping to do the same with this new Citroen C4 1.2 e-THP three-cylinder turbo, driven here in VTR+ trim. It not only boasts 130bhp, but also emits a mere 110g/km of CO2.
As things stand, diesel accounts for 80 per cent of C4 sales in the UK, but this could be the engine to change all that. It's got plenty of torque from 1,500rpm, lending a diesel-like acceleration quality. If you thought the 1.6 VTi felt a bit gutless you'll be surprised by the performance the e-THP offers, despite both claiming 10.8 seconds for 0-62mph.
Refinement is marginally improved over that of the older, naturally aspirated four-cylinder, too, and the engine sounds a little less strained. It has a subtle three-cylinder thrum, but can just about match the EcoBoost for quiet, smooth revving. It's a little rougher than the 1.2 TSI in the Volkswagen Golf, yet it's not unrefined.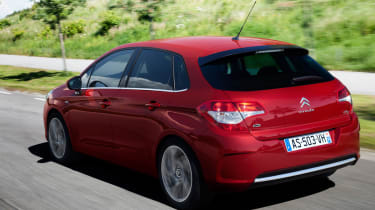 Running costs beat both the Golf 1.2 TSI's and Focus 1.0 EcoBoost's, though. Economy stands at 59.9mpg, beating the VW by 2.3mpg and Ford by 3.4mpg.
However, while the engine shines, the rest of the C4 isn't quite up to scratch. Not only are the looks beginning to date but the chassis is, too, with soft suspension that feels comfortable at first but doesn't deal with poor surfaces as well as you'd expect. There's also too much body roll to ever say the car is fun in corners.
Citroen will sell the 1.6 VTi 120 next to the e-THP 130, with only £640 between them. If you're going to buy a C4, we reckon this is the engine you should go for – it's easily worth the extra cash.