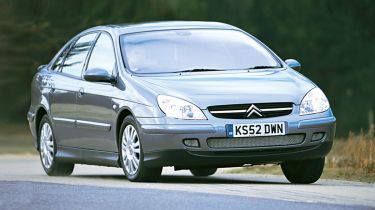 Overall Average Rating - 85.7%Position in the Top 100 cars - 43rd
WINNER OF CATEGORY - Ride quality
Last year's third-placed model has outclassed 2006's winning Rover 75 to take a well deserved win. There's no doubt that, in a straight line, the French car has the remarkable ability to smooth out the roughest surfaces – the air-suspension on flagship models can be adjusted to suit the driver's preference. A new C5, out soon, is set to be a dramatic improvement over the current car, but we hope it won't compromise this version's soothing ride.
Ratings
Position in the Top 100 carsReliability: 87thBuild Quality: 81stRunning Costs: 43rdPerformance: 61stBraking: 31stRide Quality: 1stHandling: 72ndPracticality: 17thComfort: 21stEase of Driving: 63rd
Your Quotes
"A massive workhorse that takes me around the country effortlessly. It carries my family comfortably, along with the two dogs - and there's space to spare."
Mr Geoffrey Shave - London
"Great engine, gearbox - smooth at motorway speeds. Great for towing. Driver's seat uncomfortable after 100 miles. Bits keep falling off. If the build quality and interior comfort was there I'd buy again."
Mr Chris Devismes - Shropshire
"Good practical sized estate. Wiring a little thin compared to others I've had."
Mr Richard Allen - Suffolk
"Against expectations, mainly because of heresay. The C5 has proved to be very reliable, one or two small electrical niggles accepted. It is the 2.2 diesel and is quite economical and has a reasonable turn of speed, considering it's reluctance to rev. All in all a good buy, £3049 off the Internet (2002 with 71000 on the clock)."
Mr Paul Faunt - Lincs,
"A generously equipped, spacious, comfortable, practical, safe family car that's a bit different from all the rest."
Mr Michael Hopwood - Northumberland
"C5 HDi Estate is basically a good car, providing it does not go wrong and you keep it away from Citroen dealers. In my experience every time it's been to the dealer it came back with damage on it and always had to go back (sometimes several times) to be put back to how it was before it went wrong. They seem to tinker with the way the electronics are set up and mess up gearchanges (auto) and fuel consumption - then they go into denial."
Mr John Belsey - Suffolk
"Very comfortable, surprisingly good to drive, very economical, very ugly but hugely practical. Niggling faults."
Mr Nick Lamb - East Sussex
"Niggly faults with aircon, but apart from that very comfortable motor."
Mr Robin Kimberley - Warwickshire
"A huge workhorse that carries me around the country effortlessly and frugally. It carries my family comfortably and two large dogs with space to spare. There has been a niggle that the glass window in the estate's rear hatch does not work any more and to fix it I need to replace the whole rear window at a cost of more than £200). Franchised servicing is expensive."
Mr Geoffrey Shave - Essex
"Ver good, very relaxing to drive."
R.J. Watts - Lincs
"Very underrated by the motoring press consequently unfairly influencing the resale value. I have owned Citroen cars for around 40 years and have always found them to out perform manufactures performance figures and have never had any reliability problems."
Mr George Simpson - North Yorkshire
"Easy to drive, very comfortable, slightly heavy fuel consumption."
Mr Paul Wood - Stockport
"I like my C5. It has done 110,000 and is still going strong> There has been one or two niggles with the electrics but nothing too upsetting. It is great around town and even better on motorways. I think it is a very underrated car."
Mr Graham Rhodes - Lancashshire
"As a load-lugger /tourer- excellent, but for every day short journeys big and cumbersome. Electrics a bit dodgy - rear screen wouldn't open on delivery (found fix on website forum - repaired under warranty). CD/Radio intermittent that is it stops working and then 2? 4? 14? days later will start working! (Dare not take it to dealer as intermittent problem could cost t'earth.) - A bit disappointed with vehicle (have had two Citroens previously and impressed by them)."
Mr Derek Loveridge - Lincolnshire
"Comfortable, spacious, easy to drive but electronics have become too sophisticated"
Mr Keith Slatter - Surrey
"A good, practical, straight forward car for every day use."
Mr Michael Hinchliffe - Kent
"Generally very good but things like wiring rather fragile."
Mr Richard Allen - Suffolk
"I was expecting fewer service intervals as the brochure said 20K miles but the service meter always started at 12500. Also the economy was much worse around town that I was told to expect despite the large engine. Service for Citroen in this country is extortionate and the design of teh engine makes evena simple job very tricky pushing labour costs up and up."
Mr Kevin Giles - Bournemouth
"Very undervalued by the trade and hence the public. Much more comfortable than a BMW or Audi, Terrific economy, excellent caravan tug, good aircon, super ride, quiet and (to me) looks great. Extremely reliable. Only thing lacking is rear wash-wipe (included on later models)."
Mr William (aka Walter) Billing - Cambridgeshire
"After a xantia the C% has been a real pain- The dealer quoted the persistent rattle as a "design feature" It is economical but I just hate the driving experience. It just gets me A to B."
Mr David Hay - N. E. Lincs
"Love the car most of time but fall out with it occasionally with niggling mainly electrical faults."
Mr David Cooper - East Sussex
Manufacturer Verdict (Position - 23rd)
Wow! Citroen''s in seventh heaven. While 23rd overall is hardly cause for celebration, a jump of seven places is a huge step in the right direction for the firm that found itself only seven steps from last place in 2006. Focusing its attention back on to producing design-led models that are genuinely desirable, it looks like things are on the up. However, there''s still a long way to go...