DS to stick with small DS 3 size cars
Other premium brands are shifting to larger vehicles but DS won't be deserting small car customers according to brand director, Beatrice Foucher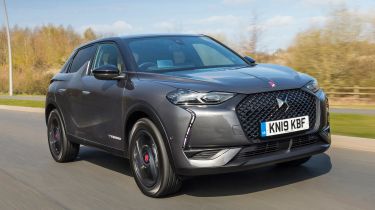 DS plans to keep smaller models in its range, including a successor to the existing DS 3 Crossback, as the French brand eschews a trend among premium manufacturers to switch towards larger vehicles.
With the likes of Mercedes looking beyond its A- and B-Class, and Audi dropping the A1 and unlikely to replace the Q2, the premium market appears to be shifting away from bigger-selling vehicles offering smaller margins. But DS brand director Beatrice Foucher says that she doesn't want to lose customers who have been brought into the fold through the original DS 3 and, latterly, the DS 3 Crossback small SUV.
"When you look at the market and the customer needs, obviously there is still demand for a car which is around 4.3 or 4.4 metres long, with a kind of premium-ness", Foucher said. "I think if you want to go below four metres, there are cars on the market doing the job of premium - Smart, or the Fiat 500. So for me, this is not the territory I will expand into. I will stick more to the 4.4-metre mark. 
"We will keep the customers we have; we had DS 3, some of them moved to the DS 3 Crossback, and now we have good momentum with that car. It had an odd time to create its market but month after month we are still growing with it. I want to keep the customers we have and we will offer something for them later on, in a premium."
Foucher said she thinks premium German brands are "right" to move away from supermini-sized vehicles. "There's a direct link between size and price", she said. "I'm sure there's a turning point around these dimensions. And keep in mind, too, that with electrification, the proportions, with the bonnet and cabin, will be different. We can play with roominess with less overall length."
When asked directly if this could be a suitable project to be based on the forthcoming STLA Small platform, being developed by DS parent group Stellantis, Foucher said it was "an example" of something that could work on the architecture.
DS will launch only pure-electric vehicles from as soon as 2024. The initial wave of models is likely to be larger cars, using the STLA Medium platform - although the pure-electric version of the newly launched DS 4, which uses the same EMP2 underpinnings as the Peugeot 308 and Vauxhall Astra, will be able to be sold well into the second half of the decade. The current CMP-based electric version of the DS 3 Crossback could have a similar long-term plan.