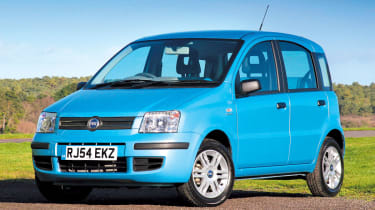 Overall Average Rating - 85.81%Position in the Top 100 cars - 41st
Ratings
Position in the Top 100 carsReliability: 11thBuild Quality: 42ndRunning Costs: 2ndPerformance: 82ndBraking: 55thRide Quality: 69thHandling: 71stPracticality: 39thComfort: 78thEase of Driving: 10th
Your Quotes
"The car has never let me down, but I find that the 1.1-litre engine needs to be worked hard in order to keep up with the traffic."
Lesley Graham - Cambridgeshire
"Wonderful! The top range model Eleganze. 1200 cc, has all the conceivable extras. I have always used V-Power fuel or Tesco's 99 Octane and with Molyslip in the oil, the car flies! Initially I had trouble the the Blue Spot rad/CD as predicted in motoring press on the early models, this was put right very promptly. No trouble since. Considering the 100HP model as we can't get the Panda Monster or the Abarth in right hand drive."
Mr Tony Letts - Dorset
"Cracking little motor, great fun to drive, ideal runabout. Also good for longer trips. No-one makes better small cars than Fiat."
Mr Roger Kennett - Norfolk
"It's a car that always brings a smile to your face when driving. It is easy to park, sips fuel, swallows a week's shopping with ease and and just keeps up with town traffic."
Mrs Margaret Henson - Bucks
"Value for money, good mpg, reliable. I am 6'2" and I don't feel cramped. It has all the extras included in the low base price."
Mr Roger Weigall - Old Stratford
"Can't fault it! Reliable, economical, great build quality and on top of this, it's fun to drive whether on a motorway or just out shopping."
Mr Barry Hayward - Warwickshire
Manufacturer Verdict (Position - 36th)
One step forward and two steps back. While the Panda has made amazing headway in Driver Power 2007 with its excellent reliability rating, the rest of the range is still way below par, causing the firm to drop two places down the chart. Woeful ratings in the majority of your judging categories are difficult to explain. The worst come in the build quality and braking charts, where you voted Fiat into last place.