"Ford is still a big player in the UK"
Editor-in-chief Steve Fowler thinks September's sales figures show just how important the UK is to Ford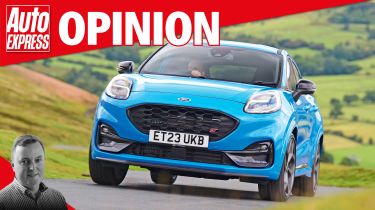 Crisis? What crisis? Much has been written about Ford's changing fortunes. At times it has looked like a retreat towards US home shores, with a shrinking line-up here in the UK; then there's the crucial VW-based Explorer EV SUV arriving much later than originally planned. And in America, damaging strikes are still ongoing at the time of writing.
But look at the latest UK car-registration data and it seems like the normal order of things has been restored. Sure, Nissan's Qashqai topped the chart for September, but for the year so far Ford's Puma has a 5,000-strong lead over the Brit-built SUV.
Meanwhile, in the Fiesta's run-out year the model sits in 10th place, although I suspect it'll drop out of the top 10 by the end of 2023, while the Ford Kuga popped up in fourth place in the September list of best sellers.
Proof that car buyers still love superminis, though, is that the Vauxhall Corsa sits in third place so far this year, with Volkswagen's Polo putting in an appearance in the top 10 for September, too.
Often overlooked is the data for LCVs – Light Commercial Vehicles, or vans to you and me. Here Ford has always dominated, and it continues to blow rivals away, with the Transit Custom and Transit in positions one and two for the year to date (as well as for the month of September). In fact, Ford has sold more than twice the number of Transit Custom vans that its closest rival, the Vauxhall Vivaro, has managed so far in 2023.
Two more Fords feature in the year-so-far top 10: the Ranger pick-up and the smaller Transit Connect. Add the four models together and they sell over 4,000 more than the rest of the LCV top 10 put together.
We might still be scratching our heads at Ford's decision to ditch the Fiesta, but the latest registration data shows just how important the UK still is to the Blue Oval.
Do you agree with Steve? Let us know your thoughts on Ford in the UK in the comments section...