Ford Focus Estate 2014 review
Updates have improved Ford Focus Estate's tech and efficiency, but we're not sure about the boot
Changes to the Focus Estate's design and interior are welcome, and have helped to create a much more appealing car inside and out. The updates to the driving experience are less noticeable, although we never had too many qualms from behind the wheel of the Ford anyway. Unfortunately, its main failing as an estate car has not been addressed – the Focus is just not as practical as it should be.
Ford has radically revamped its Focus hatchback with a host of changes designed to help it battle the excellent new VW Golf. And it's applied the same far-reaching changes to the Estate, which now has to compete against a line-up of fresh rivals that weren't around when it was introduced, such as the latest Golf Estate, the SEAT Leon ST and Peugeot's 308 SW. As a result, the Estate benefits from Ford's new grille design with sleeker headlights and a simpler rear to help create a more premium feel.
Inside, there's a new steering wheel, while all but the entry-level models get an eight-inch touchscreen that's far easier to use than the old layout, which had a confusing array of centre console buttons.
Titanium models like ours also get the latest version of Ford's SYNC system as standard. This allows you to control a wide range of functions using voice commands. The functions include setting the cabin temperature and playing any music track from your phone or USB drive. If you have sat-nav you can also ask the car to tell you where the best restaurants are nearby, or which is the quickest route to a local petrol station.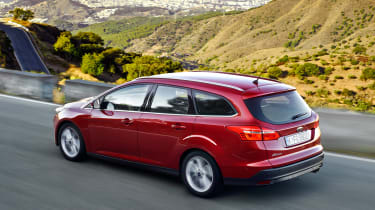 There are plenty more changes under the skin of the Ford Focus Estate, too, but they're a little more difficult to spot. Ford has altered the electric power-steering to make it more responsive when you first turn into a corner, while the suspension has been tweaked to provide a slightly smoother ride.
Admittedly, slow steering and a lack of comfort were never a problem with the Focus Estate in the first place and these improvements will be virtually impossible to discern without a back-to-back test with the old model. They're welcome updates nonetheless, though.
Apparently, the new Focus is less noisy than before, too, thanks to better wheelarch insulation and door seals. In fact, Ford claims to have improved cabin insulation meaning the Focus is now the quietest car in its class.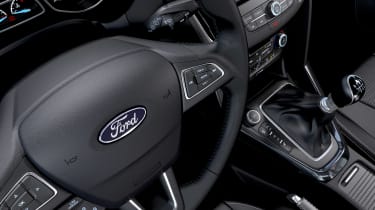 Indeed, the 2.0-litre diesel engine in our test model did seem a little less grumbly than before. It also feels a bit quicker as Ford has increased power and torque by 10bhp and 10Nm respectively. Yet, thanks to revised fuelling and the addition of stop-start, economy is up from 57.7mpg to 70.6mpg, with CO2 cut to 105g/km.
If there's one problem with the Focus Estate, it's that the 476-litre boot trails those of rivals. The Golf Estate has 129 litres more space and the 308 SW offers 134 litres more. As both models have the same kind of premium design, relaxing drive and efficient engines, small details matter – and the boot size could be enough to put customers off the Ford.