Infiniti Q60 vs Lexus RC vs Audi A5
New Infiniti Q60 certainly looks bold, but is it good enough overall to beat the Lexus RC and Audi A5?
Sleek coupes have to do more than simply look good today. They must also deliver comfort, refinement, practicality and a poised drive. Even with all these covered, a contender needs headline-grabbing tech that sets it apart from the crowd. In the case of the new Infiniti Q6O, it's Adaptive Steering, which abandons a physical connection from steering wheel to axle in favour of a hi-tech digital system. Combine this with the Infiniti's head-turning looks, attractive price and generous kit count, and the signs are promising.
The Lexus RC 300h is another stylish car that takes its own engineering path, because its sculpted skin hides petrol/electric underpinnings. Promising a strong blend of pace and efficiency, this beautifully built car should appeal to your heart and head. Finally, the recently revealed A5 is now available with Audi's quattro all-wheel drive. Adding unrivalled all-weather ability to its existing strengths of quality, style, space and refinement makes it a formidable package. So which of our pioneering style icons takes victory?
Infiniti Q60
| | |
| --- | --- |
| Model: | Infiniti Q60 2.0t Premium Tech |
| Price: | £37,690  |
| Engine: | 2.0-litre 4cyl, 209bhp |
| 0-60mph: | 7.1 seconds  |
| Test economy: | 32.8mpg/7.2mpl |
| CO2: | 156g/km  |
| Annual road tax: | £185 |
Infiniti has struggled to make an impact in the UK, but the stylish new Q60 aims to get potential buyers into the brand's small network of dealers. Combining head-turning design, hi-tech underpinnings and decent-value prices, the car has the raw ingredients to succeed. Here we test the entry-level 2.0-litre turbo in £37,690 Premium Tech trim.
On paper, the 209bhp 2.0-litre four-cylinder has the least power of our trio, yet the Q60 had the measure of the Lexus at the track. For instance, the Infiniti accelerated from 0-60mph in a brisk 7.1 seconds, which was 1.2 seconds faster than the RC 300h. And with peak torque of 350Nm being delivered at just 1,250rpm, the Q60 delivers strong real-world pace.
It's aided by the standard seven-speed auto, which is relatively slick and responsive. But there are no wheel-mounted paddles and the transmission can respond tardily to manual shifts using the gearlever.
Point the Infiniti down a twisting back road and it becomes clear the Adaptive Steering is a real Achilles heel. The set-up can adjust the system's reactions, allowing less steering lock when manoeuvring at low speeds, or more to boost stability when travelling faster. Yet there's absolutely no feedback and the weighting feels unnatural. Worse still, if you need to apply corrective lock in extreme situations, the set-up appears to freeze, 'locking' the steering momentarily.
Elsewhere, the Q60's suspension struggles to contain body movement, while the stability control is slow to react in slippery conditions. Factor in the lifeless steering, and the Infiniti quickly saps driver confidence in slippery conditions.
The Q60 is quiet enough when cruising, but the adaptive steering is still unnerving. You can sense the front wheels subtly turning to counter cambers and crosswinds, but there's no feedback through the steering wheel. The Infiniti also suffers from an inconsistent ride that more often than not sends road imperfections shuddering through the structure.
Testers' notes: "If you want your Q60 to go faster, there's the 401bhp 3.0-litre V6 version. Prices start at £42,990 and all versions get four-wheel drive, plus adaptive dampers and steering."
Lexus RC
| | |
| --- | --- |
| Model: | Lexus RC 300h F Sport |
| Price: | £39,495 |
| Engine: | 2.5-litre 4cyl hybrid, 220bhp |
| 0-60mph: | 8.3 seconds |
| Test economy: | 43.3mpg/9.5mpl |
| CO2: | 116g/km |
| Annual road tax: | £30 |
The boldly styled Lexus RC made its debut in 2015, and is in effect a two-door version of the brand's IS compact exec saloon. As with that car, there's no diesel: buyers can choose from a 2.0-litre petrol turbo or a hi-tech hybrid that combines a 2.5 internal-combustion unit with an electric motor for impressively low CO2 emissions. It's the latter we test here, in racy £39,495 F Sport guise.
Ignore this F Sport's racy looks; the RC 300h is a more of a relaxed GT than a razor-sharp sports car. This is largely down to the hybrid set-up, which feels less responsive than its rivals' turbos.
Our performance tests backed this up, highlighting that the Lexus was comfortably the slowest car here from 0-60mph, taking 8.3 seconds. Even mid-range acceleration lagged behind, with its 30-50mph kickdown time proving slower than the Infiniti and Audi's third-gear effort over the same increment.
The CVT is particularly frustrating for keen drivers, as it's too eager to send the revs soaring to an intrusive drone when you press the throttle. There are 'virtual' ratios, but there's often a delay when selecting them via the steering wheel-mounted paddles, plus the transmission still constantly alters the gearing.
Away from the track, it's better to take things easy. Press the throttle gently to make maximum use of the electric motor's torque, and the Lexus gathers speed smoothly. You can select Sport+ mode, which sharpens the throttle and turns the power gauge into a traditional rev counter. Its effects are limited, though, and it's best to leave the car in Normal.
In corners, the RC inspires more confidence than the Infiniti. The direct steering is well weighted, plus there's decent front grip and poise. The F Sport's adaptive dampers deliver tighter control in Sport.
Set the suspension to Comfort and things soften a little. It's still a firm set-up, but it's far more supple and controlled than the crashy Q60's. Better still, the well insulated Lexus is a refined long-distance cruiser.
Testers' notes: "The RC 200t has a 241bhp 2.0-litre turbo and conventional eight-speed auto, but comes only in two trims – F Sport and Premier – and emits 168g/km of CO2. It starts at £38,495."
Audi A5
| | |
| --- | --- |
| Model: | Audi A5 2.0 TFSI Sport quattro |
| Price: | £39,575 |
| Engine: | 2.0-litre 4cyl, 249bhp |
| 0-60mph: | 5.5 seconds |
| Test economy: | 37.1mpg/8.2mpl |
| CO2: | 136g/km |
| Annual road tax: | £130 |
The latest Audi A5 arrived in UK dealers late last year. As with its predecessor, there's a choice of five-door Sportback, Cabriolet and two-door Coupe bodystyles, but it's the latter, tested here, that remains the range backbone. We've already tried it in 2.0-litre TDI form, so now it's the turn of the 2.0 TFSI quattro, which is available only with the brand's S tronic gearbox and costs £39,575 in Sport trim. The car in our pictures is an S line.
You can soon feel the benefits of the low 1,500kg kerbweight and test-leading 249bhp power output. At the track the A5 comfortably set the pace, with its launch control and 4WD traction allowing it to blast from 0-60mph in 5.5 seconds. It continued to dominate its rivals during our in-gear assessments, too.
If anything, the Audi's advantage was even more obvious on the road. The smooth and eager 2.0-litre TFSI delivers all its torque from only 1,600rpm, meaning the A5 pulls with real muscle from very low revs. This performance advantage is enhanced by the seven-speed twin-clutch gearbox that delivers rapid-fire shifts via the steering-wheel paddles.
Cornering composure is impressive. There's little feedback from the quick steering and the handling isn't adjustable, but the grippy A5 goes exactly where you point it. Where its rivals get ragged at the limit, the Audi hunkers down and remains rock steady. The quattro system plays its part in this poised performance, delivering unbreakable traction.
The A5 is as much at home when cruising. It was the quietest car at 70mph, while our stiffer £325 Sport set-up gave a firm but far from uncomfortable ride.
Testers' notes: "Sport and S line trims are offered with quattro 4WD on all engines apart from the base petrol. If you can afford it, the upgrade delivers all-weather traction and more secure handling."
Verdict
First place: Audi A5
In the final reckoning it's a comfortable victory for the Audi. It's not quite as eye-catching as its rivals here, but it's faster, better to drive, more spacious and boasts an interior that oozes premium quality. Quattro all-wheel drive further boosts the car's appeal, while tempting PCP deals make it more affordable than you'd think. Only the lack of standard kit lets it down in this contest.
Second place: Lexus RC
Think of the Lexus as a luxuriously appointed, beautifully built cruiser and it won't disappoint. It's also refined and a great choice for business users looking to cut their bills. However, the characterless hybrid powerplant saps any real driving enjoyment, while the lack of sat-nav is rather stingy at this level. The Lexus's infotainment also lags way behind the best.
Third place: Infiniti Q60
The Infiniti looks good, is loaded with kit and is attractively priced. But that's where the positives end, because in all other respects the Q60 is outclassed. The cramped cabin, confusing infotainment and crashy ride are hard to live with, while the adaptive steering is so deeply flawed that we can only give the car a two-star rating. In this case, beauty really is only skin deep.
Other options for similar money...
New: Mercedes C 300 AMG Line Coupe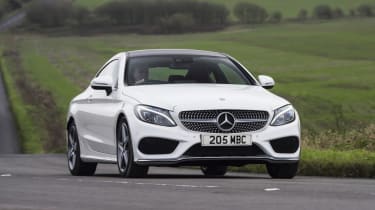 Price: £38,175Engine: 2.0-litre 4cyl, 241bhp
Smart-looking C-Class Coupe easily matches our models here for kerb appeal, while its slickly designed interior delivers a club-class ambience. Rear-wheel-drive handling is composed, plus slightly characterless 2.0-litre engine is punchy.
Used: Bentley Continental GT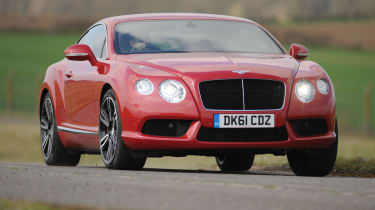 Price: £39,500Engine: 6.0-litre W12, 552bhp
Want a four-seater coupe with presence, crushing performance and a hand-crafted cabin? Look no further than the Continental GT. Our budget buys a 2007 car with only 31k miles. Ensure the service history is up to date – and expect huge fuel bills.
Figures
| | | | |
| --- | --- | --- | --- |
| | Audi A5 2.0 TFSI Sport quattro | Lexus RC 300h F Sport | Infiniti Q60 2.0t Premium Tech |
| On the road price/total as tested | £39,575/£39,575 | £39,495/£40,490 | £37,690/£39,150 |
| Residual value (after 3yrs/36,000) | £16,503/41.7% | £18,681/47.3% | £13,233/35.1% |
| Depreciation | £23,072 | £20,814 | £24,457 |
| Annual tax liability std/higher rate | £1,891/£3,781 | £1,578/£3,155 | £2,097/£4,194 |
| Annual fuel cost (12k/20k miles) | £1,768/£2,946 | £1,515/£2,525 | £2,000/£3,333 |
| Ins. group/quote/road tax band/cost | 38/£684/E/£130 | 35/£812/C/£30 | 31/£687/G/£185 |
| Cost of 1st/2nd/3rd service | TBC | £245/£445/£245 | £925 (3yrs) |
| | | | |
| Length/wheelbase | 4,673/2,764mm | 4,695/2,730mm | 4,690/2,850mm |
| Height/width | 1,371/1,846mm | 1,395/1,840mm | 1,395/1,850mm |
| Engine | 4cyl in-line/1,984cc | 4cyl, elec/2,494cc | 4cyl in-line/1,991cc |
| Peak power/revs | 249/5,000 bhp/rpm | 220/6,000 bhp/rpm* | 209/5,500 bhp/rpm |
| Peak torque/revs | 370/1,600 Nm/rpm | 221/4,200 Nm/rpm | 350/1,250 Nm/rpm |
| Transmission | 7-spd twin-clutch/4WD | CVT/rwd | 7-spd auto/rwd |
| Fuel tank capacity/spare wheel | 58 litres/space saver | 66 litres/foam | 80 litres/foam |
| Boot capacity | 465 litres | 340 litres | 342 litres |
| Kerbweight/payload/towing weight | 1,500/500/1,700kg | 1,775/395kg/N/A | 1,681/459kg/N/A |
| Turning circle/drag coefficient | 11.5 metres/N/A | 10.4 metres/0.28Cd | TBC/0.29Cd |
| Basic warranty (miles)/recovery | 3yrs (60,000)/3yrs | 3yrs (60,000)/3yrs | 3yrs (60,000)/3yrs |
| Service intervals/UK dealers | Variable/118 | 10,000 miles (1yr)/51 | 15,500 miles (1yr)/14 |
| Driver Power manufacturer/dealer pos. | 21st/26th | 2nd/3rd | N/A |
| NCAP: Adult/child/ped./assist/stars | 89/87/75/75/5 (2015) | N/A | N/A |
| | | | |
| 0-60/30-70mph | 5.5/4.8 secs | 8.3/7.4 secs | 7.1/6.6 secs |
| 30-50mph in 3rd/4th | 2.3/3.6 secs | 3.1 secs | 3.0/4.4 secs |
| 50-70mph in 5th/6th/7th | 5.5/7.9 secs/N/A | 4.3 secs | 6.9/8.6/10.1 secs |
| Top speed/rpm at 70mph | 155mph/1,700rpm | 118mph/1,600rpm | 146mph/2,000rpm |
| Braking 70-0/60-0/30-0mph | 43.0/32.3/8.4m | 49.5/36.8/10.7m | 44.0/32.8/8.0m |
| Noise outside/idle/30/70mph | 61/42/59/66dB | 63/45/60/69dB | 66/43/62/70dB |
| Auto Express econ (mpg/mpl)/range | 37.1/8.2/473 miles | 43.3/9.5/629 miles | 32.8/7.2/577 miles |
| Govt urban/extra-urban/combined | 38.2/58.9/47.9mpg | 55.4/56.5/56.5mpg | 30.7/52.3/41.5mpg |
| Govt urban/extra-urban/combined | 8.4/13.0/10.5mpl | 12.2/12.4/12.4mpl | 6.8/11.5/9.1mpl |
| Actual/claimed CO2/tax bracket | 176/136g/km/24% | 151/116g/km/20% | 199/156g/km/28% |
| | | | |
| Airbags/Isofix/park sensors/camera | Six/yes/yes/£450 | Eight/yes/yes/yes | Six/yes/yes/yes |
| Auto box/stability/cruise control/AEB | Yes/yes/yes/yes | Yes/yes/yes/no | Yes/yes/yes/yes |
| Climate control/leather/heated seats | Yes/yes/yes | Yes/yes/yes | Yes/yes/yes |
| Metallic paint/LED lights/keyless go | £645/£1,050/£525 | £625/yes/yes | £660/yes/yes |
| Sat-nav/USB/DAB radio/Bluetooth | Yes/yes/yes/yes | £995/yes/yes/yes | Yes/yes/yes/yes |