Is Jaguar Land Rover really looking to buy a new luxury brand?
Rumours circulating online about JLR in talks to acquire new car brands are wide of the mark but nothing is being ruled out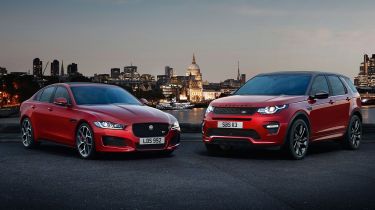 Jaguar Land Rover is looking at the acquisition of a new luxury or technology brand, according to a Bloomberg report posted online. A JLR spokesperson denied the rumours, but didn't rule out opportunities in the future.
The Bloomberg article suggests Jaguar Land Rover is already in talks with several manufacturers. The one parameter is, allegedly, that the chosen brand must fit JLR's current portfolio of luxury vehicles, which alone make up a huge 78 per cent of parent company Tata Motors' revenue.
However, a source close to the brand has quashed the suggestions, hinting that while it will always look at ways of strengthening its position in the market, no such talks were currently taking place.
Bloomberg says JLR wants to bulk up its range of vehicles, as senior officials believe that is the only way to stay competitive alongside luxury giants like Mercedes and BMW. It also says Tata is willing to support bids if necessary, having bought JLR in 2008 for $2.4 billion (£1.8bn). However, with Range Rover already pitching models towards the top of the market (£150,000-plus), space for a super-luxury vehicle above that is compromised.
Earlier this year, Jaguar Land Rover invested a sum of more than £18 million in ride-hailing service Lyft. Online sources claim JLR is working alongside San Francisco-based Lyft to develop autonomous vehicles. The tech could potentially filter down to Jaguar and Land Rover models in the future.
The launch of the I-Pace concept at last year's Los Angeles Motor Show hinted the direction in which JLR wishes to go in, though, with electric cars being at the forefront of its development programme. Production versions of the I-Pace will go on sale in 2018 alongside a new I-Pace eTrophy racing series designed to support and run alongside Formula E.
Do you think Jaguar Land Rover should invest in a new luxury brand? Let us know below...