Jeep Cherokee diesel review
Most UK buyers will choose the Jeep Cherokee diesel, and we've had the chance to test it
When you're bringing a new product in to a market segment as competitive as the mid-size SUV class you need to have something special. The new Jeep Cherokee diesel has its merits, particularly its technology, off-road ability and head-turning design but it's not as special as it has to be to lead this class. But it's a huge leap forwards for Jeep; it's a genuinely competitive car and one that you should certainly consider.
We've had a go in the new Jeep Cherokee before but only in the US and only with a V6 engine that will make up a fraction of UK sales. The majority of buyers will go for the 2.0-litre diesel and now we've had a chance to try it out for the first time.
It comes with either 138bhp or 168bhp, and we're trying the more powerful unit here, which also happens to come as standard with the new nine-speed automatic gearbox.
It's a pretty good combination, with nice, smooth shifts from the auto box. We didn't have any issues with it feeling like it was holding on to gears for too long or shifting through the ratios too quickly – probably due to the fact it has 40 different maps and switches between them depending on your driving style.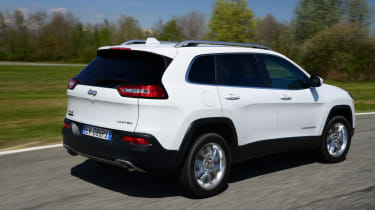 The engine itself provides enough power for a 0-62mph time of 10.3 seconds, which is quick enough to ensure it never feels slow but it never particularly rapid either. Refinement at a cruise is pretty good but if you try and use all of the engine's performance and venture in to the upper reaches of the rev range it does begin to sound a bit coarse. Thankfully it does much of its best work just above 1750rpm so you don't need to rev it too hard to get the most from it.
The nine-speed gearbox does its part to reduce fuel economy, as does the clever four-wheel-drive system, which acts as front-wheel drive for the majority of the time. The official figures are 48.7mpg and 154g/km but a 138bhp version of this engine with a manual gearbox and front-wheel-drive manages 53.2mpg and 139g/km.
As a Jeep, the Cherokee is touted as having best-in-class off-road credentials – especially if you go for the flagship Trailhawk model. It's only available with a V6 petrol engine, so it'll sell in small numbers, but it comes with a raised ride height, a locking rear-diff and unique bumpers for better approach and departure angles. A 35-minute off-road course proved it can tackle all the rough stuff that a Grand Cherokee can take on.
But on-road manners are undoubtedly more important here and Jeep says it's worked hard on improving those, too. Out on the road in a Cherokee Limited we found the suspension was soft enough to keep the ride comfortable but there's a slight disconnect between car and driver in the bends. The body rolls a little too much and the steering feels too numb to give you the kind of involvement you get from a BMW X3, for example.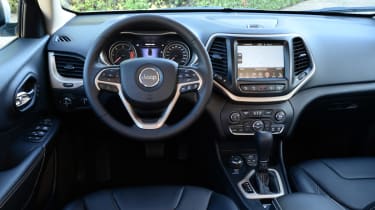 The Limited comes packed with kit: heated and cooled leather seats, an 8.4-inch colour touchscreen in the centre console, a seven-inch TFT screen in the instrument cluster, a reversing camera and a wireless charging pad are all thrown in. But while the hi-tech screens and contrast-stitched dashboard look great, the gearlever surround and some low-down plastics look – and feel – a bit cheap. A shame when we're expecting a price-tag of just over £30,000 for this model.
That's less than models like the Audi Q3 but more than a Nissan Qashqai. Which one you should go for really depends on your needs – the Audi feels more luxurious and the Qashqai feels like a better all-rounder but the Jeep has more rugged appeal and it definitely stands out from the crowd. It's not a go-to choice but it is certainly a worthy alternative to the usual SUV crowd.