New Jeep Grand Cherokee 2014
The facelifted Jeep Grand Cherokee SUV has a comfortable ride, but it's not exciting
Jeep has done a good job of closing the gap between the Jeep Cherokee and the competition, as this new car is comfortable and well equipped 4x4, yet retains its serious off-road ability. It's full of some great hi-tech equipment and luxurious materials. However, it's just not as good to drive as the latest X5 and doesn't even work out that much cheaper, either.
Count the SUVs on any road and you'll probably spot a few BMW X5s and plenty of Audi Q7s, but not many of the Jeep Grand Cherokee. In an effort to put more on the road, Jeep has introduced a new facelifted Cherokee to the UK.
There's only ever been one engine available – a 3.0-litre V6 diesel – and that's the same this time around. It's been updated, though, with power up from 237bhp to 246bhp. That hasn't changed the 0-62mph time, which is still 8.2 seconds, but it has lowered emissions from 218g/km to 198g/km and upped fuel economy to 37.7mpg.
The engine itself is quiet unless you're accelerating hard and it feels quick enough once you get used to the auto gearbox. You floor the throttle and then wait for what seems like a fraction too long for it to kick down, and launch you forwards.
The ride is comfortable – our top-spec Summit model gets air- suspension as standard – but the soft set-up means there's a bit of pitch under braking and plenty of roll in corners. The steering is too vague to let you have fun in bends, as well.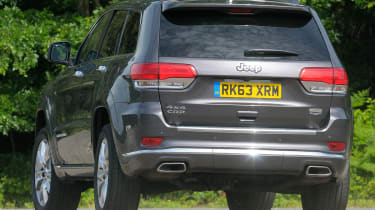 It is a good-looking car, though, inside and out. The facelift adds some narrow new headlights with a stylish LED design. Meanwhile, the cabin gets a huge 8.4-inch touchscreen which can be found in other Fiat Group products like the new Maserati Quattroporte.
You can't argue with the space on offer inside: the back seats are large enough for tall adults and the boot can hold 782 litres – more than double what you get in a Volkswagen Golf.
This Summit model also comes packed with kit like sat-nav, full leather upholstery, a 19-speaker stereo and heated seats all-round. The issue is that an X5 xDrive 25d SE is just as fast, better to drive and costs about the same as the £50,205 Jeep when the extra options are added. It's also 10mpg more frugal and emits less CO2.