Could you live with a Jeep Wrangler?
There's no question that the Jeep Wrangler is an accomplished off-roader, but how does it cope with the rigours of everyday family life? We find out...
Towards the end of last year, I was lucky enough to take a Jeep Wrangler around the Icelandic highlands for a few days. During this time I drove across almost every kind of terrain imaginable, crossing lava fields, navigating blizzard-strewn mountain tops, fording rivers so deep water lapped the car's windscreen, and even driving to the top of a volcano.
During this time the Wrangler didn't miss a beat. It coped with everything I threw at it, the only hiccough being a puncture – and hey, Jeep doesn't make tyres, after all.
As impressive as these feats were, though, this was the Wrangler very much in its element. Few cars, after all, are so capable when the going gets tough. But we're somewhat short of volcanoes and lava fields in the UK, while few who opt for an SUV over a hatchback will venture off-road that often; so how, we wondered, does the Wrangler stack up as a family car? Does its ability to cross frozen rivers come at the expense of being an easy car to navigate the South Circular?
To answer this question, I decided to put the Wrangler to the test with my family, fulfilling duties on supermarket trips, days out at the park and anything else we cared to throw at it. Our Wrangler wouldn't be the super-tough Rubicon version I toured Iceland in; instead, it would be the more civilised Overland – although if we did hear the call of the wild, it would still reach parts of the country other vehicles couldn't.
Not that the inside of the Wrangler feels wild. My Iceland Jeep was a previous-generation JK version, and this is the current JL. And while the exterior looks are evolutionary, the cabin represents a vast improvement over its predecessor's. It's still pleasingly rugged inside, make no mistake, with an upright dashboard and windscreen, chunky grab handles and the odd (deliberately) exposed screwhead adding to an atmosphere of indomitability. But quality is a massive step up over the JK's, while all models now get LED lights, keyless go, an 8.4-inch touchscreen complete with sat-nav, as well as the latest smartphone connectivity, plus a punchy nine-speaker Alpine stereo, complete with subwoofer.
And, as the poshest Wrangler in the range, our Overland also gets 18-inch alloy wheels, heated leather seats, extra safety kit and improved trim on the outside (including a hard cover for the boot-mounted spare wheel). It feels pretty plush, truth be told. Take the steering wheel; this is chunky, yet clad in soft leather, and heated with one of the more powerful elements I've come across. The same goes for the seats; I love a good bum warmer, to the extent I usually set them to max – but the Wrangler's heated seats are so intense I actually turned them down after a few minutes. This is the sort of detail you'd be grateful for during a harsh winter.
Another definite Wrangler plus point is that my kids absolutely love it. Theo, seven, and William, four, are immediately taken with its rugged looks, marvelling at how tall it is, and the fact they have to use the side steps to climb into the cabin. They also like the commanding view out from their seats, while the abundance of interior storage, including a vast centre cubby and the front cupholders with their grippy rubber ridges, mean stowing the kids' water bottles and snack boxes is a breeze.
Partnership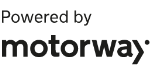 Need to sell your car?
Find your best offer from over 5,000+ dealers. It's that easy.
I'm happy with the height, too, partly because it means strapping the boys in is a doddle (no stooping required), and partly because the vantage point of the driver's seat is virtually unparalleled. The last car I sat in that was this tall was the Mercedes G-Class, and that's around twice the price. Add in the huge windows, all-round parking sensors and a reversing camera, and here is a car that gives you a better view of your surroundings than most.
My family's time with the Wrangler coincided with the half-term school holidays, so a number of trips were planned. First up was a visit to the park, which is too far to walk to, and a pain to get to using public transport. Theo was keen to take his bike and William his scooter; in our family hatchback these requests are sometimes resisted because loading a bike, in particular, requires much contortion of wheels, forks and pedals, and not a little cursing.
But popping Theo's bike in the Wrangler's almost perfectly regular load space is simply a matter of lifting it up and dropping it in. There's still plenty of room for William's scooter, plus the snacks and spare clothes any trip to the park inevitably entails. And, once the boys are done gallivanting around the park, the boot doubles as a convenient place for them to sit while they change out of their wet, muddy gear.
Next day, a trip to Brooklands Museum is keenly requested, and who am I to deny such a demand? All three Griffiths boys are petrolheads, after all. With my geography not much further developed than the boys', making use of Google Maps via the infotainment system's Apple CarPlay function is a useful must.
Something that's more optional is our choice of music for the drive, but the boys are keen on some tunes, so CarPlay is called on again, this time using the Spotify music streaming app. Being able to control the songs and volume with rocker switches hidden on the back of the steering wheel is a neat touch, even if my lads soon regret me introducing them to my vast collection of nineties Europop one-hit wonders.
Driving out through London, the tall-riding Wrangler is great to sit in. It's a properly commanding car and, while we're careful not to feel too cocky, there is a certain satisfaction to be found in sitting higher than almost any other car on the road. Out of town and onto the dual carriageway, it's easy to relax into life behind the wheel of a Wrangler. The 197bhp 2.1-litre diesel engine pulls well, with 0-62mph taking 9.6 seconds. It's refined at a cruise, too.
With the kitchen cupboards looking rather bare, our next trip out is a fairly mundane one. My wife, Rachel, joins us for this expedition to the supermarket (not just to prevent us buying too many cakes), and she is also taken with the impressive view out, as well as the chunkiness of the cabin.
Something we all remark on during the journey is that family conversation seems far easier in the Wrangler than it is in our car, with each of our four voices more easily heard. This might be something to do with the upright seating, or the general acoustics of the cabin, but either way, it's something unexpected that we all appreciate.
We also appreciate the Wrangler's ride. London's streets aren't known for their smoothness, and the Wrangler's high-profile tyres and wide gait mean there's far less negotiating around potholes and speed bumps than we normally face.
A trip to Farthing Downs – a picturesque park on the outskirts of London – follows our supermarket shop, and the Wrangler looks and feels properly in its element here. In fact, I reckon the Jeep's styling is one of its bigger plus points. They say you only look back at cars after you've parked up if you like them, and this is something I found myself doing rather a lot. You only need to glance at some of these shots to see how distinctive, how timeless the Wrangler looks. Is it a car for shy, retiring types? Possibly not. But this is a cool-looking 4x4 with more presence than most.
I do have a couple of regrets from my time with the Wrangler. The first is that it didn't stop raining for the entire time we had the car, so we couldn't take it for a proper drive with the wonderfully named Freedom Panels off. These form the roof above the front seats, and can be easily removed for open-air motoring. But never underestimate the persuasive power of children; on our last day with the car during a break in the weather, I took the panels off so Theo could at least get a taste of what an open Wrangler is like.
Another aspect of the Wrangler that was unexplored is its ability to climb (almost) every mountain and ford every stream; with someone whose mother lives in a flood-prone area of the country, knowing that I have a car that could come to her rescue were her house to flood up to hip height (as has happened previously) is deeply reassuring. The fact it is capable of such a feat, as well as being able to fill in for family duties with comfort and character, speaks of an impressive car, and one we were sorry to say goodbye to.
History of the Wrangler
The story of the Jeep Wrangler is one of the longest and most enduring of any car, ever. We take a look at the key moments.
1941 Willys MB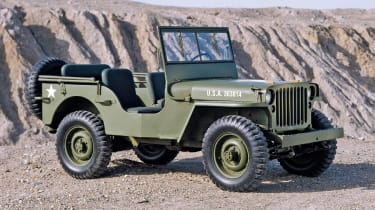 US Army off-road vehicle, and the world's first mass-produced four-wheel-drive car. Described by President Eisenhower as "one of three decisive weapons the US had during World War II".
1944 Willys CJ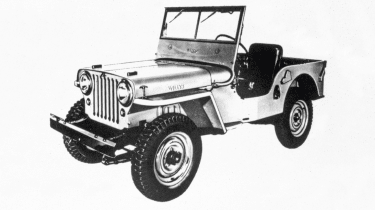 Short for 'Civilian Jeep' and developed from the military 4x4, the CJ model remained in production in numerous guises for more than 40 years, cementing the car's iconic reputation.
1987 Jeep Wrangler YJ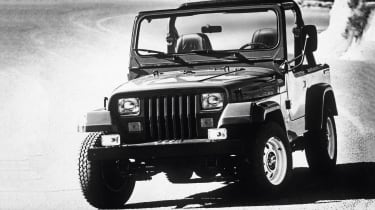 With square headlights, awider track, increased comfort and improved handling, the Jeep Wrangler YJ succeeded the Willys CJ, and was the first car to wear the Wrangler name.
1997 Wrangler TJ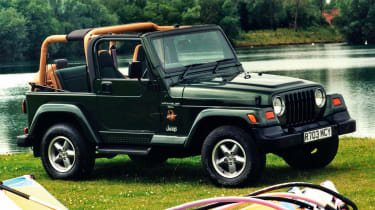 Reintroducing the round headlights that are now intrinsic to the Wrangler, together with coil instead of leaf springs, the TJ offered much improved levels of refinement for Jeep buyers.
2007 Wrangler JK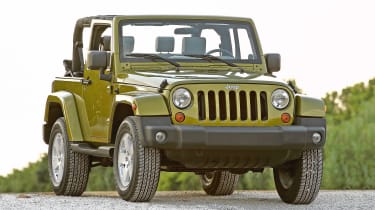 Third-generation Wrangler brought with it luxuries such as electric windows and satellite navigation, together with electronically detachable anti-roll bars for the rough stuff.
2018: Wrangler JL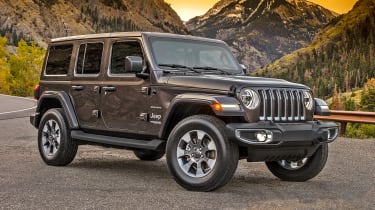 A Wrangler for the modern age. All the off-road ability of earlier models, but with the technological and luxury trappings buyers today demand. The Wrangler JL is unquestionably a Jeep, with looks that hark back to the original 1941 MB.
 Click on the links below for more from our Inside Fiat Chrysler Automobiles special...