Kia Venga to be axed to make way for the Stonic
It's Venga out at Kia as the firm's mini MPV will make way for the new Stonic crossover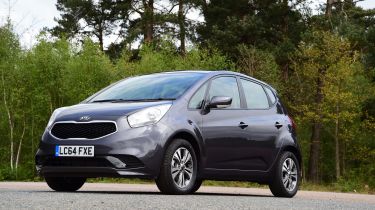 The arrival of the new Kia Stonic crossover will see the Venga mini-MPV axed from Kia's range, as the firm seeks to streamline its line-up and chase sales in the ever-growing European SUV market sector.
Kia's European Chief Operating Officer, Michael Cole told us at the reveal of the new Kia crossover that a new generation of the Venga would be "difficult to justify" with the introduction of the Stonic.
• Best crossovers on sale 2017
The Venga sits in a saturated market that has felt the squeeze of the advance of the crossover, and has been on sale in the UK since 2009 after making its debut at that year's Frankfurt Motor Show.
It's always been a bit-part player in Kia's range, with sales declining across Europe in recent years despite a facelift to keep the mini-MPV modestly fresh in early 2015. Just over 26,000 were sold in Europe last year, accounting for 6 per cent of Kia's total European sales of 430,945.
The B-SUV segment that the new Stonic slots into currently accounts for 1.1 million yearly new car sales in Europe, and according to Kia is forecast to grow to more than two million per year by 2020, overtaking larger C-segment SUVs in the process.
MPVs or crossovers - which do you prefer? Let us know in the comments.