Used Land Rover Defender (Mk1, 1990-2016) review
The Land Rover Defender is bursting with character and brilliant off-road, but its dated design, agricultural on road behavior and high running costs count against it
Verdict
The Land Rover Defender was the perennial workhorse of the British firm's range. While other models have come and gone, the Defender plugged away, fulfilling a need as a commercial vehicle, farm tool and all-round off-road workhorse that was all but unstoppable when the going got tough.
It was old, remaining in production for nearly 70 years, but it remained on Land Rover's order books for good reason: because it was unbelievably capable off-road. No modern car has been capable of emulating its off-road prowess, although if you've driven one, you'll know about the huge sacrifices you have to make if you want to drive a Defender daily. It's massively outclassed by modern SUVs, and all of the 4x4 ability in the world can't mask the fact the Defender is incredibly uncomfortable on tarmac, as well as very noisy.
Which one should I buy?
Best Land Rover Defender for families: 110 XS 2.2 TDCi
Best Land Rover Defender for off-road: 90 300 TDi
Best Land Rover Defender for style: 90 Heritage 2.2 TDCi
In 1983, Land Rover replaced the Series III with the 110, and then the 90 followed in 1984. These two cars were the basis for the Defender that arrived in 1990. This 'new' 4x4 had a 2.5-litre 107bhp 200 TDI five-cylinder diesel and standard power steering.
​​This engine was developed into the cleaner, more refined and smoother 111bhp 300 TDI in 1994 (these cars also got a slicker gearbox). Then, from 1998, the TD5 power plant was fitted. This car also got standard anti-lock brakes.
A 2.4 TDCI Ford engine was used from 2006, along with a six-speed box and revised interior, while 2012 saw a more refined 2.2 TDCI engine fitted. Three run-out models were offered in 2015: the Autobiography (80 made), Heritage (400) and Adventure (600).
Initially, the Defender was available with the famous Rover 3.5-litre V8 petrol, but its heavy thirst for fuel and lack of decisive performance advantage over the turbodiesel versions meant it sold in very small numbers and was discontinued in 1994. A more powerful 3.9-litre with fuel injection unit was also used for the 385 special edition '50' models that marked the model's half century on sale.
Finally, Land Rover built a pair of end-of-the-line Works models that featured a 399bhp supercharged 5.0-litre V8. Available either in luxurious and sporty 90 guise or as a rugged off-road 110 inspired by the famous Camel Trophy contenders of the Eighties, these machines cost nearly £200,000 when new. Essentially handbuilt by Land Rover Classic using older donor cars, they can't really be considered true production variants, but they are huge fun to drive and highly sought after.
The newer the car, the more developed (and usable) it is – and generally the pricier to buy. No Defender is refined or comfortable, but later models got more efficient, muscular engines, with the four-cylinder units being far better than the five-cylinders.
On older Defenders, the key thing is to check the car is structurally sound. Later cars tend to lead easier lives, especially those bought as style statements. Short-wheelbase Defenders have a bouncy ride, but long-wheelbase cars are more comfortable. As well as the three and five-door versions, there were single and double-cab pick-ups, too.
What are the alternatives?
There are other 4x4s available for the same money as the Defender, but few of them have the Landie's off-road ability.
The Suzuki Jimny is even less suited to long-distance drives than the Defender, but these petrol-only three-door 4x4s are incredibly capable in the rough. The Jeep Wrangler is also very adept in tough terrain, but rather compromised on the road. Alternatively, consider a pick-up truck, such as the Mitsubishi L200, Nissan Navara or Toyota Hilux. They're all good for towing and off-roading, plus they're surprisingly refined.
Twisted Land Rover Defender vs Mercedes G-Class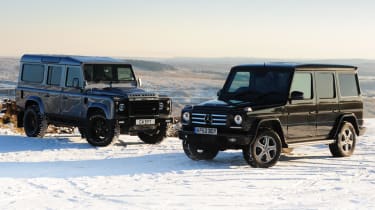 This was a test with a literal twist, as the Defender slugged it out with the equally iconic G-Class in Februar 2013. The Merc was technically far more accomplished, but the power upgrades, chassis tweaks and luxury interior of the Twisted-tuned Land Rover proved too hard to resist. Read the full test here...
Land Rover Defender vs Toyota Land Cruiser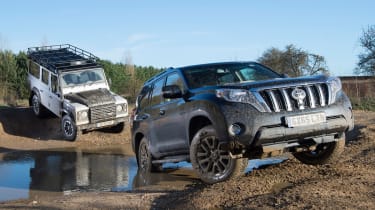 It was a victorious last hurrah for the Defender in this January 2016 encounter, when it tackled the similarly long-serving Land Cruiser. The Landie couldn't match its modern rival for convenience, but incredible charm and off-road ability saw it sneak the win. Read the full test here...