Deal of the Day: £249 a month for an iconic Mazda MX-5 roadster
Our Deal of the Day for 13 November is the Mazda MX-5 offering bundles of fun for under £250 per month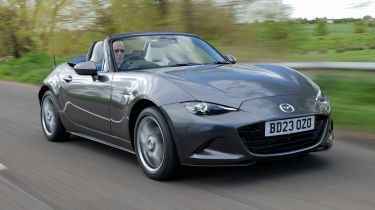 Stylish roadster
Great handling
Relatively cheap to run
Fancy having a brand new MX-5 on your drive for less than £250 a month? Well, you can thanks to Mazda's latest personal contract purchase finance offer. 
The MX-5 is an automotive icon thanks to its straightforward, rear-wheel drive, lightweight formula providing unrivalled driving dynamics for the price. The current model is one of our favourite MX-5s yet and at £249 a month, this finance deal from Mazda is hugely tempting. 
The PCP (Personal Contract Purchase) deal is available on cars ordered until the end of the year so be quick if you want to make the most of this offer. The initial payment of £14,683 is over half of the vehicle's total cost - in this case a £26,635 130bhp Prime-Line version. After this initial outlay, however, there's a zero per cent APR interest agreement in place for the four-year plan. 
Mazda also offers the same car on a three-year plan with the same zero per cent APR for £349 per month, should you wish to own it sooner. If you want more toys on your MX-5 then zero per cent APR is readily available on the Exclusive-Line and even the limited edition Kizuna model. 
As roof-down motoring goes, the MX-5 is a blast whatever trim or engine you have. With the 130bhp 1.5-litre, this little roadster is a joy on country roads. The Prime-Line trim also gets 16-inch alloy wheels, a seven-inch touchscreen with Apple CarPlay and Android Auto and air-conditioning all as standard. 
As always with our Deal of the Day selections, prices and offers are subject to change, while terms and conditions apply. Our experts scour the market for the best deals on cars that we're happy to recommend, choosing only the ones that we think offer the best value.
To get today's Deal of the Day click here or take a look at yesterday's deal…