Mercedes E 300 e vs BMW 530e
Plug-in hybrids will be more popular under new tax rules, so we test the new Mercedes E 300 e against the BMW 530e to see which is on target
New company car tax rules are on the horizon, and the big change is that upcoming legislation will heavily favour those who choose to drive plug-in and electric models, as the government pushes ahead with its plan to stop sales of new petrol and diesel vehicles by 2035. It means those who are looking at their next company car will likely be interested in a plug-in hybrid. These cars will keeps tax bills low, but can still offer the flexibility and range of a combustion-engined model.
The executive saloon is a key type of car that is traditionally chosen by fleet customers. And here we've brought together two important models to find out which is the best option for anyone looking for a high-class, low-cost company car.
First, we have the Mercedes E 300 e, which takes the established E-Class saloon and adds a battery pack and an electric motor. It's available in petrol or, less conventionally, diesel form, but it's the first option that we're testing here.
Its key rival is BMW's 530e, which uses the same formula, taking the regular 5 Series saloon and adding a plug-in hybrid powertrain. Here we'll find out which offers the widest range of ability as well as how well integrated their hybrid systems are.
Mercedes E 300 e
| | |
| --- | --- |
| Model: | Mercedes E 300 e EQ Power AMG Line |
| Price:  | £50,030 |
| Engine:  | 2.0-litre 4cyl petrol & e-motor, 316bhp  |
| 0-60mph:  | 5.3 seconds |
| Test economy:  | 29.3mpg/6.5mpl  |
| CO2:  | 47g/km   |
| Annual road tax:  | £320 |
This is the first time we've tested the petrol version of Mercedes' E-Class plug-in hybrid. The E 300 e costs from £50,030 in AMG Line trim, which is a close match for the 530e in M Sport form.
Design & engineering
Just like the regular E-Class, the plug-in E 300 e variant is based on Mercedes' Modular Rear Architecture (MRA). This means the car uses a multi-link rear axle, and it even comes with adaptive dampers as standard. You can alter their level of stiffness using the driving mode selector on the centre console.
Next to this is a button that lets you adjust how the battery is used. There's a mode for running on electric power only, a hybrid mode that mixes engine and battery use, and even one that can charge the battery using the engine. This might be useful for topping up on the motorway so you can drive in EV mode in town, but it's bad for fuel consumption so charging the battery with a cable is much better.
The Mercedes has a 13.5kWh battery and a 7.2kW on-board charger, which means it can be charged in five hours from a three-pin plug, or around 1.5 hours from a home wallbox. Mercedes claims a range of 34 miles on electric power alone.
The engine is a 2.0-litre unit with 208bhp, but the total system output with the e-motor included is 316bhp, beating the BMW's combined figure of 249bhp. The Merc uses a nine-speed auto gearbox.
Interior quality is as high as we've come to expect from cars in the executive-saloon class, and the E-Class's wood, plastic and metal trim pieces are all good to touch. The large display screens for the infotainment and dials give it a modern touch.
Partnership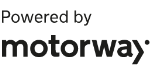 Need to sell your car?
Find your best offer from over 5,000+ dealers. It's that easy.
In AMG Line trim the car is very well equipped, with 18-inch alloys, LED lights, keyless go, heated seats in Artico man-made leather, and those twin displays with a 12.3-inch main infotainment screen.
Driving
The E 300 e weighs over two tonnes, which is a lot for a saloon car, and over 150kg more than the 530e. The Mercedes masks its heavy weight with strong performance in a straight line, but its weight is still an issue in other areas of the driving experience.
In our track tests, it went from 0-60mph in an incredible 5.3 seconds – that's as fast as some sports cars – and from 30-70mph in an equally impressive 4.8 seconds. It beat the BMW's times of 6.4 and 5.5 seconds respectively in those sprints in part because of its power advantage, but also because it delivers a maximum of 700Nm of torque when its engine and electric motor are working together.
The car feels particularly punchy at motorway speeds, and its time of 5.7 seconds in eighth gear from 50-70mph proves this; its BMW rival took 9.6 seconds to do the same. The E-Class feels at its best in this environment, because it's quiet and calm inside, while the suspension is settled.
The E-Class's weight means that it can't deal with potholes and bumps as well as the BMW, but on faster A-roads and motorways the difference between the two is smaller. The Merc's adaptive dampers are best left in Comfort mode, because the Sport setting doesn't make much difference to body roll, yet it adds a little more stiffness.
The Merc isn't as dynamically strong as the BMW, so the sportier driving modes aren't too appealing. Despite having lots of grip, the E-Class is not so agile and its steering is even more lifeless than the BMW's.
The nine-speed gearbox is excellent in auto mode, with nearly seamless shifts and a barely noticeable transition to and from electric power. In electric mode, progress is ultra-quiet and calm, as in most PHEVs, and it makes driving in town more relaxing.
Practicality
This isn't a strong point for the plug-in version of the E-Class; the battery pack means Mercedes has had to include a large box-shaped lump in the boot, which gets in the way. It reduces space to just 370 litres, which is less than in some much smaller cars, and a bit behind the BMW's 410-litre boot. Then there's the matter of storing the cables; these will likely need to stay in the car, but they take up quite a bit of room.
At least there's plenty of space, with enough leg and headroom for adults to sit comfortably in the rear.
Ownership
Mercedes and BMW both performed poorly in our 2019 Driver Power survey, managing 26th and 25th places respectively. However, their cars both received a five-star safety rating from the experts at Euro NCAP, with both scoring highly for adult protection.
The E-Class has blind-spot assist and a reversing camera as standard, so it's better equipped than the BMW for safety kit. Those items cost £895 (as part of a pack) and £375 respectively in the 530e.
Running costs
Fuel economy for plug-in hybrids is hugely dependent on the day-to-day usage of the car, and it's likely that no two owners will see the same figure. Those who spend lots of time driving around town on electric power could see over 100mpg, as per the official figures, but if you spend more time on the motorway and only charge once or twice a week, the heavy batteries mean economy figures will drop quickly.
We returned 29.3mpg during our time on test in the E 300 e, and 27.7mpg in the 530e, both with an empty battery. This means annual fuel costs of £2,337 and £2,472 respectively over 12,000 miles.
With an average electricity cost of 13p per kWh, a full charge will cost about £1.40 in both cars because their usable battery capacity is just over 10kWh.
Testers' notes: "When the 2.0-litre turbo petrol engine fires up, it's quiet and smooth. It's only at high revs that you'll notice it's on, or at idle when there's no road noise to drown it out."
BMW 530e
| | |
| --- | --- |
| Model: | BMW 530e M Sport    |
| Price:  | £50,120 |
| Engine:  | 2.0-litre 4cyl petrol & e-motor, 249bhp  |
| 0-60mph:  | 6.4 seconds |
| Test economy:  | 27.7mpg/6.1mpl  |
| CO2:  | 38g/km |
| Annual road tax:  | £320 |
There are two versions of the 530e. While these pictures show the four-wheel-drive xDrive, our figures are for the two-wheel-drive model. In M Sport trim, it's closely matched to the E 300 e, at £50,120.
Design & engineering
BMW updated the 530e model last year with a slightly more energy-dense battery, increasing its capacity to 12kWh. The firm didn't make any changes to the rest of the car, so its performance is unchanged, although the xDrive model was added to the range for those after four-wheel drive. We'd stick with this rear-wheel-drive variant because it's cheaper and you rarely need four-wheel drive in the UK.
This 12kWh battery has a useable capacity of 10.4kWh, which is only a little less than the Merc's useable 10.8kWh and it means the 530e can be charged up in five and a half hours from a three-pin plug or three and a half hours from a home wallbox. That's slower than the E 300 e because of the lower-capacity on-board charger (it's 3.7kW), but given that owners will likely charge overnight, this slower rate isn't much of an issue. All-electric range is about the same as its rival; BMW's official figure is 36 miles.
Like the E 300 e, the 530e uses a 2.0-litre petrol engine combined with its electric motor. The total system output is 249bhp, so while the BMW can't quite match its rival's power output, it's still one of the more powerful models in the 5 Series range.
All versions of the latest 5 Series are based on BMW's CLAR platform. With some weight-saving materials used, it's lighter than its challenger here by 160kg. You can add BMW's Variable Damper Control (£985) for adaptive dampers to match the E-Class's set-up, letting you switch between driving modes to set the suspension stiffness as you prefer. Also as in its rival, there are modes to use electric power only, a mix of both power sources or to get the engine to hold charge or top it up for use later on.
The BMW's cabin is superb, with excellent build quality and a genuinely spacious feel. It also has plenty of high-quality materials that help to justify the car's premium price tag.
Standard kit includes climate control, Bluetooth, DAB, parking sensors and heated seats, as well as sat-nav on BMW's Live Cockpit Professional set-up, which has two large display screens and online services like traffic and weather info.
Driving
This is where the 5 Series excels. It's one of the most comfortable and satisfying cars to drive, especially at this price. The ride and body control are superb in every version, and the 530e is no exception, although its heavy weight means it can't quite mask potholes as well as, for example, a 520d. It's still much smoother, as well as being more fun than its rival here, though.
It feels controlled and consistent over badly surfaced roads, and it settles down beautifully on the motorway, especially on models with adaptive dampers fitted and set to Comfort mode.
Its steering is well weighted and precise, while the BMW's superior grip and agility on a twisty road mean it's not only better than the Mercedes at long trips, it's also more fun on back roads. It's an incredible all-rounder, in fact.
The electric motor is punchy and responsive from low speed, and the engine is slightly smoother than the E-Class's, but there's not much in it. The 530e does lose out to its rival on straight-line speed, though.
In our tests it went from 0-60mph in 6.4 seconds, but the Mercedes took just 5.3 seconds. Similarly, the 530e went from 30-50mph in 3.2 seconds in fourth gear, yet the E 300 e took just 2.5 seconds. With 700Nm of torque, the E-Class is more muscular in gear and therefore more flexible. Still, the 530e has enough performance to still feel quick, and the sharper handling means it's the better driver's car.
The BMW's eight-speed gearbox provides smooth transitions between EV and engine power, and shifts are fast and smooth. It's slightly more responsive than the box in the Mercedes, but both are excellent.
Practicality
Although the E 300 e has a big step in its boot where the batteries are kept, the 530e has a flat floor. The box in the boot of the Mercedes is a huge flaw and means even basic things will be a pain to put inside, so its 370-litre boot is even less useful than it sounds, while the BMW's 410-litre area is an easy winner here. There's a place to store charging cables under the floor, too.
You also get lots of room for passengers in the back of the 530e, with enough leg and headroom for adults to sit comfortably on long trips.
Ownership
Every 5 Series gets LED headlights, front and rear parking sensors and airbags for all seats including side impact protection, but the 530e misses out on blind-spot assist and a reversing camera, which the E 300 e has as standard.
BMW finished in a poor 25th place in Driver Power 2019, but Mercedes was one place lower last year, so the ownership experience should be similar.
Running costs
Higher-rate earners will pay £3,204 a year in company car tax for the 530e – far less than a normal petrol or diesel. Plus, under the next tax year's rules, that drops to just £2,403. Likewise, the Mercedes costs the same earner £3,198 under the current rules and £2,399 under the upcoming regulations.
Drivers will be able to keep costs even lower by plugging in every night and using the roughly 30-mile range to commute with, saving the car's petrol engine for longer trips when needed.
Testers' notes: "The best way to spot a 530e is from the charging flap on the front wing; other than the badge, it looks just like a normal 5 Series. The Mercedes' tech is similarly discreetly badged."
Verdict
First place: BMW 530e
Both of these models have very well integrated hybrid powertrains and offer the potential for low running costs, particularly for business buyers. So the result of this test comes down to the fact that the 530e is a more accomplished car than the E 300 e in several key areas: it's more comfortable and more fun to drive, while it's also more practical and boasts better infotainment.
Second place: Mercedes E 300 e
It's second here, but there's no shame in losing to the superb 530e. The E-Class is still a great PHEV, with a smooth and quiet powertrain, superb economy mixed with strong performance, and lots of standard equipment. It's comfortable and decent to drive, if not quite as much fun as its rival, while running costs should be super-low if owners plug it in often. It's a shame boot space is so poor, though.
Is it worth waiting for this model?
Audi A6 55 TFSI e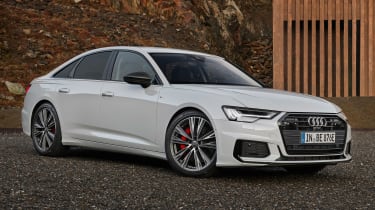 Due: Summer 2020 (est)
Price: £50,000 (est)
Engine: 2.0-litre 4cyl, 362bhp
Audi will soon launch its own plug-in hybrid executive saloon. It will follow the template set by the Q5: strong performance mixed with a high-quality interior and lots of kit.
Figures
| | | |
| --- | --- | --- |
|   | BMW 530e M Sport    | Mercedes E 300 e EQ Power AMG Line |
| On the road price/total as tested | £50,120/£50,120 | £50,030/£56,720 |
| Residual value (after 3yrs/36,000) | £20,424/40.8% | £22,288/44.6% |
| Depreciation | £29,696 | £27,742 |
| Annual tax liability std/higher rate | £1602/£3,204 | £1599/£3,198 |
| Annual fuel cost (12k/20k miles) | £2,472/£4,119 | £2,337/£3,894 |
| Ins. group/quote/road tax cost | 37/£738/£320 | 33/£758/£320 |
| Servicing costs | £25pm (3yrs) | £37pm (3yrs) |
|   |   |   |
| Length/wheelbase | 4,936/2,975mm | 4,940/2,939mm |
| Height/width | 1,479/1,868mm | 1,452/1,852mm |
| Engine | 4cyl + e-motor/1,998cc | 4cyl + e-motor/1,998cc |
| Peak power/revs  | 181/5,000 bhp/rpm* | 208/5,500 bhp/rpm* |
| Peak torque/revs | 290/1,350 Nm/rpm* | 350/1,200 Nm/rpm* |
| Total power/battery capacity  | 249bhp/12kWh | 316bhp/13.5kWh |
| Transmission  | 8-speed auto/rwd | 9-speed auto/rwd |
| Fuel tank capacity/spare wheel | 46 litres/run-flats | 60 litres/repair kit |
| Boot capacity (seats up/down) | 410 litres | 370 litres |
| Kerbweight/payload/towing weight | 1,845/650kg/N/A | 2,005/370/2,100kg |
| Basic warranty/recovery | 3yrs (unlimited)/3yrs | 3yrs (unlimited)/4yrs |
| Driver Power manufacturer/dealer pos | 25th/25th | 26th/15th |
| NCAP: Adult/child/ped./assist/stars | 91/85/81/59/5 | 95/90/77/62/5 |
|   |   |   |
| 0-60/30-70mph | 6.4/5.5 secs | 5.3/4.8 secs |
| 30-50mph in 3rd/4th | 2.5/3.2 secs | 2.1/2.5 secs |
| 50-70mph in 5th/6th/7th/8th | 4.1/5.6/7.0/9.6 secs | 3.5/4.0/4.7/5.7 secs |
| Top speed/rpm at 70mph  | 146mph/1,900rpm | 155mph/N/A |
| Braking 70-0/60-0/30-0mph  | 51.6/37.6/10.2m | 49.9/37.2/9.8m |
| Auto Express economy/engine range | 27.7/280* | 29.3/425* |
| WLTP combined mpg | 176.6-201.8mpg | 141.3-188.3mpg |
| WLTP combined mpl | 38.9-44.4mpl | 31.1-41.4mpl |
| Actual/claimed CO2/tax bracket | 236/38g/km/16% | 223/47g/km/16% |
|   |   |   |
| Airbags/Isofix/park sensors/camera | Six/yes/yes/£375 | Seven/yes/yes/yes |
| Auto/lane keep/blind spot/AEB  | Y/£895^/£895^/Y | Yes/yes/yes/yes |
| Climate ctrl/cruise/leather/heat seats | Yes/yes/yes/yes | Yes/yes/Artico/yes |
| Met paint/LEDs/keyless/pwr tailgate | Yes/yes/£695/£430 | £685/yes/yes/no |
| Sat-nav/digi dash/DAB/apps | Yes/yes/yes/yes | Yes/yes/yes/yes |
| Wireless/CarPlay/Android Auto | £475/yes/no | No/no/no |