MG6 diesel review
Updated MG6 diesel engine now emits 129g/km of CO2, but it's still behind the competition
The MG6's improvements to emissions are welcome but don't quite go far enough. Private buyers might be seduced by the value price but for fleet buyers a more expensive car with lower CO2 emissions (like the Skoda Octavia) will actually cost them less. On the plus side, the engine is punchy and the handling is still a highlight.
Since arriving on UK shores in mid-2011, the MG6 has shouldered much of the burden during MG's initial attempts to revive its fortunes under Chinese ownership. After a slow start, these hopes (and sales) were given a boost towards the end of 2012 with the arrival of 1.9-litre turbodiesel engine.
This all-new DTi-TECH unit was developed in-house – unlike the 1.8-litre turbocharged petrol engine also on offer – and while its claimed 53.5mpg and 139g/km CO2 emissions were a vast improvement over the petrol model, these numbers were far from class leading.
MG's ongoing updates now see the 148bhp four-cylinder diesel engine relaunched with improved economy and reduced CO2 emissions, hitting 57.6mpg and 129g/km, respectively. While this is still relatively poor, it shows intent and places the MG6 in the lower group D tax band, so is it enough to close the gap on class rivals like the Ford Focus and Vauxhall Astra?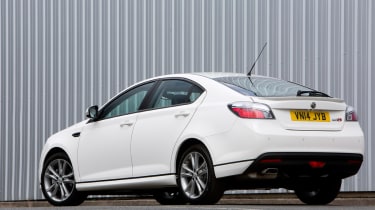 The good news is performance hasn't been compromised. 148bhp and 350Nm of torque once again sees 0-62mph take 8.9 seconds, with both the five-door GT hatchback and four-door Magnette saloon topping out at 120mph.
More reviews
Car group tests
In-depth reviews
Road tests
Plant your right foot and the DTi offers punchy in-gear acceleration although, while the six-gear manual is mostly smooth, precision is essential for shifts and you have to work the engine quite hard to maintain speed. This also highlights the rather cramped foot well, with the clutch in particular too close to the footrest.
Handling is less of a mixed bag, thanks to the speed-sensitive electro-hydrolic steering, which is responsive and offers decent levels of feedback. It doesn't result in compromised ride comfort either – a little on the firm side, the suspension deals with all but the worst surfaces, proving efforts to tune the front-wheel drive MG6 for British roads have been mostly successful.
Within the cabin itself there's the 6's usual generous amount of standard kit, particularly in the top-spec £20,195 TSE model we tested. For this, you get dual-zone clime control, Bluetooth, parking sensors, automatic lights and wipers, hill hold tech, and a 6.5-inch infotainment display, including satnav and rear parking camera display. While this is good value for money, what lets the MG down here is the packaging: the centre console is cluttered and not entirely intuitive, plus some of the plastics feel cheap and nasty.​