MINI - best superminis
It's grown over the years, but the MINI is still a classy package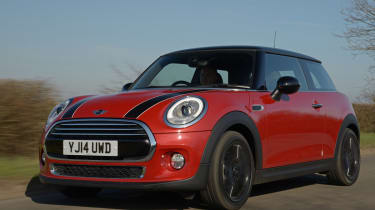 The BMW-era MINI has been running down the production line at BMW's Plant in Oxford since 2001. But, although its looks haven't changed wildly since then, there's much more to the third generation MINI than meets the eye.
MINI hasn't taken any chances with the Mk3. The car is bigger and more refined than before, features an all-new turbocharged engine line-up and an even more upmarket interior. And for the first time ever, there's a MINI 5-door model, too, with an extra 72mm in the wheelbase, which translates directly into the same amount of extra rear legroom – it's a properly practical MINI.
The rival to the Fiat 500 and Citroen DS3 is built on a new front-wheel drive platform, which is also used for the BMW 2 Series Active Tourer. The MINI also features a range of predominantly three-cylinder petrol and diesel engines that have been designed and engineered solely by BMW for the first time.
The MINI also benefits from even higher levels of technology than before, making it safer, better equipped and posher than it have ever been before.
There are five models in the MINI range – One, Cooper, Cooper S, Cooper D and Cooper SD, while the hot John Cooper Works is the most powerful production MINI ever made.