"This is a golden era for vans"
Light commercial vehicles are not only crucial to the way we shop now but also standard bearers for the switch to electric power, says Dean Gibson…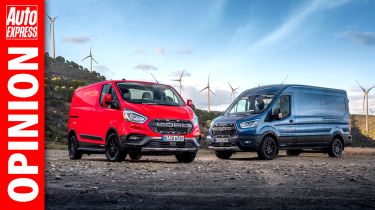 It's fair to say that the past few months have been a boon for the UK van market. With everybody locked down at home, the only shopping that anybody has been doing – beyond supermarket trips – is online, and a fleet of vans has been fulfilling these orders across the country. And while coronavirus has seen a fall in new van registrations, the decline hasn't been quite as severe as in the new car market: the Ford Transit Custom and Mercedes Sprinter both saw more registrations in May than the top-selling car, the Tesla Model 3 (903 and 899 respective vans, compared to 852 Teslas).
To quote a past Ford marketing campaign, vans are proving to be the backbone of Britain, offering an essential link to the outside world for locked-down households across the country. But van manufacturers have big plans for their vans well beyond the remit of the home delivery network.
Ford is looking to increase the potential of the Transit and smaller Transit Custom by adding SUV-inspired versions. The Transit Trail models are still pitched as work vehicles, but the Transit Custom Active lines up alongside the Fiesta Active and Focus Active models, with the same rugged styling cues designed to turn it into a lifestyle vehicle. With five-seat double cab and multi-seat Tourneo Custom versions on offer, there's plenty of scope for a model such as this to fill the void being left by ever-declining sales in the MPV sector.
Buyers looking for a car with more practicality than an SUV can offer will be well served by a van-based MPV. For starters, you get a high driving position that's taller than you'll find in any SUV, and while there's no trace of carpet to be found in the load area, that does mean they're easy enough to clean when they get filthy. Inside, you benefit from all of the same connectivity, safety and infotainment options as you'll find in a conventional car, making the van-driving experience far more upmarket than many people might expect. There's serious potential for the van-based MPV to take a foothold in the family car market as the king of load- and family-carrying duties.
Electrification is also a big focus, because adding an electric drive system to a van doesn't have as big an impact on space as it does in a car: simply sling the battery under the van's floor (so it doesn't compromise load volume), replace the heavy diesel engine and gearbox with a compact electric motor and transmission, and you're on your way. The new electric Citroen Dispatch/Peugeot Partner/Vauxhall Vivaro variants are a great place to start, and because they can trace their roots to the PSA Group's car range (they use the same EMP2 platform as the Peugeot 308/3008 family) they are surprisingly car-like to drive, with all of the same hi-tech safety features.
With lifestyle vans on the rise, electric vans available from Renault and Nissan, as well as new EVs on the way from Mercedes, Volkswagen, Ford and Maxus, plus the plug-in hybrid Ford Transit Custom and forthcoming LEVC VN5 range extender, soon there will be a van available to fit every niche possible. This really could mark the golden age of the van in all its forms.
Do you agree with Dean? Let us know in the comments section below...