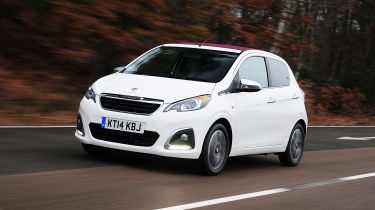 If you're familiar with the Toyota Aygo and Citroen C1, you'll know about the Peugeot 108, too. All three of these cars have been developed as part of a partnership between PSA and Toyota so they all share the same platform and most powertrains.
Sharing parts in this way has allowed the firms to make the cars particularly cheap, so even spending about £11,000 on a car will get you things like air-con, keyless go, a reversing camera, a seven-inch touchscreen and a leather steering wheel.
Is it the best city car we can think of? Not quite. We still rate the Skoda Citigo and Hyundai i10 for their superior refinement and general grown-up feeling but the 108 is certainly a great contender. As for the Toyota-Citroen-Peugeot choice, there's really not much in it. Go for whichever one you like the look of most - but remember that the Peugeot happens to be a tiny bit more expensive than the others.