Porsche Macan vs Jaguar F-Pace
The new Porsche Macan promises to be the best-driving premium SUV, but how does it fare against the Jaguar F-Pace?
The Porsche Macan SUV arrived in 2014 to great fanfare. Complementing the Cayenne in the German brand's SUV range, it opened up Porsche ownership to an even wider range of buyers – but it earned its stripes on merit.
The original was a peach to drive, with a premium image that meant owners loved it. There was a good choice of powertrains, too, with V6 petrol and diesel models offering differing performance. However, diesel is no more in the updated Macan line-up. Instead, the most efficient model is now this 2.0-litre turbocharged petrol unit.
It was available on special order in the old car, but few UK buyers took up the option. With this renewed focus on petrol power, the facelifted Macan is set to be much more popular. The Porsche has always been an SUV for keen drivers, so its main competitor is clearly the Jaguar F-Pace – another premium package that focuses on petrol-powered driving enjoyment mixed with quality, practicality and equipment.
Porsche Macan
| | |
| --- | --- |
| Model: | Porsche Macan |
| Price:  | £46,344 |
| Engine:  | 2.0-litre 4cyl turbo, 242bhp  |
| 0-60mph:  | 6.1 seconds |
| Test economy:  | 27.7mpg/6.1mpl  |
| CO2:  | 185g/km   |
| Annual road tax:  | £450 |
This 2.0-litre car is the entry-level model in the new Macan range. Prices start from £46,344, so it's well matched to the F-Pace. However, it'll have to live up to the Jag's new technology, too. Let's find out how much of an improved package the Porsche is.
Design & engineering
Under the skin, the Macan still uses the same platform, so there are no huge changes here. That means the basic suspension layout remains, with double wishbones at the front and a multi-link set-up at the rear.
However, there are lighter but firmer springs, which are claimed to improve handling without compromising comfort. Other alterations ensure it's even more refined. The optional Porsche Adaptive Suspension Management (PASM) function is probably worth its £816 cost to broaden the Macan's ability.
The 2.0-litre unit is the same basic motor as that fitted to VW's Golf GTI Performance, with a particulate filter in the exhaust for this updated car. There's 242bhp, 370Nm of torque and a seven-speed PDK dual-clutch gearbox, only here it sends power to all four wheels. As you'd expect, this big SUV is heavier than a hot hatch, at 1,795kg, but it's still lighter than the Jag's claimed weight of 1,831kg.
There are more changes inside the Porsche – the most important of which is the new 10.9-inch infotainment screen. It's similar in appearance and operation to the units in the Panamera, Cayenne and the latest 911, and it's here where the new Macan gets its largest technology update.
The rest of the cabin is similar to its predecessor's, which means even in this entry-level car quality is impressive. The centre console still features a few too many buttons and switches compared with the simpler set-up in Porsche's newer models, though.
You get a good standard of basic kit, with sat-nav, Apple CarPlay, DAB, 18-inch alloys, LED lights, cruise and climate control, a power tailgate and parking sensors. However, features such as a full-leather interior are extra, at £1,044, while heated seats cost £294. Both are standard on the Jag, but the Macan's cabin quality still feels stronger than the F-Pace's.
Driving
The Macan is still the best-driving car of its type, even with this smaller, less powerful engine. Its steering has a lovely weight and just the right rate of response for a car of this size and bulk. That's because those suspension tweaks have yielded genuinely hot hatch-bothering grip. It's allied to the four-wheel drive, which isn't flummoxed by slippery conditions, and which easily and evenly distributes power to where it's needed. Traction is superb and the way the system shuffles the motive force around helps agility.
Partnership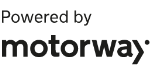 Need to sell your car?
Find your best offer from over 5,000+ dealers. It's that easy.
It's a Macan trait, and the Jag can't match this car's handling ability. On the firmest suspension setting roll is nicely contained, but the ride does take on a less composed edge. The middle mode is a better bet for sporty driving, while the default comfort setting means the Macan glides more over the road.
On optional 20-inch alloys you do feel thumps and bumps, but they're still nicely dealt with and body movement is well curtailed. It still feels more dynamic than the Jag, even if it sometimes sacrifices a little of the bigger F-Pace's ride comfort.
There should be no worries about performance. The 2.0-litre engine isn't the most musical, but it delivers the goods. The Porsche covers 0-60mph in 6.1 seconds, a full two seconds quicker than the Jag.
Our in-gear test times were offset due to the F-Pace featuring an extra ratio, but the Macan's flexibility is still strong – plus the box is quicker to respond, smoother and less sluggish to shift, no matter whether you're in auto or manual mode. 
Practicality
A smaller footprint means the Macan isn't quite as roomy inside, and nor is its boot as big. However, with 500 litres on offer, there's still plenty of luggage space – enough for a family's bags. A powered tailgate is standard.
The rear of the cabin is more cramped than the Jaguar's, but this is relative and there's still adequate room in the back. Tall people will feel a little tightly squeezed, while the Porsche's more tapered roofline means headroom isn't quite as good as in the boxier F-Pace, but this difference isn't too pronounced. Visibility is good, even over the shoulder, and the raised seating position makes the car easy to drive. 
Ownership
Porsche didn't feature in our latest Driver Power satisfaction survey, but its reputation for reliability stems from its success in endurance racing. Its road cars should be just as dependable, and because the mechanicals are similar to the previous Macan's, this bodes well.
Safety isn't quite as strong as the Jag's. Autonomous braking is packaged with the £1,802 optional Traffic Jam Assist adaptive cruise, and while lane-departure warning and eight airbags are standard, lane-keep assist and blind-spot warning cost £413 each. A five-star Euro NCAP rating from 2014 still stands, although the test wasn't quite as strict as it is now. 
Running costs
The Porsche brand has very strong residuals – our experts predict the Macan will retain 20 per cent more than the F-Pace, at 62.6 per cent. This means it'll shed £17,314 after three years or 36,000 miles, and so will be worth £29,030.
This compares with an estimated residual value of 42.4 per cent for the F-Pace, which is expected to lose more, at £26,504, and therefore be worth £19,526. Budget plenty for servicing, insurance and road tax on these premium vehicles; both incur the VED surcharge, so will cost £450 a year to tax. 
Testers' notes: "New Mamba Green paint highlights updated Macan's revised styling. Different headlamps, a reprofiled bumper and full-width light bar at the rear are all new design cues." 
Jaguar F-Pace
| | |
| --- | --- |
| Model: | Jaguar F-Pace 25t R-Sport |
| Price:  | £46,030 |
| Engine:  | 2.0-litre 4cyl turbo, 247bhp  |
| 0-60mph:  | 8.1 seconds |
| Test economy:  | 28.2mpg/6.2mpl  |
| CO2:  | 179g/km |
| Annual road tax:  | £450 |
As a former Auto Express Car of the Year, the F-Pace knows how to win. In fact, when it last met the Macan – both in 3.0 V6 diesel form – it rose to the top. However, the market has changed, hence the updated 2.0 petrol Porsche, so can this £46,030 Jaguar in 25t R-Sport spec find success again?
Design & engineering
The Jaguar's platform uses some aluminium components to help keep weight down, and although at 1,831kg it's a bit heavier than the Porsche, it's also physically larger, so this slight deficit is countered in other areas.
The engine has a little more power than its rival, too. It's a 2.0-litre four-cylinder petrol turbo from JLR's Ingenium family, and kicks out 247bhp – but 5Nm less torque, at 365Nm. As with the Macan, power is sent to all four wheels, but the Jaguar uses an eight-speed automatic transmission.
You can get adaptive dampers as part of the £1,185 Adaptive Dynamics option pack, while the cabin is fairly familiar. This means solid enough build and material quality, even if it's not up to the Porsche's high standards. There are a few ergonomic foibles, too, although the F-Pace has benefited from updated infotainment because it has been improved with each model year. It now boasts greater connectivity and a more responsive set-up, but remember that the Macan has been improved in this area as well.
Unlike with the Porsche, heated leather seats are standard-fit here, while nav, parking sensors and a reversing camera (an option on the Macan) are included, too. You can also add to that tally a powered tailgate to match the Porsche's, plus cruise and climate control, and some decent safety tech.
Yet while the Jaguar offers slightly more kit for a bit less cash, there's still something about it that seems cheaper. It's not as solid and quality isn't as impressive, plus it doesn't feel as functional or hi-tech.
Driving
Nevertheless, the Jag still drives sweetly, and that comes from its meaty steering and compliant chassis. Its steering is direct, while plenty of grip means the F-Pace turns with rewarding dynamism. It's tempered slightly by a degree of slack in the suspension from which the Porsche doesn't suffer, though.
That makes the Macan firmer, while the Jaguar will track over some surfaces with its dampers being only mildly ruffled by the road. The Porsche's would be rather more upset in the same circumstances.
Despite the weight, the steering is not quite as nice as the Macan's, and the four-wheel-drive system isn't as responsive. It simply doesn't feel as quick to react or as clever when it's shuffling power around. Nor does the Jaguar have as much grip. Ultimately, the Macan is the more enjoyable and engaging car to drive, and the advantage in this area is much greater than the slight drawback in comfort.
Where the Jaguar can't hold a candle to the Porsche is with its engine. The unit feels more lethargic and doesn't rev with the same aggression, and nor does it boast the same rounded refinement as the Macan's.
The gearbox, too, is more sluggish to shift than the Porsche's. Upchanges feel slow and downshifts more laboured, which was part of the reason why the Jag was two seconds slower from 0-60mph on test, taking 8.1 seconds. It also trailed its rival by 2.6 seconds going from 30-70mph through the gears, at 8.8 seconds.
The F-Pace is characterised by a slightly softer focus to the ride and handling balance, which is rewarding. But there's no getting away from the fact that the powertrain is a letdown.
Practicality
The Jaguar recovers well in this area, because its 650-litre boot space is 150 litres up on the Macan's, and it offers as much luggage room as a BMW X5 from the class above. In fact, the F-Pace sits in a gap between the Porsche and BMW when it comes to size, because it offers slightly more cabin space than the Macan, too.
However, luggage and passenger room in the Porsche is far from pokey, and should be sufficient for most buyers most of the time; it's just that the F-Pace can go the extra mile when you need it to.
Elsewhere in the cabin there are places for drinks and possessions, plus USB points to charge gadgets. The driving position feels even loftier than in the Porsche, where you sit more 'in' the car than perched on the seat. This gives the F-Pace great visibility out.
Ownership
A shortage of owner respondents meant Porsche didn't rank in our Driver Power 2018 poll, but Jaguar was 10th out of 26 in the makers' chart, a solid result for the brand. It scored well for ride and handling, as well as safety.
The F-Pace gets a full five-star Euro NCAP rating, with six airbags, lane-keep assist and autonomous braking all fitted as standard. You can add blind-spot warning as part of a £1,350 option pack, which also brings adaptive cruise control and raises the top speed at which the emergency braking works.
Running costs
It's no surprise that, with strong performance and big, heavy bodies, both of these cars returned only average fuel economy. The Jaguar just edged out the Porsche, though, returning 28.2mpg, which means annual fuel bills of £2,317 based on this figure.
The Macan managed 27.7mpg, so it'll be only £42 more expensive to fuel over an average 12,000 miles of annual motoring. These models are in reach for many company car drivers, but they're still pricey. The 179g/km Jag sits in the 36 per cent BiK band, and will cost higher-rate earners £6,501 to run; the 185g/km Porsche (37 per cent) will set them back £6,859.
Testers' notes: "Jag's All Surface Progress Control system comes as standard to match the Macan's Off Road mode. Both SUVs offer plenty of traction, which will come in useful in the kind of driving conditions we've had recently." 
Verdict
First place: Porsche Macan
The Macan is as good to drive as ever, and the 2.0-litre engine doesn't feel underpowered. There's enough performance for most people, while it helps economy, too, even if the Jaguar will be a little cheaper to run. The Porsche is nearly as comfortable but handling is sharper. While the cabin is a little smaller, the quality is much stronger, and the new infotainment is streets ahead of Jag's frustrating system. 
Second place: Jaguar F-Pace
Our former Car of the Year is still a solid buy, but the Jaguar's rougher engine, sluggish gearbox and sub-par multimedia set-up mean the Macan is the better overall buy in this test. There's little in it on price and running costs, and while the F-Pace outshines the Macan for practicality and cabin space, the Porsche is easily its equal or exceeds it in virtually every other area. 
Other options in this category... 
Alfa Romeo Stelvio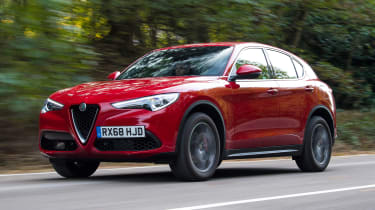 Model: Alfa Romeo Stelvio 2.0 280 SpecialePrice: £45,590Engine: 2.0-litre 4cyl, 276bhp 
The Alfa Romeo Stelvio's 2.0-litre turbo petrol engine is one of the crispest around, and it boasts even more power than the Porsche or Jag for a similar price. Quality isn't up to scratch, but it's great fun to drive for an SUV, with lots of agility. 
BMW X3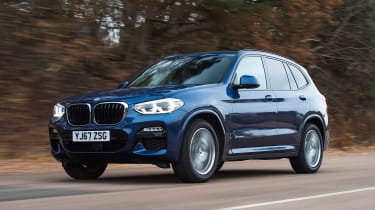 Model: BMW X3 xDrive20i M SportPrice: £42,370Engine: 2.0-litre 4cyl, 181bhp 
It's not as powerful, or quite as sporty looking, but the new BMW X3 is still great to drive, and it's more practical than the Porsche. The trade-off for the less potent engine is a lower list price, too, which leaves you more to spend on extras. 
Figures
| | | |
| --- | --- | --- |
|   | Porsche Macan | Jaguar F-Pace 25t R-Sport |
| On the road price/total as tested | £46,344/£60,083 | £46,030/£65,126 |
| Residual value (after 3yrs/36,000) | £29,030/62.6% | £19,526/42.4% |
| Depreciation | £17,314 | £26,504 |
| Annual tax liability std/higher rate | £3,429/£6,859 | £3,250/£6,501 |
| Annual fuel cost (12k/20k miles) | £2,359/£3,932 | £2,317/£3,862 |
| Insurance group/quote/VED | 37/£771/£450 | 33/£532/£450 |
| Cost of 1st/2nd/3rd service | £430/£560/£430 | £799 (5yrs) |
|   |   |   |
| Length/wheelbase | 4,696/2,807mm | 4,731/2,874mm |
| Height/width | 1,624/1,923mm | 1,667/2,070mm |
| Engine | 4cyl in-line/1,984cc | 4cyl in-line/1,997cc |
| Peak power/revs  | 242/5,000 bhp/rpm | 247/5,500 bhp/rpm |
| Peak torque/revs  | 370/1,600 Nm/rpm | 365/1,300 Nm/rpm |
| Transmission  | 7-speed PDK/4wd | 8-speed auto/4wd |
| Fuel tank capacity/spare wheel | 65 litres/repair kit | 82 litres/space saver |
| Boot capacity (seats up/down) | 500/1,500 litres | 650/1,740 litres |
| Kerbweight/payload/towing weight | 1,795/715kg/N/A | 1,831/629/2,400kg |
| Turning circle | 11.8 metres | 11.6 metres |
| Basic warranty (miles)/recovery | 3yrs (unlimited)/3yrs  | 3yrs (unlimited)/3yrs |
| Driver Power manufacturer/dealer pos. | N/A | 10th/16th |
| NCAP: Adult/child/ped./assist/stars | 88/87/60/66/5 (2014) | 93/85/80/72/5 (2017) |
|   |   |   |
| 0-60/30-70mph | 6.1/6.2 secs | 8.1/8.8 secs |
| 30-50mph in 3rd/4th | 3.4/4.8 secs | 3.1/3.8 secs |
| 50-70mph in 5th/6th/7th/8th | 7.0/10.3/14.3 secs/N/A | 5.7/7.7/10.7/15.5 secs |
| Top speed/rpm at 70mph  | 139mph/1,900rpm | 135mph/1,800rpm |
| Braking 70-0/60-0/30-0mph  | 59.6/43.5/10.8m | 58.1/43.1/11.5m |
| Noise outside/idle/30/70mph | 70/42/62/73dB | 72/43/64/70dB |
| Auto Express econ. (mpg/mpl)/range | 27.7/6.1/396 miles | 28.2/6.2/509 miles |
| WLTP fuel consumption (med) | 29.4mpg | 30.8mpg |
| WLTP fuel consumption (med) | 6.5mpl | 6.8mpl |
| Actual/claimed CO2/tax bracket | 236/185g/km/37% | 231/179g/km/36% |
|   |   |   |
| Airbags/Isofix/parking sensors/cam | Eight/yes/yes/£362 | Six/yes/yes/yes |
| Auto box/lane-keep/blind spot/AEB | Y/£413/£413/£1,802* | Yes/yes/£1,350*/yes |
| Clim/cruise ctrl/leather/heated seats | Yes/yes/£1,044/£294 | Yes/yes/yes/yes |
| Met paint/LEDs/keyless/pwr tailgate | £632/yes/£497/yes | £705/£600/£840/yes |
| Nav/digi dash/DAB/connect services | Yes/no/yes/yes | Yes/£500/yes/yes |
| Wireless charge/CarPlay/Android Auto | No/yes/no | No/yes/yes |