Renault Koleos vs Skoda Kodiaq vs Ford Kuga
The Koleos name is back on all-new full-sized Renault SUV, but how does it compare to the Skoda Kodiaq and Ford Kuga?
Renault has been winning over SUV buyers with its Captur and Kadjar crossovers in recent years, and the set is now complete with the launch of its new flagship, the Koleos. This large SUV takes the name of a model discontinued in 2010, but it's nothing like that slow-selling off-roader. It's full of the latest tech, and aims to take on the big names in this fast-growing new-car sector.
However, if the Koleos wants to take class honours it will have to beat the Skoda Kodiaq, the car crowned Best Large SUV at our New Car Awards 2017, and that's a pretty tough ask. The Skoda offers loads of cabin space at a very affordable price, and has the option of seven seats – something which the Koleos does not.
• Best 4x4s and SUVs on sale right now
In addition, the Renault will have to face up to the Ford Kuga. This is a model that could tempt buyers wanting a bit more involvement from the driving experience – especially in ST-Line trim as tested against the Koleos here.
All of our cars are fitted with four-wheel drive, a powerful diesel and an automatic gearbox. But which model offers the best balance of space, refinement and tech?
Renault Koleos
| | |
| --- | --- |
| Model: | Renault Koleos dCi 175 4x4 X-Tronic Signature Nav |
| Price: | £34,200 |
| Engine: | 2.0-litre 4cyl turbodiesel, 175bhp |
| 0-60mph: | 9.5 secs |
| Test economy: | 31.9mpg/7.0mpl |
| CO2: | 156g/km  |
| Annual road tax: | £140 |
The Renault Koleos returns to the UK as the brand's largest, plushest SUV. The French manufacturer says most buyers will go for high-end models, so here we're testing the top-spec Signature Nav. With the most powerful 175bhp 2.0-litre diesel engine, plus an automatic gearbox and four-wheel drive, this version of the Koleos costs from £34,200.
Renault doesn't offer a petrol engine with the Koleos, so your choice is between a 1.6-litre diesel with 129bhp or the 175bhp 2.0 four-cylinder diesel fitted to our test car. It's linked to a continuously variable transmission (CVT), but the firm has engineered in seven 'steps' that act like conventional gears.
These work even in auto mode, so the revs rise and fall naturally as you accelerate. Only if you push a bit harder will you notice the difference in the gearbox, as the revs soar and are held longer than with the more conventional auto units in the Ford and Skoda.
You can also put the box into 'manual' mode, but it won't stay in the set gear – as you accelerate, it will 'change up' for you, which defeats the object of the mode. It's best to stick to the normal setting.
The CVT hurts refinement, especially next to the Skoda's DSG. It revs up a lot when you pull away from a standstill, and the rattly diesel doesn't sound particularly pleasant. It affects throttle response, too, because when you press the accelerator pedal it takes a long time to decide what to do with the engine speed.
Once the box has sorted itself out, the 175bhp diesel feels punchy enough, and while its 380Nm of torque is 20Nm less than in either rival, it doesn't feel left behind. It is sluggish off the line as the revs build, however, highlighted by its 9.5-second 0-60mph time.
The Koleos seems a bit unsettled at low speed on its large 19-inch wheels, but it does soak up big bumps reasonably well. Once you get up to pace the Renault rides smoothly enough, and it does have the Ford beaten for overall ride quality, if not the Skoda.
Vague steering and a high-set driving position mean it's not exactly fun to drive. The Koleos is the heaviest car on our test by more than 100kg, tipping the scales at 1,829kg, and that extra bulk does numb its handling. Meanwhile, the inconsistent steering weight also takes away from driver enjoyment.
Testers' notes: "The Koleos is well equipped in any guise; this top-spec car adds larger rims, LED headlights and a bigger screen, but you can't go far wrong with the cheaper Dynamique S Nav."
Skoda Kodiaq
| | |
| --- | --- |
| Model: | Skoda Kodiaq 2.0 TDI 190 4x4 DSG SE L |
| Price: | £34,035 |
| Engine: | 2.0-litre 4cyl turbodiesel, 187bhp |
| 0-60mph: | 8.3 secs |
| Test economy: | 39.3mpg/8.7mpl |
| CO2: | 151g/km |
| Annual road tax: | £140 |
The Skoda Kodiaq took the Best Large SUV trophy at our New Car Awards 2017, so it's a fierce competitor here. For this test, we've lined up a 2.0 TDI 190 4x4 DSG model in SE L trim (although our pictures show a top-spec Edition). It costs from £34,035 in seven-seat form.
The 2.0-litre diesel is the most powerful engine in this test, with 187bhp; the Renault and Ford have 175bhp and 178bhp respectively. The Kodiaq was the fastest car from 0-60mph as a result, taking 8.3 seconds – while only a tenth faster than the Ford, it's much quicker than the 9.5 seconds the Koleos took.
Measuring in-gear acceleration figures against the Koleos is tricky because of its CVT gearbox, but the 30-70mph figure in the Kodiaq was also the fastest on test – it took eight seconds flat, where the Renault did it in 9.5 seconds and the Kuga 8.4 seconds.
The DSG dual-clutch gearbox is the best automatic here, because the transmission shifts quickly and smoothly whether you're taking things easy or driving harder. When you do want to pick up the pace the Kodiaq remains composed, and while the steering doesn't have a lot of feel, it is precise because there's a good level of grip on offer.
Visibility is noticeably better than in the Renault as well, but the Kodiaq does still fall slightly behind the Kuga when it comes to handling, as the Ford's well weighted steering and better body control put it at the top of the table here. However, even on 19-inch wheels the Kodiaq rides well, soaking up rough road surfaces and big potholes. At low speed it is a little unsettled, but less so than the other cars on test.
As the Skoda's engine produces its torque lower down in the rev range than its rivals, it doesn't have to hold on to gears for as long, which helps with refinement – driving at a relaxed pace, the rattly diesel is firmly in the background and makes itself known only when you put your foot down. While none of these engines is the smoothest, the 2.0-litre unit here is the most refined of our three cars'.
Testers' notes: "Practicality is one of the Skoda's strongest points, but it's great elsewhere, too. We love its strong refinement, composed handling and high-quality interior as well."
Ford Kuga
| | |
| --- | --- |
| Model: | Ford Kuga 2.0 TDCi 180 AWD PowerShift ST-Line |
| Price: | £32,295 |
| Engine: | 2.0-litre 4cyl turbodiesel, 178bhp |
| 0-60mph: | 8.4 secs |
| Test economy: | 36.1mpg/7.9mpl |
| CO2: | 134g/km |
| Annual road tax: | £140 |
Ford updated the Kuga SUV at the start of this year, with a new look and some extra equipment. Our 2.0 TDCi PowerShift AWD model costs from £32,295 in this ST-Line trim level.
Sporty looks hint at the Kuga's ability, and while it doesn't come close to the handling finesse of the Focus or Fiesta, Ford's SUV is still the best car here to drive. The steering is better weighted than its rivals' and feels more precise, while the stiffer suspension means it doesn't roll as much in corners, either.
Torque vectoring helps to rotate the car while you're turning by braking the inside wheels, which makes it feel more agile as well – and the Ford's four-wheel-drive system helps send grip where it's needed for improved traction.
The Ford's 178bhp engine feels just as strong as the Kodiaq's 187bhp unit and punchier than the Renault's 175bhp motor. It gave the car the edge over the Skoda in-gear; it was 1.4 seconds faster from 30-50mph in fourth, posting a time of five seconds flat. The CVT Renault doesn't have gears as such, and took 3.7 seconds to do the same test – but that trailed the Ford (3.5 seconds) and Skoda (3.2 seconds) in third.
Sport mode in the Kuga adds some steering weight and holds on to gears for longer, but it's the same story in the Kodiaq. The Renault doesn't have a sport mode at all, nor does it offer a proper manual mode – both the other cars do, and the Ford also gets shift paddles behind the steering wheel.
Stiffer suspension helps the Kuga control its mass in corners, but it results in the firmest ride, especially at low speed. It's not uncomfortable, because the driving position is pretty good, but the Koleos and Kodiaq are smoother.
Testers' notes: "Sport mode is engaged by slotting the gearbox as far down as it will go, but it's too easy to do this unintentionally. It'd be better off to the side or on a separate button."
Verdict
First place: Skoda Kodiaq
The Kodiaq retains its crown as the best large family SUV, because it still offers the strongest combination of refinement, performance, practicality and value for money. It's also the only model here available with seven seats, which adds to its versatility – although, of course, if you don't need them then you get a huge boot to fill up instead. It really has got everything a family car needs.
Second place: Renault Koleos
We're fans of the big Renault's design, composed ride and high-quality interior. It's nearly as practical as the Skoda, and it's really well equipped as standard. It's not much fun to drive, though, and the CVT gearbox hurts refinement. Drive gently and the Koleos remains quiet and calm in the cabin, while the big boot and spacious rear seats will be useful for many.
Third place: Ford Kuga
The Ford Kuga is falling behind its rivals when it comes to in-car tech, standard kit and interior quality, but it's still one of the better cars to drive in its class. That's less important than practicality and comfort in this company, though, which is why the Ford finishes third. It's not as spacious or refined as its rivals, either, but it does have strong performance and decent economy.
Other options in this category...
Land Rover Discovery Sport TD4 180 Auto SE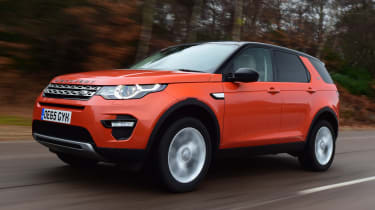 Price: £34,710Engine: 2.0-litre 4cyl, 178bhp
Style, superb off-road performance and a practical seven-seat cabin are all great reasons to look into the Land Rover Discovery Sport. It feels more upmarket than its rivals here, and it's also good to drive. It's not as well equipped, though.
Kia Sorento 2.2 CRDi KX-2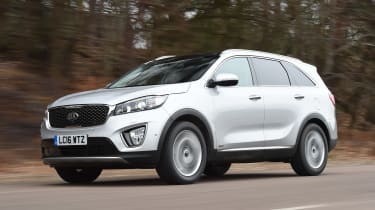 Price: £34,200Engine: 2.2-litre 4cyl, 197bhp
The Kia Sorento scores well on cabin quality, refinement and space – and there's plenty of kit included as well. It's also a seven-seater as standard. The firm ride and dull handling are a shame, but the big Kia is well worth a look if you're after a big SUV.
Figures
| | | | |
| --- | --- | --- | --- |
| | Skoda Kodiaq 2.0 TDI 190 4x4 DSG SE L | Renault Koleos 2.0 dCi 175 4x4 X-Tronic Signature Nav | Ford Kuga 2.0 TDCi 180 AWD PwrShift ST-Line |
| On the road price/total as tested | £34,035/£34,035 | £34,200/£36,210 | £32,295/£33,370 |
| Residual value (after 3yrs/36,000) | £13,699/40.3% | £13,649/39.9% | £12,976/40.2% |
| Depreciation | £20,336 | £20,551 | £19,319 |
| Annual tax liability std/higher rate | £2,143/£4,285 | £2,221/£4,441 | £1794/£3,589 |
| Annual fuel cost (12k/20k miles) | £1,624/£2,707 | £2,001/£3,335 | £1,768/£2,947 |
| Insurance group/quote/road tax cost | 21/£693/£140 | 23/£733/£140 | 25/£946/£140 |
| Servicing costs | £279 (3yrs) | £429 (3yrs) | £590 (3yrs) |
| | | | |
| Length/wheelbase | 4,697mm/2,791mm | 4,672mm/2,705mm | 4,535mm/2,690mm |
| Height/width | 1,655mm/1,882mm | 1,678mm/1,843mm | 1,744mm/1,856mm |
| Engine | 4cyl in-line/1,968cc | 4cyl in-line/1,995cc | 4cyl in-line/1,997cc |
| Peak power/revs | 187/3,500 bhp/rpm | 175/3,750 bhp/rpm | 178bhp/3,500rpm |
| Peak torque/revs | 400/1,750 Nm/rpm | 380/2,000 Nm/rpm | 400Nm/2,000rpm |
| Transmission | 7-spd DSG auto/4WD | CVT auto/4WD | 6-spd auto/4WD |
| Fuel tank capacity/spare wheel | 60 litres/£100 | 60 litres/£110 | 60 litres/space-saver |
| Boot capacity (7/5/2-seat modes) | 270/560-765/2,005l | N/A/579/1,795 litres | N/A/456/1,603 litres |
| Kerbweight/payload/towing weight | 1,720/767/2,000kg | 1,829/471/1,650kg | 1,716/514/2,100kg |
| Turning circle/drag coefficient | 11.6 metres/0.34Cd | 11.4 metres/0.35Cd | 11.1 metres/N/A |
| Basic warranty (miles)/recovery | 3yrs (60,000)/3yrs | 4yrs (100,000)/4yrs | 3yrs (60,000)/1yr |
| Service intervals/UK dealers | Variable (1yr)/135 | 18,000 miles (1yr)/158 | 12,500 miles (1yr)/781 |
| Driver Power manufacturer/dealer pos. | 2nd/5th | 22nd/11th | 19th/24th |
| NCAP: Adult/child/ped./assist/stars | 92/77/71/54/5 (2017) | N/A | 94/86/70/100/5 (2012) |
| | | | |
| 0-60/30-70mph | 8.3/8.0 secs | 9.5/9.5 secs | 8.4/8.4 secs |
| 30-50mph in 3rd/4th | 3.2/6.4 secs | 3.7 secs (CVT) | 3.5/5.0 secs |
| 50-70mph in 5th/6th/7th | 6.4/9.2/16.4 secs | 5.8 secs (CVT) | 7.1/9.7 secs/N/A |
| Top speed/rpm at 70mph | 129mph/1,800rpm | 125mph/2,000rpm | 124mph/2,000rpm |
| Braking 70-0/60-0/30-0mph | 57.9/36.9/11.1m | 51.5/40.0/11.1m | 49.4/35.5/9.5m |
| Noise outside/idle/30/70mph | 73/53/64/69dB | 69/53/64/70dB | 68/44/61/70dB |
| Auto Express econ (mpg/mpl)/range | 39.3/8.7/519 miles | 31.9/7.0/421 miles | 36.1/7.9/476 miles |
| Govt urban/extra-urban/combined | 42.8/53.3/49.6mpg | 45.6/48.7/47.9mpg | 51.4/57.7/54.3mpg |
| Govt urban/extra-urban/combined | 9.4/10.9/11.7mpl | 10.0/10.7/10.5mpl | 11.3/12.7/11.9mpl |
| Actual/claimed CO2/tax bracket | 193/151g/km/32% | 237/156g/km/33% | 210/134g/km/28% |
| | | | |
| Airbags/Isofix/park sensors/camera | Seven/yes/yes/£375 | Six/yes/yes/yes | Six/yes/yes/£250 |
| Auto box/stability/cruise control/AEB | Yes/yes/yes/yes | Yes/yes/yes/yes | Yes/yes/yes/£200 |
| Climate control/leather/heated seats | Yes/£300/yes | Yes/yes/yes | Yes/yes/£345* |
| Metallic paint/LED lights/keyless go | £555/yes/yes | £550/yes/yes | £545/no/yes |
| Sat-nav/USB/DAB radio/Bluetooth | Yes/yes/yes/yes | Yes/yes/yes/yes | Yes/yes/yes/yes |