Renaultsport Twingo 133 vs Suzuki Swift Sport
The hot new Renaultsport Twingo promises performance and fun at a bargain price. Can it beat the Swift Sport?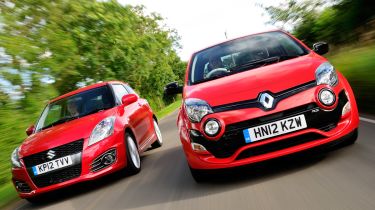 There are few better ways to blow away the cobwebs than to go for a back-road blast. And the latest hot superminis prove you don't need a massive budget to find an entertaining car to do it in.
A perfect example is the Renaultsport Twingo. It combines a high-revving, naturally aspirated 1.6-litre engine, stiff chassis and compact dimensions to create a pocket rocket that can easily put a smile on your face. And now Renault has introduced a facelifted version, which adds a distinctive new nose and improved interior. However, is the update enough to keep the Twingo on the pace?
The latest Suzuki Swift Sport builds on the successful formula established by its predecessor, so it can match the Renault for entertainment. Both cars come in at less than £14,000, and are every bit as practical and usable as their entry-level cousins. So which gives a better combination of big thrills and small bills?
Verdict
You really can have a hot supermini that delivers back road thrills for less than it'd cost to specify a set of carbon ceramic brakes for a supercar – and you can't go wrong with either of our contenders here. Both are powered by 1.6-litre petrol engines, and they have similar performance figures, although they deliver their thrills in very different ways.
The Renaultsport Twingo is very much an old-school hot hatch, as its focus is on handling and not a lot else. But while the sharp steering and grippy chassis deliver plenty of entertainment, the notchy five-speed gearbox makes it hard to exploit the engine's narrow powerband. Add the unrelentingly stiff suspension, and it means the Twingo feels like hard work – even if you're simply popping down to the shops.
If that kind of raw edge appeals, the Twingo is perfect, but the Suzuki Swift Sport's all-round abilities are hard to ignore. It can change its character to suit your driving mood, so if you want to have fun on a B-road, it's nearly as capable as its rival. Yet the six-speed box and slightly softer suspension mean you won't be exhausted if you take it on a motorway run.
Add in faster straight-line performance, a classier cabin, a decent list of standard equipment and marginally lower running costs, and the Swift Sport takes victory in this test.