Smart ForTwo Electric Drive vs Renault Twizy
These are the cheapest buys if you're going down the EV route. But is the Smart ForTwo or Renault Twizy a better bet?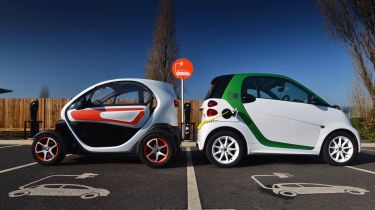 Electric cars have come a long way in the past few years, but their limited range and lengthy charging times mean they still only really make sense in the confines of the city. The urban jungle is also where the Smart ForTwo has made a name for itself – so the logical step is to pair the two together, and that's exactly what you get with the ForTwo Electric Drive. With prices starting from as low as £12,275, it's the cheapest electric car on the market today.
However, there's one battery-powered model that could cut your running costs further still. The Renault Twizy is classed as a quadricycle, so you don't need a car licence to drive one, and it's as basic as they come – even doors are optional. But as a result, prices start from £6,795. In this test, we want to find out whether the Smart can justify its price premium over the Twizy... or if the Renault is capable enough for urban drivers.
Verdict
One thing is clear from this test: you still have to make major compromises if you want to run an electric car on a daily basis. However, in the realm of the city, these two plug-ins make a lot of sense.
The ED is easily the best model in the ForTwo range. Direct drive eliminates the clunky semi-auto that blights the combustion-engined versions, and the acceleration offered by the electric motor makes it fun to drive. The rest of the package is identical to the standard car, which means you get a robust and roomy interior and plenty of personalisation options.
Driving the Twizy is a unique experience, and if you want to draw attention wherever you go, it'll do that like no other car on the road. But it's extremely basic inside, you would only drive it in the rain if you absolutely had to, and the drivetrain is unrefined compared to the Smart's.
The top-spec Twizy costs £7,495 with £45 per month battery rental, but it's well worth paying the extra £4,780 for the basic ForTwo ED with £55 a month batteries. Yes, it's a lot of cash, but not only is the Smart's driving experience better – with doors, a heater and the ability to travel nearly twice as far – it's less of a compromise than the Renault and one of the best all-electric cars on the market today.