"Suzuki is cleverly cornering the small-car market"
With many cars getting bigger, techier and costlier, Mike Rutherford thinks Suzuki is a breath of fresh air with its humble origins and low prices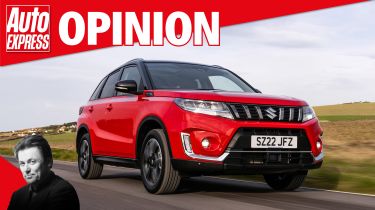 Ambitious Brit-based 4x4 firms with optimistic pricing policies aren't being shy in 2023. February brings the official public debut for Scotland's Munro Mk_1 agricultural vehicle, which has something of the Mad Max about it, yet – when ordered in Performance spec – costs from £83,994.
A week ago, Auto Express drove the intriguing but unfortunately flawed Ineos Grenadier, which is priced at £69,000 or more in Belstaff guise. Not to be outdone, JLR has just slapped a £250,000 price tag on its Range Rover Lansdowne Edition. According to the latest Government stats, this Solihull-built vehicle costs more than the average West Midlands house.
If you're a typical motorist on a tight budget, you can be forgiven for concluding that such vehicles are irrelevant to you. You may also join me in wondering whether buyers use savings, take out regular finance, or apply for mortgages to buy those Range Rovers.
But let's put these firms and their prices to one side and look at a car company that reckons it's the eighth largest in the world. If I told you it has a sho-sho-kei-tan-bi philosophy (Japanese for smaller, fewer, lighter, shorter and neater) that allows it to sell an all-wheel-drive car for less than £20,000 and/or a real mud-plugging 4x4 at £25,000, you might have doubts. But rest assured – these brand-new, mass-produced cars at those fairly inexpensive prices can be bought in the UK. 
I call the firm Japan's BLCC (Big Little Car Company), but it prefers its official and traditional name – SMC (Suzuki Motor Corporation). 
Don't be underwhelmed by its quiet, polite, humble, family-firm demeanour. At a time when vehicles from many other firms are getting bigger, techier and costlier, Suzuki is cleverly cornering much of the small-car market. Its cheapest all-wheel-drive offerings are the £18,749 Ignis and £19,999 Swift urban runabouts. The larger Vitara 4x4 is yours for £25,299, while its bigger, beefier S-Cross brother comes in at just over £30k.
Official consumption figures are between 47.8mpg and 52.4mpg. The 2WD Swace from around £28k is claimed to be a 64.2mpg car.     
Suzuki stresses that hybrid tech comes as standard with these and every other model in its range. The firm argues that real-world customers paying their own hard-earned cash when transitioning from pure ICE models are most comfortable occupying the cost-effective hybrid middle ground than taking the more expensive leap into pure EVs.
That said, Suzuki is spending £6.6billion on a five-year "electrification"-based R&D programme. And it's confident that well before the 2030 ban on sales of new petrol and diesel cars, it'll have several fairly inexpensive pure EVs in its award-winning showrooms.
Clearly, the sho-sho-kei-tan-bi obsessives at Suzuki HQ in Japan thoroughly think these things through. And in the countdown to 2030, the company has no intention of letting down or pricing out customers who are on tight budgets but still in need of little, affordable runabouts and SUVs of the ICE, hybrid or EV variety.   
Click here for our list of the cheapest cars on sale in the UK...