Tesla Motors history: the rise of the EV upstarts and what's next
How Tesla Motors went from automotive industry zeros to electric car heroes in 10 short years
Against the might of the established global car industry, Tesla Motors punches far above its weight.
Under the leadership of technology billionaire Elon Musk, the started-from-scratch car company has stolen a march on the establishment in just a few short years. Beginning with the original Tesla Roadster, the company has used the charisma of its founder, a healthy dose of PR hype, and some interesting products to become an acknowledged EV technology leader.
• Best electric cars to buy now
Even Volkswagen bosses routinely refer to Tesla as they attempt to refocus their business strategy after the 'dieselgate' emissions scandal, and the Renault/Nissan alliance must surely compare the desirability ratings of their latest EVs with Tesla's Model S and Model X cars, wondering why they've failed to capture the public imagination to anything like the same degree.
With renewed focus on Tesla cars in light of the first reveal of the long-awaited Tesla Model 3, we thought we'd look back at the key events in the company's rise to prominence – starting with an early strategy document published by Elon Musk on the Tesla blog back in 2006. Tesla is far from the finished article, however, and having made its name the biggest challenges may still lie ahead.
Scroll down the page for the key moments in the rise of Tesla Motors and a look at what the future might hold for the new car brand of the moment…
The Tesla Motors story
2006 – the 'Secret' Tesla Master Plan
Elon Musk uses his first post on the official Tesla blog to reveal his 'secret' master plan – a shift from today's 'mine and burn' hydrocarbon economy to a sustainable solar electric economy. "Critical to making that happen is an electric car without compromises," he wrote. "The strategy of Tesla is to enter at the high end of the market, where customers are prepared to pay a premium, and then drive down market as fast as possible to higher unit volume and lower prices with each successive model."
2008 - Tesla Roadster launched
Built in a collaboration with Tesla's project engineering partner Lotus, the two seat Tesla Roadster made some big claims – a range of as much as 245 miles, and supercar defying 0-60 acceleration in as little 3.7 seconds.
Driven hard, the range dropped significantly and there were other compromises too, but the Roadster had put down Tesla's marker and was a clear indication of the company's ambition.
2008 - new Model S premium saloon announced
In June 2008, Tesla Motors announced details of its planned Model S luxury saloon car – an unusual level of openness in a car industry more accustomed to treating future model plans with utmost secrecy.
2010 - Tesla Motors goes public
In June 2010, Tesla made its initial public offering with 13.3 millions shares sold at $17 per share. It was the first US automotive IPO since Ford in 1956, yet just four years later the stock market valued Tesla at half of Ford's global worth. Earlier in 2009 Daimler had already bought and sold a 10 per cent stake in Tesla, and from 2010 to 2014 Toyota owned a stake in Tesla while building a batch of electric Rav4s.
2010 - Tesla factory opens
From a company selling a few thousand Roadsters, the news that Tesla was about to open a brand new plant with a potential annual build capacity of half a million cars looked bold.
Backed by Elon Musk's cash, the factory in Fremont, California, has 580 robots to weld, glue and rivet the Model X's body. Tesla also boasts it has two of the largest robots in the industrial world to move cars through production.
In 2015, Tesla opened a Dutch factory to help speed up European Model S deliveries. Cars are assembled there from parts supplied by the California plant.
2012 - Model S deliveries start
The first Model S was delivered in 2012, later than expected, and again with typically bold claims. Described as 'the world's first premium electric saloon,' the 'safest production car on the road,' and 'the quickest accelerating four-door ever built', the Model S could easily have under-delivered. Instead, the car racked up a slew of accolades, with our road testers declaring it a hit too. By 2013 the Model S was outselling the Mercedes-Benz S-Class in the US.
2013 - Model S fires cause share price slump
A series of highly-publicised Model S fires caused a 20 per cent share value drop, but Tesla moved swiftly to remedy potential problems by introducing a new battery protection system.
2013 - Supercharger network development
Late in 2012, Tesla announced a new network of 'Supercharger' stations, designed to offer a rapid (30 minute) top-up for the Model S batteries – enough for an extra 150 miles of range.
By 2013 the Supercharger network installations were well underway, sited at strategic points on main traffic routes in markets where the Model S is sold. There are now 600 Supercharger points worldwide, and more than 30 here in the UK.
2014 - Tesla cars go onto Autopilot
As an EV tech leader, it shouldn't have come as any surprise when Tesla announced its new Autopilot driver assistance system. Autosteer, auto lane-changing, autopark and the Summon system of remote control 'valet parking' are all said to point the way to the ultimate goal of fully-autonomous (driverless) vehicles.
2014 - Telsa starts building the Gigafactory
In 2014 the foundations were laid for a new battery factory that is scheduled to enter production next year – in time for the sales launch of the new Tesla Model 3. Called the Gigafactory, Tesla claims that by 2020 it will produce more lithium ion batteries annually than were manufactured globally in 2013.
2015 - Global Model S sales pass 100,000
In December 2015, Tesla announced global sales of the Model S had reached 100,000 units, making it the best-selling electric car in history after the Nissan Leaf.
2015 - Tesla's world first electric SUV
In 2015 the new Tesla Model X SUV reached volume production, after a series of reported delays. A seven-seater 4x4 with crossover styling and funky gullwing type rear doors, the Model X is also notable for its claimed 257 mile range and acceleration to 60mph in as little as 3.2 seconds.
2015 - marks the launch of Tesla Energy
Tesla wants to be at the forefront of the shift to renewable energy, and not just in cars. Tesla Energy is a new company set up to help create the required infrastructure at home and in industry using – what else? – a battery pack called the Powerwall manufactured at the Tesla Gigafactory. In future Tesla Energy will also be able to repurpose old car batteries to store and distribute energy from renewable sources like wind power and solar.
2016 - Tesla predicts global sales of 80-90,000
This year, if things go to plan, Tesla will deliver between 80 and 90,000 Model S and Model X vehicles to customers around the world.
2016 - new Tesla Model 3 revealed
With deliveries of its new BMW 3-Series rivaling 'affordable' car scheduled to start in 2017, Tesla has just given us our first look at the new Model 3 with its promise of a 200 mile+ range. For the full story – click here.
So what does the future hold for Tesla Motors?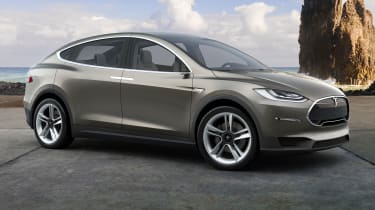 With its aspiration to be a fully-fledged automotive maker, there are plenty more models in the Tesla product plan. It has been reported from various sources that plans exist for a commercial vehicle spin-off from the Model X platform, a smaller crossover known as the Model Y, and a new roadster could be with us by 2019. We should also expect continual advances in the available range from Tesla's battery tech, as well as more developments with the Autopilot system.
Are Tesla Motors' toughest challenges still to come?
While the achievements of Tesla Motors are impressive, the company still has to overcome huge start-up losses and prove itself as a long-term and profitable mainstream competitor.
The company has been great at promoting its vision, inspiring customers, and attracting backers who want to get on board with gold-fingered tech tycoon Elon Musk. Others are more skeptical, citing Tesla's recent share-price rollercoaster and a questionmarks over reliability of early cars.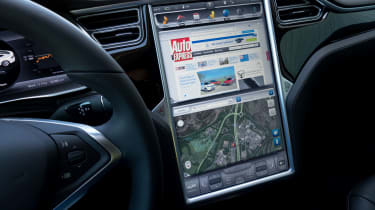 The establishment is fighting back, too. Having been spurred into action by the success of the original Tesla Roadster, General Motors (Vauxhall in the UK) now looks certain to have its own 200-mile+ range 'affordable' electric car on sale before the Tesla Model 3. The majority of other global manufacturers won't be far behind, and without access to their long-established sales and service networks will 'disruptive' Tesla Motors be able to stand the heat?
The issue of the electric car charging infrastructure is a big problem too, and some pundits even believe rapid developments in hydrogen fuel cell vehicles will threaten the future of battery-powered EVs.
So, much rests on Tesla's ability to get the new Model 3 to market in good time, and car must quickly appeal to a broader spectrum of buyers than the current affluent 'early adopters'. In other words, the Model 3 simply has to live up to the hype.
What's your view on Tesla's dramatic rise and what the future holds? Let us know in the comments section below...