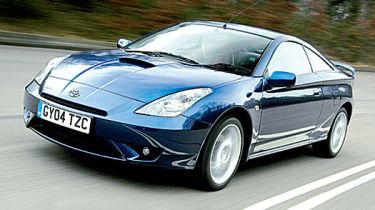 Overall Average Rating - 82.78%Position in the Top 100 cars - 66th
It is one of Toyota''s elder statesmen, but the Celica still has a strong following. A 22nd overall placing for both handling and reliability is a great result –– especially when you consider how many older cars there are in circulation. In fact, it starts to fall down only when it comes to the usual coupé problems. You tell us that practicality isn''t great, while the ride quality is harsh enough to shake fillings loose. Overall, though, not a bad result for a model that''s been axed from the Toyota line-up.
Ratings
Position in the Top 100 carsReliability: 22ndBuild Quality: 38thRunning Costs: 54thPerformance: 69thBraking: 87thRide Quality: 94thHandling: 22ndPracticality: 89thComfort: 77thEase of Driving: 61st
Your Quotes
"Excellent car, only let down by the bane of Toyotas - alloys with built-in self destruct! Few get past three years without appalling corrosion issues."
Mr Nicholas George - Worcester
"Good performance and handling, very reliable, reasonable economy."
Mr Richard Harrison - Edinburgh
"Not what I'd originally intended to buy, but I am soglad that its look on the forecourt won me over. It's fantastic and I can't fault it in any way. How can a car that's almost 5 years old still look, run and feel so good?"
Mrs Sarah Low - Middlesbrough
"Very different to my previous UK-spec Supra twin turbo but within its class (larger executive saloon) it performs well gives overall: 28+mpg on mostly urban driving. Sure, it's not racy but then it was bought with family commitments in mind and with a 12-year anti perforation warranty and the usual Toyota reliability - I have nothing but praise."
Mr Roger Alexander - Lancs
"Really good sports car, or as sporty as I want, that's where my satisfaction with the vehicle lies and I find I can cruise at high UK speeds and it's comfortable, a bit plush, and it's a nice mix."
Mr Paul barber - Bournemouth
"Very reliable car, engaging drive, surprisingly practical and frugal - looks good"
Mr Mike Calvert - Berks
"Excellent car with fantastic handling but engine lacking in torque. Only trouble was the alloy wheel which corrode - a known fault and obviously not rectified fully as the car now wears its 2nd set of all-round replacement alloys."
Mr Nicholas Van Der Walle - Hereford
Manufacturer Verdict (Position - 8th)
Having celebrated the success of the flagship Lexus brand, Toyota bosses will also feel fairly smug about where their mainstream marque has charted. Firmly established in the top 10, Toyota has achieved above average ratings in each judging category. As the new Yaris and Auris models begin to make up the bulk of Toyota''s UK sales, we will be keen to see if the firm can continue to scale the chart.