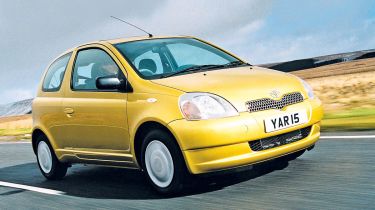 Overall Average Rating - 86.15%Position in the Top 100 cars - 35th
WINNER OF CATEGORY - Running costs
Here's a top tip for low-cost motoring – buy a used Yaris. The supermini is powered by some of the most efficient engines around. Opt for the diesel, and you will be dazzled by its ability to tackle long motorway trips on a shoestring. Excellent reliability also helps the Toyota to avoid high maintenance bills, while servicing is simple. The new larger Yaris will have a tough time matching its predecessor – we'll find out how cost effective it is in Driver Power 2008.
Ratings
Position in the Top 100 carsReliability: 6thBuild Quality: 28thRunning Costs: 1stPerformance: 76thBraking: 57thRide Quality: 61stHandling: 66thPracticality: 66thComfort: 74thEase of Driving: 26th
Your Quotes
"A good runaround, my Yaris T Sport has good mid-range torque, but isn't all that fast. However, it's economical, cheap to run and offers a fun drive."
Mr David Seager - Hampshire
"I am a driving instructor and all my pupils are very impressed with the car and they all want one. It still has the same clutch after 138,000 + miles, and it has been a real joy to work in this car every day. I cannot fault it."
Mr Derek Hoffman - West Midlands
"Excellent! A fun car. A bit undergeared for long journeys, but it leaves a smile on your face. The adjustable back seat/boot is inspirational."
Mr Mark Pettigrew - Sheffield
"Poor seating design - left foot wears holes in carpet when just resting (auto). Engine tunnel curves in on footwell. Seat does not go back far enough for those with longer legs, think it's built for Japanese-sized drivers not Europeans. Steering wheel adjusts up and down not forward and back as well? Window rubbers have shrunk on both the driver and passenger door. Garages refuse to replace even if I will pay for it. Also, no light in boot makes it difficult to empty shopping in dark and sloping dash of rippled plastic makes it nearly impossible to attach minor accessories. i.e. sunglass holders etc. The storage compartments are stupid size and shape and not really fit for purpose. Basically a reliable car, but it lets itself down over internal finish."
Mr Peter Hornett - Surrey
"Very reliable, easy to drive, although not very exciting."
Mr James McKinstry - Co. Antrim
Manufacturer Verdict (Position - 8th)
Having celebrated the success of the flagship Lexus brand, Toyota bosses will also feel fairly smug about where their mainstream marque has charted. Firmly established in the top 10, Toyota has achieved above average ratings in each judging category. As the new Yaris and Auris models begin to make up the bulk of Toyota's UK sales, we will be keen to see if the firm can continue to scale the chart.