Volkswagen to reduce model count and increase vehicle costs
Volkswagen has announced that savings of 3 billion euros will be made by the end of 2020, while vehicle prices will rise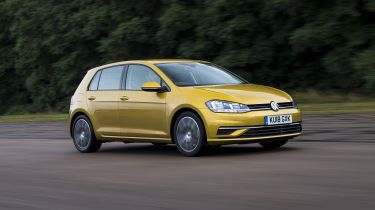 Volkswagen will slim down its model portfolio, streamline the number of variants offered and increase vehicle costs in a bid to improve profitability, the company has confirmed.
VW sold almost 84,000 Golfs in Germany in 2018 with more than 58,000 models in different configurations. A small minority of Golfs were identical. Over the next five years, VW intends to optimise vehicle manufacture by removing poor-selling engine and trim variants.
Next year, VW will axe 25 per cent of its engine and gearbox variants in Europe, concentrating on the high-demand variants, to simplify production. For example, cars with automatic transmissions and four-wheel-drive systems sell poorly across the VW range.
This is part of VW's "pact for the future," which aims to reduce costs by three billion euros by the year 2020.
VW's Chief operating officer Ralf Brandstatter said that internal combustion cars within Volkswagen's range are likely to increase in cost to help fund Volkswagen's movement towards e-mobility and cover off the rising cost of diesel technology.
There has been a strong customer shift away from diesel engines following the Dieselgate scandal; as a result VW will be limiting the number of diesel engines in its range. Other low-demand equipment packages and optional extras will either be assimilated into other packages or discontinued.
The Dieselgate scandal affected sales and shook the trust of VW's customers; Volkswagen hopes its electrification strategy will hopefully aid this issue, recovering sales and trust, adding that "the worst is over."
Volkswagen also aims to implement more CO2 reduction measures in the production of its vehicles, with aims of meeting the new European standard of 95g/km of CO2. A representative from VW said that "Volkswagen is fully committed to the Paris climate agreement."
The company is planning to offer carbon-neutral electricity for most European markets, allowing customers to charge their vehicles without impacting the environment.
VW models on the way for the next five years
The first all-electric Volkswagen, Skoda and SEAT vehicles produced on the MEB platform will arrive in 2019. Volkswagen aims to increase its electric fleet from two models to over 20 by 2025.
Three electric vehicles, the new e-Golf, e-Lavida and e-Bora, will be introduced to the Chinese market by the middle of next year, while the e-Polo will follow. It's unlikely these vehicles will be offered in Europe.
VW's SUV segment will also expand over the coming years; eventually one in every two Volkswagens sold will be an SUV the firm predicts.
The T-Roc Cabrio will debut in the European market in the second half of 2019, along with new Golf and the first of the new all-electric I.D. family, which will be available to order early next year.
Volkswagen states it intends to "democratise e-mobility" with the I.D. hatchback aiming to make "e-mobility accessible and affordable for everyone," in the same manner as it did with the original VW Beetle.
The new I.D. will have an all-electric range of up to 341 miles on the WLTP cycle, and will be priced similarly to the new Golf diesel.
Like all new Volkswagen cars, model complexity will be restricted in the I.D. range with fewer trim levels, colours and equipment packages offered to customers. Volkswagen is aiming for customers to be able to configure their cars within 10 minutes.
As early as 2025, Volkswagen aims to be the first manufacturer to sell more than one million all-electric vehicles.
Click here to read all about Volkswagen aiming to produce its last generation of combustion engines in 2026...