Two-tone VW Caravelle Generation Six, yours for £52k
Volkswagen revives classic paint scheme for new T6 Caravelle 'Generation Six', on sale next month for £52,051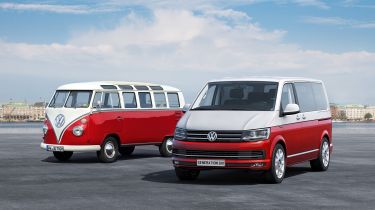 VW has announced pricing for its new T6 Caravelle 'Generation Six' minibus. The special edition of the new T6 model starts from £52,051 (incl. VAT), with a distinctive two-tone paint scheme and bespoke interior fittings.
The red ddn white-themed exterior is designed to hark back to the original 'Type 1' Caravelle of the 1950s. It also gets retro-special edition 18-inch alloy wheels, LED lights front and rear, chrome grille detailing and privacy glass. 'Generation Six' badging completes the look.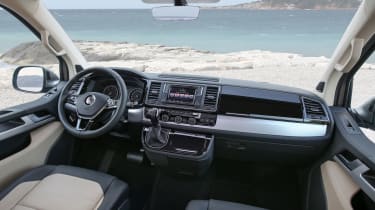 Inside, you'll find alcantara and leather trim, special textile floor mats, a leather steering wheel and silver brushed interior trim. A 'Generation Six' illuminated door sill also features. Standard kit includes three-zone climate control, adaptive cruise control with Front Assist, satnav, DAB, smartphone app concectivity and heated seats.
The T6 Caravelle comes with either a 148bhp or 200bhp 2.0 TDI Euro 6 diesel, mated to a seven-speed DSG gearbox. It hits showrooms at the start of November 2015.
Check out all the latest commercial vehicle news and reviews in our van channel...