Volvo V40 Drive-E 3cyl prototype review
We put Volvo's new 3-cylinder engine through its paces in a V40 Cross Country prototype
Our drive was short and was in the firm's only prototype, but it was clear to see that with new investment from its Chinese owners, Volvo is recapturing its vigour when it comes to creating great engines. It was punchy and enjoyable to use in our V40 Cross Country test car, but the firm just needs to hurry up and build it.
Not content with replacing its five-, six- and eight-cylinder engines with 2.0-litre four-cylinder units, Volvo has created a 1.5-litre three-pot and Auto Express has been one of the first media in the world to put it through its paces.
Volvo is working hard on bringing to market its own three-cylinder engine, joining the ranks of Ford and Volkswagen in creating small engines for medium sized cars.
But unlike those two big brands, the Swedish company has gone its own way and created a 1.5-litre unit. A totally in-house creation, the dinky engine took an amazing 48 weeks from gaining management approval to the first one running. It's currently in heavy testing and is slated to appear in Volvo's V40 within the next two years. Within time the small power plant is likely to appear in Volvo's S60, V60 and XC60 cars too.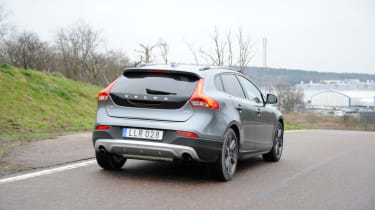 Volvo has aspirations to become a truly premium manufacturer to properly rival Audi, BMW and Mercedes. While BMW puts its 1.5-litre engine into the MINI and its i8 supercar, it hasn't seen the light of day in any other BMW products. Meanwhile Audi and Mercedes haven't slotted in a three-cylinder engine into its A3 or A-Class models yet so Volvo is breaking new ground in the premium hatchback sector.
Volvo also knows that its customers want a premium driving experience, so it has been keen to avoid the vibrations that are so characteristic with three-pots by tuning the flywheel and the torsional damper to try and give the same level of refinement as its larger 2.0-litre four-cylinder unit.
Volvo is aiming for a CO2 emission output of 95g/km in the conventional three-cylinder engine, but admits that in time the engine could be adapted for hybrid and plug-in hybrid uses in a bid to offer more environmentally-friendly motoring.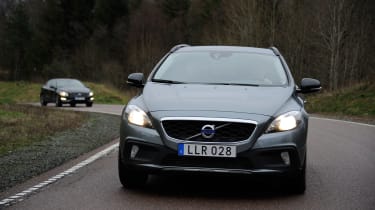 We got behind the wheel of the prototype engine fitted in a V40 Cross Country at Volvo's Technical Centre test track in Gothenburg, Sweden. Our test was limited to just a couple of quick and slow laps in a car shod with rubber perfectly suited to December weather in Sweden – studded tyres. But we pleasantly surprised at how far developed the engine is.
Our prototype developed around 156bhp and was more than willing to tackle the track's slimy Tarmac and steep hills. On start-up there really is little vibration despite the fact there are just three cylinders under the bonnet. Select first and prod the throttle and you're away, although if you're used to driving Volvos boasting more cylinders – like us – a good prod of the accelerator is needed to actually get going.
On the move and the engine is a delight. Three-cylinder engines tend to thrum along giving an audible reminder of just how few cylinders you have at your disposal, but our V40 test car was quiet – only under hard acceleration did the engine make its presence heard. It revs up to 6,000 before the engine begs for a gear change.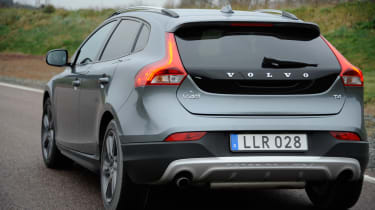 Approach a corner and thanks to the engine's lightness, the turn-in is direct. There's a definite sense of how light the front end of the car is but our test was somewhat skewed by the studded tyres that seemed to dance over the Tarmac, heightening how playful the light front-end is.
On first impressions Volvo's small engine is good – and if the CO2 and fuel consumption figures are as low as Volvo is aiming for (the company hasn't said but assured us they will be class-leading), the engine could be a winner. Volvo just needs to hurry up and put it into production before its rivals steal a march.