Best winter driving apps 2018
These are our top 10 essential winter driving apps to motorists moving in the cold
There are lots of things you can do to prepare for driving in the winter, from making sure you have the correct tyres to packing plenty of emergency kit. However, technology can also help so we've picked the best winter driving apps to help you get ready for the big freeze.
Smartphone downloads have been helping motorists for a number of years now, with apps for mapping/satellite navigation and parking being particularly well documented. When winter arrives, though, there are plenty of other apps that are essential for driving in the cold.
We've selected ten of the most important apps below, which include weather forecasts, breakdown services, petrol station locators and even a survival manual should you find yourself stuck in the snow.
Of course, arguably just as important as any winter driving app, is a charging cable. Make sure you keep a spare one in your car in case you find yourself stuck with very little battery life. A winter driving app is only useful if you can actually use it.
Scroll down below for our list of the best winter driving apps…
Top 10 winter driving apps
TomTom GO
Available on: iOS, AndroidPrice: Free for 50 miles per month, £14.99 for the year
Sat-nav apps that alert you to traffic and road closures are especially handy in winter, with accidents common and road closures rife. TomTom GO offers 50 free miles every month, and includes the same traffic alerts drivers get with the brand's premium sat-navs. Our previous test winner is quick to calculate alternative routes around jams, plus its layout and voice commands are clear.
PetrolPrices
Available on: iOS, AndroidPrice: Free
One of the best ways to prepare for any winter drive is to make sure your fuel tank is full before heading out; you could be on the road for a lot longer than anticipated. The PetrolPrices.com app covers 98 per cent of UK forecourts; a simple tap searches for the nearest and the app will guide you there. You can also select sites with the cheapest fuel to help keep the costs down during the holiday season.
AppyParking
Available on: iOS, AndroidPrice: Free
Many of us visit friends and family in winter, and parking can be tricky, especially in cities. AppyParking has an easy-to-use interface, shows the nearest on and off-street bays and directs electric car owners to the closest charge points. Maps are split into zones to help you identify the different parking rules, so you won't be hit with a ticket. Prices are shown clearly, and the app will help you locate your car.
Breakdown app
Available on: iOS, AndroidPrice: Free (membership required)
Members of any of the big breakdown operators – such as the AA, RAC or Green Flag – can report a problem via their respective apps. These are free to download, but membership fees vary. The app could help you and your family get back on the road more quickly in bad weather, as you jump call centre queues. It's also a good back-up if your phone signal is poor but you can still access its data connection.
Offline Maps & Navigation
Available on: AndroidPrice: Free, Offline European maps & traffic £23
If you know you'll be driving through areas where mobile signal is poor, install offline maps of the area. Your phone should be able to receive a GPS signal, which it will use to navigate the offline maps. Apps like Offline Maps & Navigation offer online and offline maps, so you can use it for normal navigation, and downloada set of maps for later use.
Met Office weather app
Available on: iOS, AndroidPrice: Free
Checking the weather before you hit the road is another winter must. The Met Office weather app not only offers drivers accurate forecasts, but will also let them know where, when and how much rain will fall in the next 24 hours. It can give real-time severe weather warnings about snow, strong winds, ice and fog, and you can share forecasts and warnings with your friends and family.
Drivermatics
Available on: iOS, AndroidPrice: Free
Icy, slippery roads in winter increase the risk of accidents. While we'd recommend a dash cam to capture any incident, apps like Drivermatics are a good budget back-up. Other software – such as sat-nav apps – can be used while the dash cam runs in the background. Recordings are stored on cloud remote servers as well, so your phone's memory isn't taken up entirely by camera footage.
Be Avalanche Aware
Available on: iOS, AndroidPrice: Free
Yes, avalanches do happen in the UK. There were more than 100 last year, with most in the Scottish Highlands. Anyone driving north can check the conditions and forecasts with the Be Avalanche Aware app. It gives daily reports as well as automatic notifications as you enter a forecast area. Another useful tool in understanding harsh UK weather patterns.
INRIX Traffic
Available on: iOS, AndroidPrice: Free
INRIX Traffic uses weather and jam information to help drivers navigate through sudden road closures or build-ups of traffic. Each road is categorised in green, orange or red, denoting the flow of traffic, and INRIX's analysis of weather conditions on traffic flow will give you the best idea of how long your journey will take. Drivers can also report incidents to other motorists using the software.
Offline Survival Manual
Available on: AndroidPrice: Free
Even though you took all the precautions, from checking the weather to fitting winter tyres, you may still find yourself stuck at the roadside as the snow drifts. If that's the case, you need The Offline Survival Manual on your phone. This provides tips to help you last through the night – from how to make a fire to keeping warm in cold conditions, as well as important first aid advice.
Winter driving special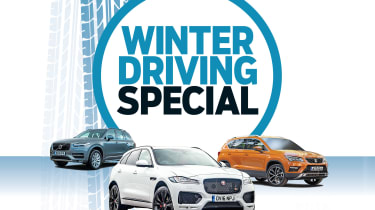 Best winter cars
Get ready for winter on the roads
Top tips for winter driving