Alfa Romeo axes sports cars in favour of SUVs
The Italian manufacturer has abandoned its planned 8C supercar and GTV sports car projects, focussing instead on a pair of new SUVs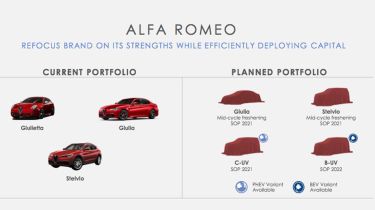 Alfa Romeo has cancelled the 8C supercar and GTV sports cars it had previously announced its intention to build. Instead, the Italian firm will focus on a fresh B-segment SUV and its recently revealed C-segment SUV model, the Tonale. With the 4C sports car having already slipped from the range, the Italian brand will also shortly remove the Giulietta hatchback from sale, scaling back its planned 2022 product line-up from seven models to just four.
The Giulietta could be axed as soon as next year and both the Giulia and Stelvio will progress into 2020 untouched, with a mid-cycle refresh for both models planned for 2021. The new Alfa Romeo Tonale will reach the market in 2021, followed by the brand's new smaller B-segment SUV in 2022.
According to Alfa Romeo's third quarter review, the 8C and GTV projects have been axed to cut back on spending and to align the brand with current market trends. The firm has also announced that a plug-in hybrid powertrain is planned for the new Tonale and that its new B-segment SUV will be offered with an all-electric powertrain – marking the first time either technology has appeared on an Alfa Romeo.
Alfa Romeo's pair of new SUVs will enter an increasingly densely populated marketplace, with the Tonale going up against the BMW X1, Volkswagen T-Roc, Audi Q3 and Nissan Qashqai. The firm's planned B-segment SUV will also face tough competition, facing the Skoda Kamiq, Citroen C3 Aircross, Renault Captur and the all-new Nissan Juke.
The cars that could have been: Alfa's axed projects
The axed Alfa Romeo GTV project was originally planned as a Giulia-based two-door, four-seat sports car to rival the BMW 4 Series. Timothy Kuniskis, Alfa Romeo's brand boss, previously stated that the range-topping model would be a four-wheel-drive 600bhp Quadrifoglio model, with lesser petrol and hybridised models completing the line-up.
The all-new 8C would have used a carbon fibre monocoque chassis with a twin-turbo V6 engine boasting more than 700bhp. It was supposed to get an electrified front axle, with the petrol engine sending power to the rear – and it was due to be targeted at established supercar rivals such as the Audi R8 and McLaren 570S. Now that project looks to have gone the way of the smaller 4C.
What do you make of Alfa Romeo's latest product announcement? Let us know in the comments section below…