Electric Audi hatchback on the way
A concept version of Audi's upcoming VW I.D. rival will be shown in a few months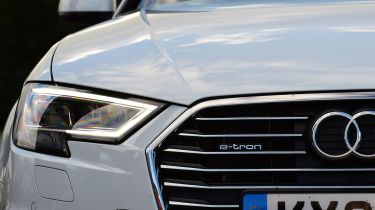 Audi will preview its upcoming entry-level electric hatchback with a concept car 'in a couple of months', bosses have revealed to Auto Express.
The A3-sized EV hatch will be a rival to the likes of the VW I.D. and Nissan Leaf, and be one of 12 fully electric Audis launched by 2025.
• New Audi e-tron GT concept wows at LA
Speaking at the LA Motor Show Audi's head of exterior design, Andreas Mindt, told us that future electric Audis would stick with a more conventional design so to not alienate potential customers.
"You can design for the early adopters or you can design for the mainstream customer as well - we want to catch both," Mindt told us. "There are a lot of people out there who just want a good looking car, they are not interested if it's an EV or a conventionally powered car - in a coupe of months we will show you a first draft."
Midnt went on to say that designing a compact EV is one of the most difficult jobs for a car designer, adding: "A super sports car that is low and wide is easy to design, like a penalty shot without a goal keeper but an electric car that is low and sleek is a harder task. To make a small car look nice which is cheap for mass production is a very hard task." 
Audi has access to a range of electric vehicle platforms; the e-tron SUV makes use of a modified version of the MLB platform that underpins the Q7 SUV, while the new e-tron GT concept that was launched at the LA Motor Show shares its J1 platform with the upcoming Porsche Taycan. 
The electric hatch will be based on the same MEB platform as the upcoming VW I.D. and Skoda Vision X. As a result most models are expected to be front-wheel drive, to help keep costs down, while a maximum range of over 370 miles is being targeted.
What will Audi's new electric hatch have to beat? These are the best EVs on sale right now...