Audi A1 - best small automatic cars
It's getting on a bit, but variety and Audi's first-rate quality put the A1 in our top 10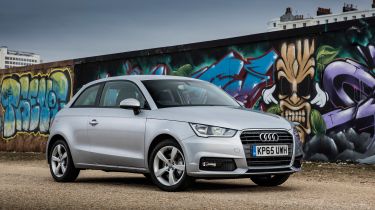 If the retro looks of the MINI doesn't appeal, then the Audi A1 is your salvation. It offers the same premium quality and personalisation in a package that feels like a proper Audi, even if it shares its running gear with the VW Polo and Skoda Fabia.
That parts sharing stretches to engines and gearboxes, and while Audi brands its auto S tronic, it's the same seven-speed DSG box you'll get in other VW group models, although it's offered on more engines here. The 1.0 TFSI 95PS, 1.4 TFSI 125PS and 150PS petrols and the 1.6 TDI 116PS diesel can all be had with it, and it comes in SE, Sport, S line and Black Edition trims.
The A1 is getting a little bit old now, so it's not the sharpest performer or the roomiest supermini around. But it still feels like an Audi inside, with first rate build quality and plenty of upgrades available. However, keep an eye on the options, because you could easily be spending £30k on a supermini if you're carefree with the options.
Best small automatics