Bentley Continental GT (2011-2017) review
The long-established Bentley Continental GT has matured gracefully in cruising trim - or disgracefully in 700bhp Supersports guise!
The Bentley Continental GT for sale today looks very much like the first model launched way back in 2003, which speaks volumes about the visual appeal of the first new Bentley designed from the ground-up by its then new owner the VW Group.
In fact, this second generation car entered service in 2011 and was mildly facelifted in 2015, although you'd need to be a real Bentley aficionado to spot the differences.
The Continental GT price list starts at around £140k for the cheapest V8 model, but you can spend a lot more on a range that includes the Continental GT Speed and Continental Supersports – and they're all available as coupes or convertibles. The basic list prices don't include any of the near limitless range of bespoke trim and colour options either, and it means the Bentley exists at the more rarified end of its segment. Rivals for the Conti range from the smaller and much more hardcore Mercedes-AMG GT, through choices like the Maserati GranTurismo and Mercedes S-Class coupes, and other sporty options like the Aston Martin DB11, Porsche Panamera and Ferrari California.
The Continental range features full-time four-wheel drive and a choice of twin-turbo V8 and W12 engines with outputs starting from 500bhp in the entry-level V8 S and rising to 700bhp in the W12-powered Continental Supersports – the most powerful road-going Bentley the factory has ever produced. Standard spec for the Supersports includes 21-inch alloys and a big carbon fibre rear spoiler and bespoke bumper design plus bonnet vents and side skirts, while inside it features Bentley's recurring chequer-plate design theme. In comparison the Continental GT Speed with its 633bhp W12 looks quite tame, in spite of a chassis that's lower – and sportier – than the entry-level W12, and its own racy looking alloy wheels. The entry-level W12 powered model is called simply the Continental GT.
The V8 S is a far sportier proposition than the cruise-orientated W12, and gets lowered suspension, side sills, a front splitter and rear diffuser – as well as 20-inch alloys, red brake calipers and optional sports exhaust.
VW ownership has brought cost-effective mass-production techniques to Bentley as well as impressive and up-to-date technologies across the board, although the cars are still hand-assembled and trimmed at Crewe.
Bentley's Continental GT isn't the new kid on the block, but a series of incremental updates over the years have kept it fresh. The V8 engine is perhaps the best addition, as it brings more efficiency, almost as much performance and a sporty soundtrack into the mix. The Continental GT is a real rival for the Aston Martin DB9, and now feels as special as a Bentley should. But it's still heavy, thirsty and cumbersome while lacking much by way of practicality.
• Bentley Continental V8 S review
We'd go for the 521bhp V8 S, as it offers similar performance to the W12, has better handling and much better fuel economy, plus a great V8 soundtrack. If you want a luxurious grand tourer that can pamper four passengers (at a push) and still be an entertaining driver's car, the Continental GT remains a great choice.
Engines, performance and drive
Choose the silky smooth W12 or the rumbustious V8 - either way the Conti is devastatingly quick
The Bentley Continental GT is a big car, and it shows in corners. Four-wheel drive means there's lots of grip, but the W12 Continental GT rolls a bit in bends – and always feels more at home as a long-distance cruiser than anywhere near a racetrack. As for the new V8 S, it provides the best blend of handling (superb for such a big car), but still with the ability to waft along.
In terms of real world performance, the 4.0-litre twin-turbo V8 in S trim is as fast as the more expensive W12, offering huge acceleration and fantastic mid-range overtaking pace. However, the GT Speed is the fastest Bentley yet, boasting a top speed of 206mph (or 203mph for the convertible), along with suspension that's lowered by 10mm and around 45 per cent stiffer. As a result, the handling is remarkably precise for a 2.3-tonne car.
It's the V8 that delivers a sportier soundtrack, too. While the W12's booming full throttle exhaust note is imposing, it never sounds particularly exciting for such an outrageously-powerful car.
Engines
Two engine choices remain in the Continental line-up: an updated version of the 6.0-litre W12 from the original Conti GT (available with either 567bhp as standard, or 633bhp in the GT Speed) and the newer 4.0-litre twin-turbo V8 available with 500bhp as standard or an extra 21bhp in S spec.
The V8 got cylinder deactivation as standard as part of the 2011 facelift, but in 2015 the W12 was also given the ability to run on six cylinders when power demands are low. Power was also boosted from 567bhp to 582bhp, while torque increased by 20Nm to 720Nm. The slight power jump might not be noticed, but the efficiency tweaks are useful.
Translated into on-road performance, even the standard GT V8 delivers 190mph and 0-60mph in 4.6 seconds. The standard W12-powered GT offers 198mph and a 4.3 second 0-60mph time.
MPG, CO2 and Running Costs
Let's just say efficiency isn't too bad for a 2.3 ton car with near 200mph performance
You don't buy a Bentley if you're worried about running costs. Even so, we'd still choose the V8 S version over the W12. Cylinder-deactivation tech and an eight-speed gearbox help it return 26.8mpg on the combined test cycle, and as much as 36.7mpg out of town if you take it easy. But it's pretty much as quick as the bigger-engined models and it still has an incredible 192mph top speed, so in everyday driving you're not missing out in the way of performance.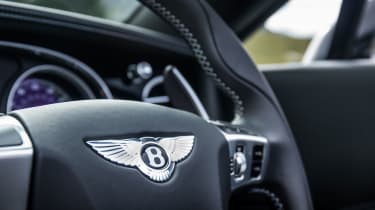 In 2015 cylinder deactivation technology was brought in on the W12, meaning the car can run as a six-cylinder when power demands are relatively low. It improves fuel economy by 4-5 per cent on the combined cycle, lowering the total to 20.9mpg, but Bentley claims it can be as much as 20 per cent better in the real world. The GT Speed has a combined consumption figure of 19.3mpg – or 13mpg around town.
Emissions also improve with the latest specs, but even so it's hardly going to be on any company car list. The worst offender is the 338g/km of the W12 GT Speed, while the V8 emits 246g/km.
Insurance groups
Given the enormous performance available across the range, and the high purchase and repair costs, it should come as no surprise that all Bentley Continentals attract the highest group 50 insurance rating.
Depreciation
The Bentley Continental may be an expensive car to buy, but it's expensive to sell too. Expect its value to halve over five years, and you should be in the right ballpark.
However while losing £75k in five years will sound painful to most, the truth is that a £1,200 monthly depreciation charge doesn't appear to put off owners. And thanks to the timeless styling, it also makes a good used Continental a fabulous choice for the second owner.
Interior, design and technology
The Continental may have timeless lines, but the tech has been periodically updated to good effect
The second Bentley Continental GT is an evolution of the original, and the car is still built around the Volkswagen Group's D1 large car platform, which debuted in 2002 underpinning the VW Phaeton limo. The same engineering tech is featured beneath the Bentley Continental Flying Spur which arrived in 2005.
With a low and wide stance and a big mesh grille up front, the styling leaves no doubt about the Bentley's credentials though, and there's nothing to give away the VW connection inside or out.
The V8 S and Speed models get subtle but sporty bodykits that don't detract from the classy style. Mulliner Driving Spec (which is standard on the Speed) also gives you a few more bits and pieces, bigger 21-inch alloys for example and a plusher, sportier cabin with quilted hand-stitched leather on the seats.
The 2015 facelift brought along lightly restyled looks, with revised bumpers and altered badging. You'll have to be a diehard fan to tell them apart, but new paint colours and alloy wheel designs help lift the exterior.
Inside, Bentley's usual high standards have been maintained, with luxurious leather trim, deep pile carpets and a distinctive dashboard finished with leather and turned aluminium. Bentley also encourages buyers to create their own style with a limitless variety of bespoke colour and trim options available – on top of the array of 'standard' colours and finishes for leather, stitching and wood veneers.
2015 saw extra chrome and gloss black trim added, as well as new leather choices, LED ambient lighting and tech such as a Wi-Fi hotspot.
Sat-nav, stereo and infotainment
The Continental GT features a large touchscreen navigation system with live traffic data and online searching for point of interest info. The 30GB hard drive system also features full European mapping and satellite landscape imaging. Bluetooth connectivity is standard, but you can upgrade to a Wi-Fi hotspot too.
There's an eight speaker, eight channel music system as standard, but you can upgrade to the 15 channel system with eleven custom-built speakers developed by British audio firm NAIM.
Practicality, comfort and boot space
A roomy cabin and decent boot space make the Continental a true Grand Tourer
For luxury grand touring, a combination of effortless power, chassis poise and compliant suspension mean things don't get much better than the charismatic Continental V8 S – or the W12 version if you want a waftier feel. However for its size, there's no denying the practical limitation of cramped rear seats, and while the interior is beautifully trimmed, all that expensive wood and leather does demand a certain amount of respect from the occupants.
The back seat is of limited value for adults except for short trips, but it adds to the roomy feel and of course provides lots of extra storage – in addition to the roomy glove box and centre console cubby.
Visibility out of the car is fine, but the long bonnet and swoopy rear three-quarter lines mean care is required for urban manoeuvring too.
Size
The Continental is a big car, and a heavy one, weighing-in at a hefty 2,295kgs for the V8 model and 2,320kgs for the W12.
At 4,807mm long it's not quite as big as a Mercedes S-Class Coupe though (5,027mm), and once acclimatised to the Bentley's proportions it's not a difficult car to place on the road.
Leg room, head room & passenger space
There's plenty of room for two up front in the Continental GT, but those in the back seats will find there's not much legroom - which is a surprise considering how big the Conti GT is on the outside. The low roofline and small rear windows don't help rear passengers feel at home, either.
Boot
At least the 358-litre boot is decently-proportioned and well-shaped. And while the rear bench doesn't fold flat, few people will buy a Conti for its practicality – indeed, they've probably already got a Range Rover in the garage, or will have their eye on the new Bentley Bentayga SUV.
In spite of substantial updating over the years, the Continental GT is quite long in the tooth. This in-itself means many potential problems will have been ironed out, but the Continental also uses many tried and tested parts from the VW Group, which should also help to ensure reliability.
The 4.0-litre twin-turbo V8 is a new-ish addition, but as it was designed for top-of-the-range cars from Audi and Porsche it's certainly not susceptible to the sorts of production issues that may have afflicted low-volume British luxury products in the past.
The W12 engine is hand-built by highly skilled workers at the Bentley factory in Crewe, which also supplies the engine to the rest of the VW Group. As a result, Bentley can claim to produce more 12-cylinder engines than any other manufacturer in the world, and is described as a centre of excellent for 12-cylinder engines for the entire VW Group.
The VW-group component sharing runs much deeper than engines, of course, with electronics and other mechanical items plucked from the group parts bins.
And while the Continental is hand-assembled, the fit and finish of the interior trim is naturally exemplary – as customers in the sector expect.
As a result, the Continental feels both beautifully built, and built to last.
Safety is well-covered too, not least because the car features standard four-wheel drive, giving terrific grip even in adverse conditions. It's also worth specifying the carbon-ceramic brakes if you are an enthusiastic driver. They provide awesome stopping power for such a heavy machine.
Warranty
The Bentley factory warranty runs for three years, and there's no mileage cap. This level of cover is pretty standard fare in the luxury car sector, but the unlimited mileage will reassure users who use their cars extensively for the sort of long-haul continental touring implicit in the model's name.
Servicing
Pre-paid servicing and maintenance packages are available from Bentley dealers who want to make the ownership experience as stress-free as possible – at a price, of course.
The Continental's service interval is 10,000 miles or annual, whichever comes first.
Next Steps
Which Is Best
Cheapest
Name

4.0 V8 2dr Auto [City Spec]

Gearbox type

Semi-auto

Price

£166,200
Most Economical
Name

4.0 V8 2dr Auto [City Spec]

Gearbox type

Semi-auto

Price

£166,200
Fastest
Name

6.0 W12 Speed 2dr Auto

Gearbox type

Semi-auto

Price

£209,900