Best hybrid and electric cars for Motability
You don't have to choose between just petrol and diesel cars - the Motability scheme now includes a lot of electric and hybrid models too.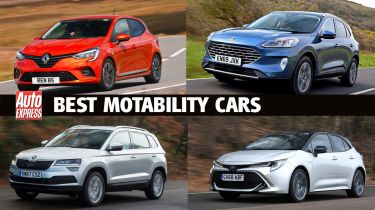 You're not just limited to petrol and diesel cars; electric and hybrid Motability cars are widely available, and include many of the most popular electrified models. They're usually more expensive for private buyers than a similar petrol car, but that difference is often non-existent here.
Electric cars are much cheaper to run than a conventionally fuelled car, so you'll save yourself some money by choosing one of these cars on Motability (a full charge only costs a few pounds, a fraction of the cost of a full tank of fuel). Even hybrid and plug-in hybrid cars can save you money if you regularly use the electric power.
Check out our picks for the best electric and hybrid Motability cars.
Vauxhall Corsa-e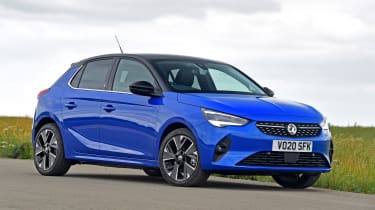 The latest Vauxhall Corsa is one of Britain's best-selling cars. Cheap PCP deals appeal to many buyers, and it brings a much more interesting design and a wider spread of technology than before. Its engines are economical, too.
There's also an electric Vauxhall Corsa-e model for the first time, and this is a great option if you want a small car that never needs filling up with petrol. Amazingly, even top-spec Elite Nav cars can be leased with no initial payment, and you get a huge 10-inch touchscreen, state-of-the-art headlights, heated seats and a rear-view camera.
The Corsa-e is speedy off the line, and the extra weight of the batteries is almost completely disguised - so it doesn't feel much different to petrol versions. Rapid-charging at a 100kW plug sees the battery topped up to 80% charge in half an hour, or a home wallbox will fully complete the charge in 7.5 hours. Plug in it before you go to bed and it'll be fully charged and ready to go when you wake up.
Nissan Leaf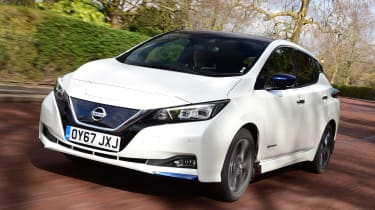 One of the world's best-selling electric cars, the Nissan Leaf is a family-size hatchback like a Ford Focus, but fully electric. The current model looks a lot smarter and less unusual than the first Leaf, and provides a longer range between charges as well.
The standard Leaf manages 168 miles between charges, so you should only need to recharge it every few days. For longer trips, 80% charge can be achieved in 40 minutes at a 50kW public charger. A longer-range model called the Leaf e+ manages up to 239 miles on a charge, but this is more expensive and takes longer to recharge.
Acenta trim may be the entry-level version, but it's still very well-equipped with goodies like a rear-view camera and navigation. Nissan gives you plenty of standard safety equipment, too, like auto emergency braking, blind-spot monitoring and a cross-traffic alert.
Toyota RAV4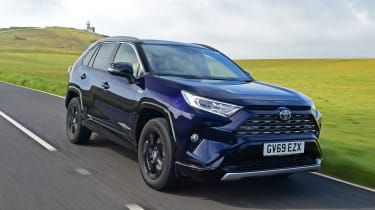 With initial rental prices kicking off at around £2,500, the hybrid RAV4 might seem pricey compared with some alternatives. But there's still plenty to recommend - It's spacious, refined and well built, and while some rivals offer sharper handling, the Toyota counters with great comfort. It's just a shame that the infotainment system is still well behind the best in class, and that the engine drones so noisily.
Both versions take just over eight seconds to reach 62mph, but from behind the wheel they feel much quicker: the instant torque of the electric motor makes for a lively standing start, and the power builds from there in one smooth, linear shove. The hybrid engine also brings impressive fuel economy and cleaner emissions.
Toyota has made the RAV4 a pretty simple car to drive, too - the precise steering makes it easy to place on the road, and it's light at parking speeds. You can make up your own mind about the exterior styling, but at least it could never be mistaken for a Skoda Karoq or a VW Tiguan.
Have you ever owned one of our best hybrid and electric cars for Motability? Give us your review in the comments section below...