Lotus Esprit, The Spy Who Loved Me (1977)
BOND FACT: The Esprit that crashed into the sea was a mock-up fired by an air cannon.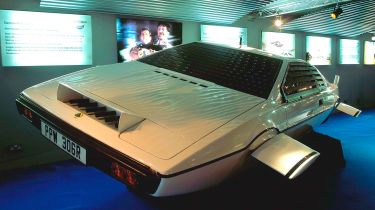 If any other car can compete with the Aston Martin DB5 for the accolade of being known as Bond's car, it's the white Lotus Esprit from The Spy Who Loved Me. And undoubtedly it's the car most closely associated with Roger Moore's time as 007.
Bond is investigating the disappearance of British, Russian and American nuclear submarines, and his travels take him to Sardinia, where Q has a special car waiting for him. It has the usual range of MI6 extras, including cement-spraying jets, a mine dispenser and missiles, but the white Esprit's main party trick is revealed when 007 is being pursued by the bad guys.
After a long jump off of a short pier, the Esprit looks doomed, but with the flick of a switch, Bond turns the supercar into a submarine and makes good his escape.
While a number of Esprits were used in the chase scene, the final car is hardly a Lotus at all. Instead, Wet Nellie, as it was affectionately known, is a wet submarine.
Producers didn't have the budget to build a watertight submersible, and the addition of louvres on all the windows made it easy to simply drape a fibreglass Esprit shell over a wet sub. Drive for this machine came courtesy of two scuba divers, who were hidden on board!
• Aston Martin DB5• Sunbeam Alpine• Aston Martin DBS• Ford Mustang Mach 1• BMW Z8• Aston Martin Vanquish• Citroen 2CV• What the villains drove