Best small cars for Motability
Small cars offer Motability users transport to get from A to B, but there's much more to our three picks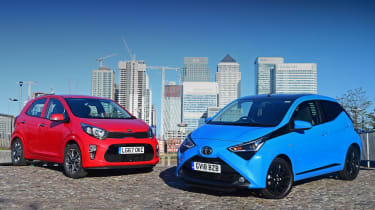 Some Motability users just want to get mobile, so a small car is all that's needed. There are plenty of city cars available on the Motability scheme, and the majority of these come with a nil advance payment deal.
Our picks for the best small cars on Motability offer the most practicality in the city car sector, with wide opening doors and space inside to carry everything you might need, although not necessarily all of it in the boot, so easy-folding back seats are also a highlight. These cars are easy on the wallet as well, with some of the lowest running costs of any cars on sale, and they're not afraid of venturing beyond city streets for longer runs on the motorway, either.
Our top three small cars for Motability customers are listed below… 
Hyundai i10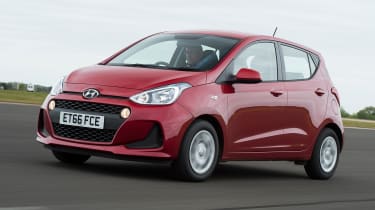 Despite its dinky dimensions, the Hyundai i10 feels like a surprisingly grown-up car to drive. It's helped by a choice of 1.0 and 1.2-litre petrol engines, with the latter being a good bet if you know you're going to be doing a few more out-of-town journeys than a city car normally would. That said, the 1.0 isn't out of its depth on the open road, it's just that the 1.2 is a little bit more refined.
There's plenty of space inside, but while there are three seatbelts in the back, shoulder room might get a little bit tight. Still, there are no complaints when travelling four-up, although you'll have to choose between carrying luggage or people, because the boot is small.
The five-door layout means cabin access is a breeze, while all models feature the kind of spec that puts some more expensive superminis to shame. Overall, the Hyundai i10 is a dependable and reliable choice that wil appeal to buyers wanting a city car that can get the job done without fuss, as well as take on the occasional longer journey. 
Toyota Aygo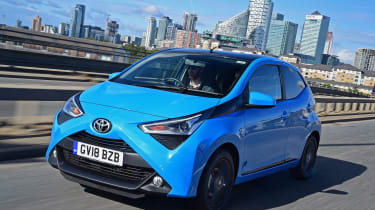 The Aygo is the Japanese city car that shares its running gear with the Citroen C1 and Peugeot 108. But while those two came with the option of a 1.2-litre engine until recently, the Aygo has only ever had a 1.0-litre three-cylinder petrol engine. It's a great little motor that loves to be revved and it has enough power to keep pace with city traffic. Add in super-light steering and controls, and this is a city car that's right at home being hustled around the urban jungle.
It doesn't look bad, either. The distinctive 'X' nose design is eye-catching when compared to the fussy looks of the C1 or 108, while a range of personalisation options, including contrast roof colours and even an opening canvas top, mean the Aygo can really stand out from the crowd.
Like our other picks, you'll have to choose between carrying passengers and luggage, while there are only two seatbelts in the back, making the Aygo a four-seater only. Still, there's plenty of multimedia connectivity up front, while the dinky dimensions mean it's a car that inspires confidence on the road.
SEAT Mii/Skoda Citigo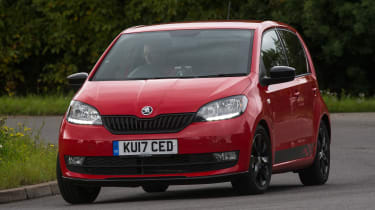 The recently facelifted SEAT and Skoda duo are sister cars to the VW up!, but that model isn't available on Motability at the moment. That's no real loss, because all the Mii and Citigo lack over the Up! is that car's 1.0 TSI petrol engine and its higher list prices. It's no hardship having to plump for the 1.0 MPI petrol, because both the 60PS and 75PS versions are eager to rev and deliver decent punch in such a small, lightweight package.
The kit list is reasonable, while Apple CarPlay and Android Auto let you add your own smartphone navigation rather than paying for it as an expensive extra. There's room for four inside, but again the boot is on the small side, although the back seats split and fold 50:50 to give you additional space.
Like the i10, the SEAT and Skoda city cars don't mind a bit of out-of-town action, with entertaining handling in the bends if you want it and surprising long-distance comfort at motorway speeds. That will have an impact on fuel economy, but official figures of around 66mpg are easy to get close to if you stick to city streets.
Have you ever owned one of our best small cars for Motability? Give us your review in the comments section below...