Weirdest car special editions ever
There are too many car special editions to mention but some are stranger than others...
The car world is no stranger to a special edition. Almost every car brand has concocted at least a handful over its lifetime - if not several hands full - and these limited run specials range from the icy cool to the truly rubbish.
A special edition car can take many forms. Some are tie-ins with other brands, some mark important anniversaries or hark back to classic models of the past, while others are just cynical ploys to jolt some life into sales figures for aeging cars the public is losing interest in. Special editions are usually limited in number, sometimes have unique features and regularly aim to hook people in on the old 'more kit for less money' basis.
• Car configurator overkill: how not to spec your new car
About the only thing that every special edition car shares is the basic need to stand out from the crowds of other cars on sale. This presents a problem for manufacturers as, with so many special editions having been created, original, attention grabbing ideas are hard to come by. If the car brands aren't careful, the hunt for something new can lead to special edition models that seem, shall we say, a little bit odd.
We've trawled the archives, and our memory banks, to compile the following list of some of the weirdest special edition cars in recent years. We also focused on special editions you could buy with your own money, so one-offs like the Jeep Renegade Hell's Revenge and the absolutely brilliant Toyota GT 86 'Initial D' didn't make the cut. Feel free to let us know in the comments section about any special edition cars that have stuck in your memory. In our poll at the bottom of the page, you can also upvote or downvote our selection to have your say on the best and worst ones!
Weirdest car special editions ever
DS 3 Le Makeup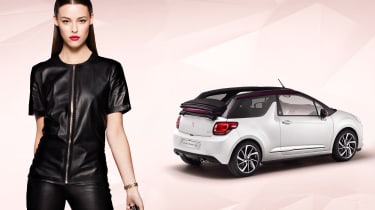 On sale: Now
It isn't the first time that a make-up or fashion brand has teamed up with a car maker, but this is one of the most recent. Designed for "women who are always on the go", the awkwardly named 'New DS 3 Givenchy Le MakeUp Limited Edition' features an Opaline White / Whisper Purple paintjob and a long kit list. The piece de resistance, though, is the cosmetics kit integrated into the centre armrest, which includes lipstick, mascara, face powder and exclusive Whisper Purple nail varnish.
Holland & Holland Range Rover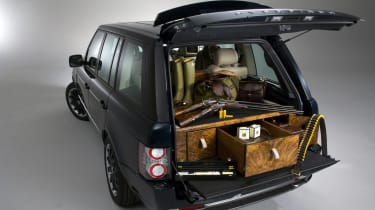 On sale: First-gen: 2009, second-gen: now
You might have thought that alcohol, driving and firearms would be three things best kept apart but the people behind this special edition Land Rover thought otherwise. Gun makers Holland & Holland famously joined forces with Land Rover tuning brand Overfinch to create an absolute beast of an SUV with an on-board arsenal. The dark green Range Rover cost almost £140,000, and was kitted out with two of the gunmaker's shotguns and a champagne fridge. This wasn't the first time Holland & Holland and Land Rover came together, as the most recent Range Rover was treated to a very similar kit list.
Hyundai Tucson Walking Dead Edition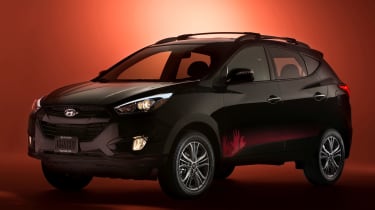 On sale: 2014
Hyundai celebrated the 10th anniversary of The Walking Dead's graphic novel series in 2014 with a special edition Tucson model sold in the US. The car was finished in Ash Black with red zombie hand graphics and came with a zombie survival backpack that had light sticks, tissues and emergency drinking water inside. Conveniently enough, a metallic green Tucson (named the ix35 in Europe) also featured in the TV series at around the same time.
Citroen C3 Pluriel Charleston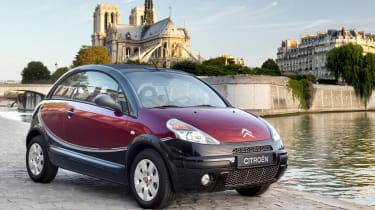 On sale: 2009
If you bought a Citroen C3 Pluriel during its surprising seven-year lifespan, it's safe to assume subtlety isn't what you were going for. However, Citroen went one better than the standard car and introduced an even brasher edition of its rather conspicuous convertible. The Charleston edition was built to commemorate 60 years of Citroen's most famous car - the 2CV - and featured paintwork inspired by a 2CV special edition of the same name. The Pluriel Charleston was also kitted out with purple-detailed alloys, a purple crystal-like gearknob and leather seats.
Kahn Flying Huntsman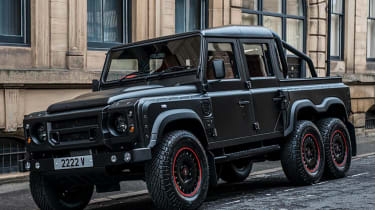 On sale: Now
If you like your Land Rovers and have a lot of money, you're in luck; Overfinch, Onyx and Kahn are just a couple of the well-known modification specialists that can make your 4x4 unique. The latter created this monstrosity; the Kahn Flying Huntsman is a 6x6 Defender with a quilted leather interior and your choice of either a 2.2-litre diesel or an enormous 6.2-litre V8 with 500bhp. Just leave your dignity at the door before you hop in.
Volkswagen Polo Harlequin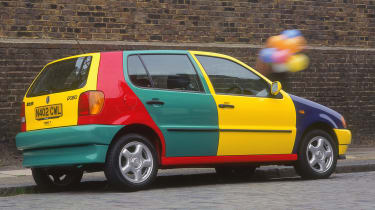 On sale: 1995/6
How could we make a list of special editions and not include the Volkswagen Polo Harlequin model? Initially, the Harlequin was merely a gimmick at a motor show, which was meant to demonstrate the different colours available to Polo buyers at the time. However, Volkswagen had floods of orders, so decided to make it a real thing. Nothing was really that different compared to a standard Polo, but that didn't stop people buying them, and didn't stop VW making a Golf version either. In fact, Polo Harlequins are still relatively sought after even today.
SsangYong Korando Sports DMZ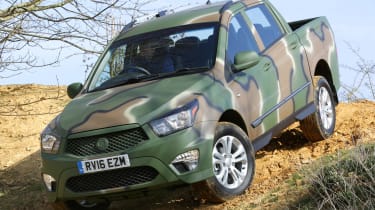 On sale: Now
The UK pick-up market is awash with brash special editions that are meant to add some more appeal to their basic "workhorse" personalities – the Volkswagen Amarok Atacama and Isuzu D-MAX Arctic Trucks AT35 spring to mind at recent examples of the type. When SsangYong UK wanted to get in on the act, it bought in a few hundred examples of a military-spec Korando Sports truck spotted at its South Korean factory. Named after the famously tense 'Demilitarized Zone' between North and South Korea, the DMZ's only feature in addition to a standard Korando Sports is its camouflage paintwork. What might help you blend perfectly in to a remote Korean woodland ensures you stick out like a sore thumb on your local high street.
Hyundai Santa Fe Team Wiggins Edition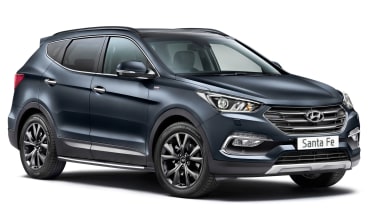 On sale: Now
If you want to drive a car named after a current sports star, you don't have too many options but the Hyundai Santa Fe Team Wiggins special edition is one. Hardly anything sets the model out, other than unique alloy wheels; so you're basically getting a fairly standard Santa Fe with top-spec Premium SE trim and a top cyclist's name stamped on the back. The car was built to commemorate Hyundai's partnership with Sir Bradley Wiggins and his cycling team. Sideburns are not included.
Skoda Felicia Fun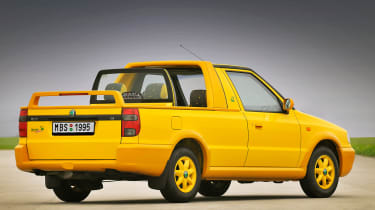 On sale: 1995
The modern Skoda has built a reputation for sensible, good value cars that are strong on practicality. It's not known for pushing the boat out with its wacky special editions. This might be because Skoda used up its entire wackiness reservoir for the next 100 years with this - the Skoda Felicia Fun. It's a bright yellow pick-up with choice bits of the interior finished in the same retina-scorching colour. It was described as a 'lifestyle vehicle' but we're still unsure what lifestyle it was created for. Along with the front bull bar and huge hoop-like spoiler, a set of rear seats could be folded out from the back of the cab. Skoda ended up selling 3,992 of them, and it certainly injected a bit of spice to the Czech brand's range at the time.
Ford GT '66 Heritage Edition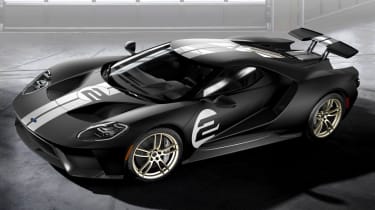 On sale: 2017
As order books filled up for the hotly anticipated new Ford GT, Ford also announced a limited edition version to celebrate its historic Le Mans win. The special edition features design cues that hark back to the GT40 that won Ford its first Le Mans title in 1966. The '66 Herritage Edition shares the GT40's gold wheels and a black-with-silver-stripes paintjob while flashes of gold detailing are added inside, along with a plaque with a unique ID number.
Fiat 500 Riva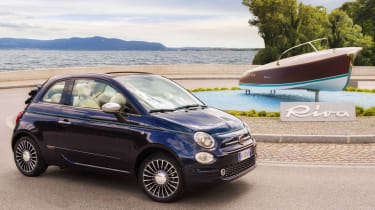 On sale: Now
We could almost compile a whole seperate list of interesting Fiat 500 special editions, there have been that many unusual specced-up limited run versions of the retro Italian city car over the years. Rather than name check them all though, we've picked one that stands out. The 500 Riva was inspired by the classic Italian boatmaker, so there's some hand painted mahogany on the dashboard and the 500C version gets a fabric roof in a unique blue colour. Perfect for cruising along the riviera.
Citroen Saxo Mischief/Bic/Open Scandal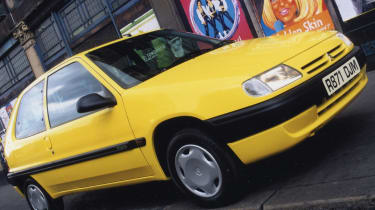 On sale: 1996 - 2003
The Citroen Saxo makes the list for its silly special edition names more than anything else. The Saxo was another car that spawned countless special edition versions over its lifespan, possibly more than it deserved. Memorable ones included the Saxo Mischief, which was only mischievous because the sole extra included over the standard car was metallic yellow paint. The Saxo BIC (yes, that's the maker of biro pens and disposable razors) edition was similarly finished in gloss yellow and had some jazzy seat fabric, while the Citroen Saxo Open Scandal had a roll-top fabric roof.
Vauxhall Corsa Limited Edition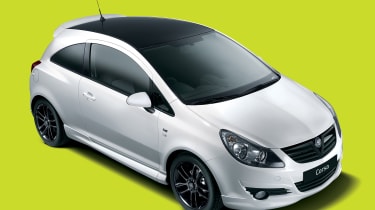 On sale: Now
At least the rest of the cars on this list have the decency to be real limited editions, despite its name, the Vauxhall Corsa Limited Edition is not in any way special, unique or limited in number. In fact, having been on sale since 2010, it's pretty much a fixture in the Corsa range. It's the go-to Corsa for any youngster looking to get an affordable, sporty-looking supermini. Limited Edition Corsas can be easily detected thanks to black alloys, a subtle bodykit and loud trance music being blasted out of the open windows.
Have your say on our list by upvoting and downvoting the selection below...