Nine things we learned at the 2015 Frankfurt Motor Show
In the aftermath of the 2015 Frankfurt Motor Show press days it's time to pinpoint the key grains of knowledge we can take away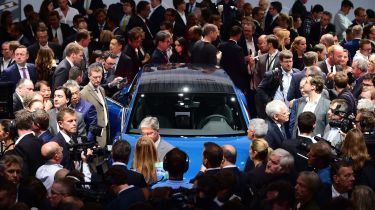 Frankfurt put on a motor show. The world's car press came, walked, talked, photographed, typed, complained about the wifi and the heat of the lights, then left. The Frankfurt Internationale Automobil-Ausstellung (IAA) packed everyone off to the airport with sore feet and a clearer picture of where the world of cars might be headed over the coming months and years.
A good time was had by all. If you love cars, as the Auto Express team undoubtedly does, the 2015 Frankfurt Motor Show was the place to be for those two days of automotive magic and we'd heartily recommend making the trip out now that the show is open to the public until September 27th. But what did we actually learn as we scuttled around the wide open, car-strewn spaces of the Frankfurt show halls like so many smartphone wielding ants?
With the dust settled and the canapés digested, now seems as good a time as any to take stock. As ever, there were more questions than answers but below are the 9 key things we think we learned at the 2015 Frankfurt Motor Show…
1. Now crossovers are going sporty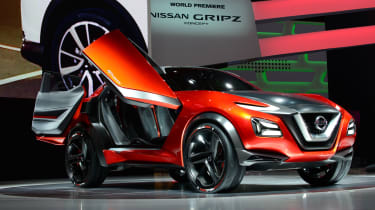 Crossover is the term that has defined the car industry over the last few years. But if you thought the boom in these SUVs optimised for on-road driving had run its course, think again. It feels like we've said this before but 'crossovers' is the boom that keeps on booming and the next detonation looks set to send them sporty.
Performance crossovers and coupe SUVs were everywhere at Frankfurt 2015. The latter is nothing new but the market for more sleekly styled 4x4s pioneered by BMW's X6 then expanded by the likes of the X4 and Mercedes' GLE Coupe is about to get a crop of new protagonists. The e-tron Quattro concept pointed to Audi's imminent arrival in this space while the Mazda Koeru previewed a curvy crossover coupe to sit between the CX-3 and CX-5.
• "SUVs are, at last, living up to their name"
Toyota's compact C-HR concept looked far too dramatic to ever make the showroom with a Toyota badge on the front, then Toyota confirmed it had almost concrete plans to build the daring Nissan Juke rival, and everyone gasped. Predictably, those crossover trailblazers at Nissan were at it too with the Gripz concept, a jacked-up hot hatch that points to a family of new sporty models, while Jaguar crowed about the dynamic abilities of its F-Pace SUV and SEAT revealed a the Leon Sport Cross, a taller Cupra hot hatch. There was a time when if you wanted style and performance you looked for something low to the road, now it seems the all-conquering crossover is aiming to do that too.          
2. Car brands are just giving us what we want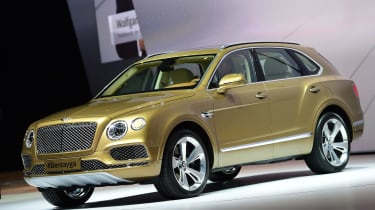 Many people who would count themselves as car fans look upon the rise of the crossover, and its impending invasion of the sporty car arena, with disdain. If you're one of them, it's worth taking a step back for a peek at the bigger picture. Car manufacturers are in the business of selling cars and the rise, rise and rise of the crossover has come about overwhelmingly because car buyers can't get enough of them.
Partnership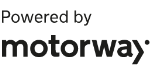 Need to sell your car?
Find your best offer from over 5,000+ dealers. It's that easy.
Building cars that people don't want to buy is not a profitable way to run a car company so manufacturers edge their new models towards production extremely cautiously, taking the temperature of consumer demand all the while. You get a strong feel for this from the execs at the Frankfurt Show. When asked about the possibility of a new electric MINI or a roadster, MINI's project management boss Ralph Mahler repeated the mantra, "We must ensure the products fit demand". While Mazda President Masamichi Kogai put it in a nutshell when discussing the Koeru crossover concept with Auto Express: "We would like to see it in production, but we need to monitor customers' voices and see if it can deliver sustainable sales volumes before making the final judgement."
The car market is a truly global thing these days and while it might be hard to imagine anyone you know stumping up for some of the new models at the Frankfurt show, you can bet that somewhere on the planet there's a willing market they've been created to tap into.
3.  The autonomous absence could mean one of two things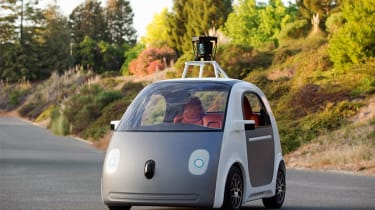 If you believe the non-motoring press, autonomous cars from global tech giants will soon arrive to consign today's dirty, dangerous, fossil fuelled machines to the history books, but at this major international motor show, self-driving vehicles were noticeable only by their absence.
We know every major car manufacturer is looking seriously at autonomous driving technology but they're being a lot less gung-ho in their claims and ambitions for it than, for example, Google. The lack of self-driving concepts at Frankfurt might be the car industry burying its head in the face of the looming robot car revolution or it could simply be that fully autonomous car tech has major technological, legislative and ethical barriers to overcome before it reaches consumers.     
4. The door mirror's days are numbered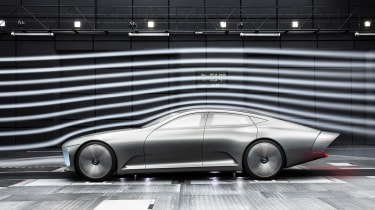 It spells good news for those who've had enough of bluff-fronted SUVs, but aerodynamics returned to prominence at this year's Frankfurt Motor Show with the Mercedes IAA concept in the vanguard. It never really went away, of course – most modern cars spend a chunk of their formative years in a wind tunnel (virtual or otherwise) these days, but as manufacturers scramble for increasing efficiency gains the aerodynamic aids that emerge are becoming ever more advanced.
The Mercedes IAA actually grows in length at speeds above 50mph when extendable flaps emerge from each end to help it achieve a world record drag coefficient of 0.19. Audi's e-tron Quattro has bonnet vents that open and close to add slipperiness too. But the change that seems most likely to appear in production cars in the future isn't an addition but a subtraction.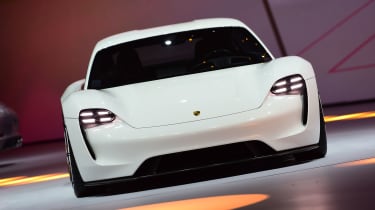 In this new aerodynamically optimised world, the door mirror's days would seem to be numbered. Rear facing cameras and display screens can do the job cheaply and without protrusions at the side of the car robbing you of valuable mpg. Look at the Nissan Gripz, Peugeot Fractal, Porsche Mission E, Audi e-tron Quattro and Mercedes IAA concepts and there isn't a conventional door mirror between them.       
5. Jag loves a stunt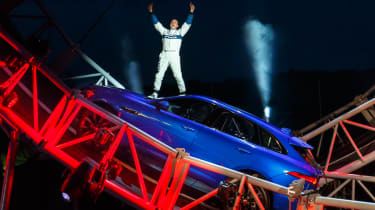 Jaguar had a very good go at wrestling the public imagination away from its German rivals on the eve of the Frankfurt Motor Show by getting a man called Terry to do a loop-the-loop in the new F-Pace. Stunt driver Terry Grant completed the feat on a specially-built track to claim a Guinness World Record for the biggest ever loop-the-loop by a car - a record that it'll be hard for anyone ever to find the inclination (or cash) to break.
The loop is the latest in a long line of Jaguar launch stunts, such as helicoptering the new XE over London, which set it up as a plucky, slightly daring, outsider to the more clinical and straight laced world of BMW, Audi and Mercedes triumvirate. It's not a bad bit of positioning for a plucky Brit brand looking to make a breakthrough. And everyone loves a loop-the-loop.    
6. Everyone's got a 'Tesla rival'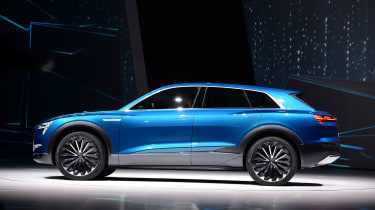 What Tesla has achieved as a car maker in such a short space of time is nothing short of remarkable, but now the young upstart has established a level of prominence in the luxury electric car market, it's there to be shot down. Unsurprisingly the big guns of traditional car manufacturing are jealously wheeling out their, er, big guns and the number of them with a 'Tesla rival' in the works was notable at Frankfurt.
The Tesla connection is partly the fault of the press who just love describing anything big and electric as a Tesla challenger, but it's hard to imagine that high-end electric cars like the Porsche Mission E and the Audi e-tron Quattro were created without an envious glance at Tesla's success.  
7. 007 is licensed to sell cars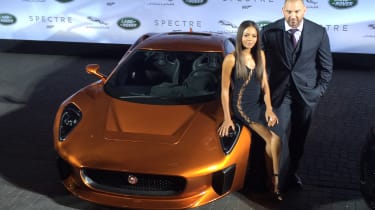 Bond, James Bond has been associated with some cracking cars over the course of his 23 film outings, doing wonders for Aston Martin's bottom line in the process. He's also committed some heinous crimes of automotive product placement in more recent times and that sets alarm bells ringing where the new movie Spectre is concerned.
The car cast list of the film was shown off in full at Frankfurt with Aston Martin once again in the lead role with the DB10 concept and a whole series of Jaguar Land Rover models as supporting actors. With the Jag C-X75, Range Rover Sport SVR and an SVO fettled Defender, It's car line-up that even Dr No would say yes to, but let's hope they blend seamlessly into the action rather than sticking out like sore thumbs, or gold fingers.      
8. All the good car names are taken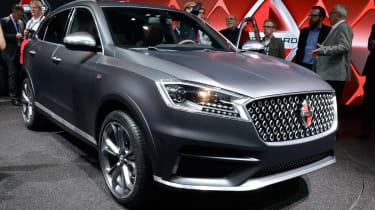 You have to have some sympathy for car makers. Over the course of its long and rich history the automotive industry has created a lot of cars and chosen names for almost all of them, so it stands to reason that the supply of good car names will have dwindled over time. The effects of the chronic shortage could be felt at Frankfurt where we were treated to the Bentley Bentayga, the Nissan Gripz and the Honda Civic Tourer Active Life Concept.
If that wasn't bad enough, long dead German manufacturer Borgward resurfaced alongside Taiwanese electric car maker Thunder Power. A silly car name is one thing but a silly car brand name consigns all future model launches to the kind of childish sniggering they could do without.  
9. Bugatti lives in its own mad, mad world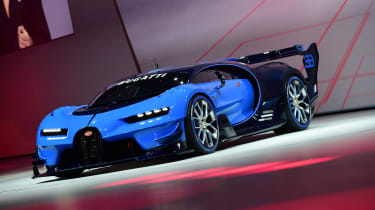 After unleashing the epoch-defining Veyron in 2005, Bugatti is in the unfortunate position of having to blow everyone else out of the water with the power, speed and price of every car it builds, but it's a necessity that Bugatti absolutely revels in. At Frankfurt it showed the Bugatti Vision Gran Turismo concept, a car that's said to point the way to the Veryron succeeding Chiron. If any other brand suggested it was about to launch a 1,627bhp, 270mph, W16 quad-turbo hypercar we'd laugh. When Bugatti does it, we start buying more lottery tickets.
What did you learn from the 2015 Frankfurt Motor Show? Tell us in the comments section below...