Qashqai v rivals
Can Nissan Qashqai's mix of hatch practicality and chunky styling beat the VW Golf, an unusual Dodge and a go-anywhere Kia?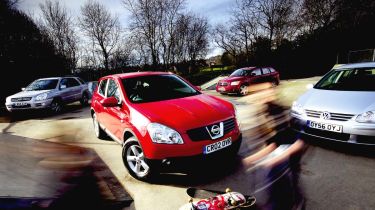 Promoted with an urban skate boarding-themed advertisingcampaign, the Nissan Qashqai is a real departure from the ageing Almera it replaces. But behind the marketing speak, what's this British-built newcomer all about?
Well, the Japanese firm believes that the family hatchback market is changing. So rather than replace a conventional car with more of the same, it has taken the brave decision of launching the 'crossover' Qashqai.
And Nissan could be on to a winner, as the newcomer has been designed to offer the lofty driving position of an SUV without the cost and environmental issues that are associated with off-roaders. Available in front and all-wheel-drive versions, the Qashqai has a choice of four engines and is no bigger than a regular hatchback – but where will its competition come from?
Well, it's not alone in offering a crossover vehicle. Launched lastyear, the Dodge Caliber claims similar abilities. But Nissan also hopes to attract buyers who want style and quality, so the Qashqai needs to better VW's Golf, too. It's the current benchmark in the hatch class in these areas.
However, if you want a 4x4, why not buy a compact SUV? The Kia Sportage is a close match on price, and will test the Nissan's family-friendly attributes.
So join us as we cut through the confusion and find out which is the best car for your money.