Volkswagen Tiguan vs rivals
Volkswagen has finally launched its Tiguan SUV – 14 years after the sector was created! Can it leap straight to the top of the class?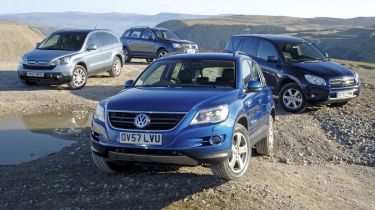 The best things come to... well, you know how the saying goes. If it's true, then Volkswagen's new Tiguan compact SUV should be the best off-roader the world has ever seen.
Toyota's RAV4, the model which kick-started the compact SUV craze, first appeared no less than 14 years ago! And with the eco bandwagon gathering pace, there are fears the boom times may be over for the class.
So has VW left it too late by waiting until now to enter the fray? It will be fervently hoping that's not the case, because this sector should be tailor made for a company with the sort of brand image the German firm enjoys. But is the Tiguan worth the wait? Mixing a Golf-based platform with styling inspired by the full-size Touareg and 4MOTION all-wheel-drive, it's off to a good start. However, it's not intended to take on the more rugged Land Rover Freelander or Nissan X-Trail – instead, we've lined up more road-biased rivals.
First up is the latest version of the RAV4. Now in its third generation, it's still one of the biggest sellers in the class. Our next contender is the new Honda CR-V, which is now larger and more family friendly. Or can the chunky Vauxhall Antara take the honours? It's much less utilitarian than the firm's first 4x4, the Frontera.
So the keenly anticipated Tiguan has much to prove. Will the VW deliver? Read on as we reveal all...
Verdict
Sadly for Vauxhall, deciding which car finishes last here was easy. As we have found in previous tests, the Antara is a real disappointment. Despite its large dimensions and well proportioned looks, the boot is small, it lacks practicality and the dynamics are flawed, with a dreadful gearbox. Next is the Toyota RAV4, which is fun to drive, well built and economical. Yet the engine lacks punch, and it looks and feels a little old-fashioned.
The new VW Tiguan comes home second. We're impressed by its modern styling, solid build quality, polished driving experience and strong residuals. but less convinced by its small size, which limits its family appeal.
So Honda's CR-V stands proudly at the top of the podium. It's bigger and more practical, and the 2.2 i-CTDi engine offers the best blend of refinement, performance and economy. In short, it's the best compact SUV here.