Mini One Clubman vs rivals
They're summer's coolest city runarounds. But which of the new MINI Clubman One, Kia Soul and Toyota Urban Cruiser gets our vote?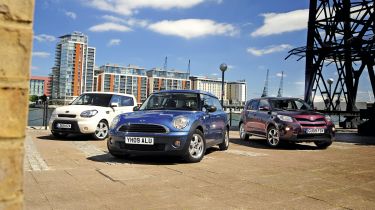 Want to stand out from the small car crowd? Well, there is no shortage of image-driven models trying to attract your attention. For the same price as conventional superminis, they give buyers the chance to make a real style statement. MINI dominates the urban landscape here, and its Clubman is now available in entry- level One trim for the first time. But it isn't the only newcomer that mixes unique styling with extra room.
The Toyota Urban Cruiser is different in concept, but similarly priced and aimed squarely at the same image-driven buyers as the MINI. It is based on the firm's Yaris platform and bosses claim it combines rugged off-road styling with a healthy dose of city-friendliness. As with the MINI, it benefits from a stop-start system, and its 1.3-litre engine promises performance to match its British rival.
They both face competition from Kia's Soul. It is the bargain of the trio, with a bigger engine than its rivals and a smaller price tag. Its 4x4-style looks are a brave attempt to attract buyers with charm and desirability, as well as value. So which comes out on top in the urban jungle?
Verdict
It was inevitable – the incredible MINI success story was always going to force other car makers to take notice. Now they are tripping over themselves to tap into the market for stylish, fun and desirable small cars. However, while the Fiat 500 is a genuine rival to the MINI hatch, when it comes to the Clubman both Kia and Toyota have a long way to go to knock the MINI off its throne.
The base One delivers a great blend of classic style, brilliant handling and superb quality. It isn't as practical or well equipped as its rivals, but that isn't the deciding factor in this test. The MINI is fun, green and desirable. Its low emissions, superb residuals and fixed price servicing make it a clear winner.
The Soul takes second place. It can't match the Clubman's fun factor, yet it's distinctive, well equipped and great value.
That leaves the Toyota Urban Cruiser in third. Its impressive stop-start system and low emissions are appealing, but it simply isn't different enough from mainstream offerings. Its styling, handling and cabin lack the design flair of the MINI, and compared to the Kia it is very expensive.