Jeep Grand Cherokee vs Rivals
Jeep aims to get back to the top of the off-road pile with its new Grand Cherokee. Can it kick rivals from Land Rover and VW into the long grass?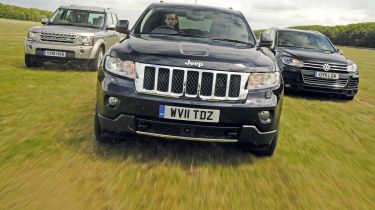 The seven-slot grille is seven decades old. All-American brand Jeep celebrates its 70th birthday this year, and has launched a new Grand Cherokee.
Four million examples of the full-sized SUV have been sold over the years, but the firm hasn't rested on its laurels... A new platform, developed in partnership with Mercedes, and a fresh engine from parent company Fiat make this the most advanced model in Jeep's history.
Bosses think the clever air-suspension, sophisticated off-road system and bold styling will allow it to compete with the best, and that can mean only one thing: the undisputed heavyweight 4x4 champ, Land's Rover Discovery 4.
The Brit brings an extra pair of seats, unrivalled desirability and a luxury cabin to the mud-plugging table. In XS trim, it's also the cheapest car here.
Completing our line-up is an off-roader famed for its ability on the tarmac. Volkswagen's latest Touareg promises executive car refinement and gutsy pace.
We put our trio through their paces on and off-road to name a winner. So what was the outcome of this dirty three-way fight?
Verdict
Jeep is celebrating its 70th year, but the champagne will have to stay on ice for the new Grand Cherokee. It's loaded with kit, and better to look at and drive than its predecessor, but faces stiff competition in the SUV class. Interior quality is no match for its rivals, and the heavy price of depreciation and high running costs also leave it trailing. First place goes to Land Rover's Discovery 4. Not only does it make the most financial sense – residual values are set to be nearly 10 per cent stronger than either opponent – but it's also the most practical car, and hugely capable off-road.
Setting it apart is the imperious way with which it attacks rutted rural tracks and smooth motorway tarmac alike. And from behind the wheel it provides a feelgood factor that's missing from its rivals. The Touareg is a worthy runner-up. It's quick, refined and by far the most efficient model tested here. In fact, when you're in the driver's seat, it's easy to forget you're in a tall-riding SUV. It splits the class-leading Land Rover and new Jeep. The Grand Cherokee is full of kit and good off-road, but lacks the all-round appeal of the talented competition.