BMW ActiveHybrid 5 vs Infiniti M35h
Does the new ActiveHybrid 5 Series mix luxury and efficiency better than the Infiniti M35h?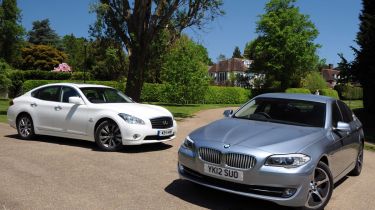 The executive saloon car sector is dominated by diesel power, but could hi-tech petrol-electric cars be an even better bet? By matching a powerful electric motor to a silky-smooth petrol six-cylinder twin-turbo, the BMW 5 Series ActiveHybrid may be the car to tempt UK buyers to make the switch.
At £46,885 the 5 Series isn't cheap to buy, yet its 335bhp engine promises to mix storming performance with official CO2 emissions of only 149g/km. However, BMW isn't the sole brand to have a luxurious four-door hybrid in its line-up.
The Infiniti M35h has been a huge hit in America, and now it's aiming to repeat that success on this side of the Atlantic. On paper the upmarket saloon is a match for its 5 Series rival, as it features a virtually identical price list and engine power output. It also comes packed with standard kit and boasts distinctive styling.
So, can either of these petrol-electric models displace traditional diesels from the driveways of Britain's captains of industry?
Verdict
There are two elements to this verdict: Which is the better hybrid of our pair? And is either car a better choice than established diesel competitors?
In the case of the Infiniti, it's 40g/km cleaner than its M30d diesel stablemate and costs only £1,170 more to buy – so it does make sense. Yet even though the M35h easily matches the ActiveHybrid 5's performance and refinement, it doesn't ride or handle as well. And while the Infiniti is better equipped in terms of comfort and safety technology, the 5 Series has far superior predicted residual values and wins this test.
So does this mean that we'd opt for the ActiveHybrid 5 over other versions of the 5 Series? No. Although it's an accomplished hybrid car and better than its Infiniti rival in this test, it commands a £7,930 premium over the 535i – instantly cancelling out the financial benefits of its lower emissions.
It's BMW's talented diesel engines that really put the nail in the coffin of the ActiveHybrid 5, though. The refined 530d SE is £8,100 cheaper to buy and 10g/km cleaner, while even the powerful 535d SE costs £2,590 less and is 1g/km cleaner. And the hybrid is no better to drive than either.
Still, BMW is well aware of the ActiveHybrid's limited appeal on this side of the Atlantic, and admits it expects to sell fewer than 200 examples this year. What matters here is that, if petrol-electric cars are your thing, the 5 Series is the best executive hybrid saloon currently on sale in the UK.
Winner: BMW ActiveHybrid 5 ★★★
Viewed alongside a line-up of clean, refined and powerful diesel cars, the ActiveHybrid 5 doesn't make a lot of sense. But considered in isolation, the car's hybrid tech works well, blending nicely with the silky-smooth six-cylinder, to deliver effortless performance and reductions in emissions. However, our 25.2mpg economy figure was disappointing.
2nd: Infiniti M35h GT Premium ★★★
If you want to stand out from the executive car crowd, the Infiniti is a strong choice. Its quirky styling and sumptuous cabin are unique selling points, while refinement is excellent. And if the M saloon is for you, then we think the M35h is the pick of the range. Unfortunately, it isn't as clean or as dynamically accomplished as the BMW.