Jaguar C-Type
Built between: 1950-53, number produced: 54, cool cut rating: 5/5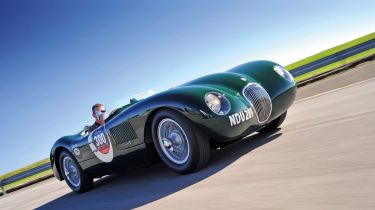 By 1950, Jaguar had proven to the world that it could build superb sports cars, and the firm wanted to create an out-and-out racer to hammer the point home. Originally christened the XK120C (C for competition), that car came to be known simply as the C-Type.
The XK120's proven engine, transmission and front suspension were allied to a rigid, lightweight tubular chassis and clothed in a wind-cheating aluminium body. Beautifully clean lines made the C-Type one of the most stunning models of its day, but it had one clear mission – and that was to win races.
Three factory cars were entered for the 1951 Le Mans 24 Hours and while two were forced to retire, the third took a memorable victory. Cooling problems meant all three works cars retired from the 1952 race, but Jaguar was undaunted.
In 1953 it returned and, aided by revolutionary disc brakes, claimed overall victory again. The C-Type was a hand-built machine listed in the Jaguar brochure at a price of £2,327. Of the 54 C-Types produced, 43 were sold to private buyers who took part in countless races around the globe. The model in our pictures is an early example that was snapped up by an Italian privateer who took part in the 1953 Mille Miglia.
From behind the wheel, you can feel the XK120 underpinnings, but the performance and the delicate approach needed to drive it quickly leave you in no doubt about the skill and bravery of the men who raced them.
Stunningly beautiful, it pioneered the use of disc brakes, scored Jaguar's first Le Mans win and led to the even more radical D-Type – so it's easy to see why the C-Type is one of the most important Jaguars of all-time.
Details
WHY: Racer blended beauty and power to win twice at le mans 24 hours.