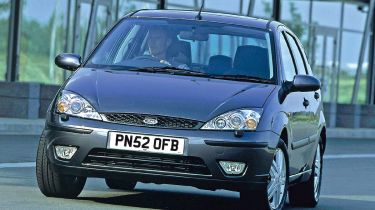 Overall Average Rating - 84.15%Position in the Top 100 cars - 58th
Ratings
Position in the Top 100 carsReliability: 39thBuild Quality: 61stRunning Costs: 44thPerformance: 65thBraking: 78thRide Quality: 53rdHandling: 23rdPracticality: 46thComfort: 83rdEase of Driving: 52nd
Your Quotes
"My Focus is perfectly adequate, and has only suffered from minor niggles such as lack of storage space in the cabin, but the luggage area is good."
Mr Derek Knight - Essex
"Excellent, practical and fun to drive."
Mr Paul Toyne - Leicester
"Good practical warm hatch, excellent handling and gearbox, engine seems to be a bit less powerful than the 170bhp would suggest."
Mr Grant Kleiner - Herts.
"A good workhorse, practical, powerful and economical to run."
Mr Kenneth Green - Co Durham
"A good all-round family car, although the boot could do with being a bit larger. Mine is a 5- door model, maybe the saloon has a bigger boot. I would definitely buy another Focus but this time i would go for a 2-litre engine diesel."
Peter Broadbent - Devon
"Now the small problems have been sorted out it is very good. The support from Ford has been excellent. A courtesy car was provided in the third year."
Mr Sydney - Cumbria
"Good performance, nice handling, good driving position, quite reliable, unfortunately too thirsty and rather high rate of wear on the tyres."
Mr John Chiriga - London
"Great car, good performance, handles well, cheap to run (touch wood!). Would be nice if the interior was a bit more luxurious, but then it was pretty cheap."
Mr Martin Downer - Dunfermline
"Enjoyable to drive - handling particularly good. Very reliable and no problems so far. Will definitely look at purchasing one of the new Focus models next year although will probably opt for a diesel due to now having to travel further to work - a 2-litre Titanium looks good!!"
Lynda Broadley - Cheshire
"Reliable, but with a niggling fault (squeaky engine) that the dealer can't/won't solve."
Mr Stephen Muddell - East Sussex
"Best I've ever had -ideal for all uses."
Mrs Inez Macrae - Edinburgh
"Waited for it and wasn't disappointed."
Mr Brian Winterburn - Tyne And Wear
"The car is okay. I had various faults some of which were repaired under warranty, two of which (the most expensive) were not and failed just after the warranty ran out. These were starter motor and cpu. The cpu cost nearly £900 at a Ford dealer. They had checked the vehicle about 1 month before and charged £90 updating the software."
Mr John Davey - Leicestershire
"Reliable, comfortable and does the job very well."
Mr James Robertson - London
"Good, practical, value for money small car."
Mr Owen Kelly - Surrey
"Reliable runner without being too flashy."
Mr Sin Lau - Stockport
"The focus is a fantastic car, especially in estate form as mine is. I think the Mk1 facelift version is better looking than the new Mk2. To anyone who's never driven a Focus, you don't know what your missing!"
Mr Pete Drake - Hampshire
"I think the car was a good buy but was a little surprised that the clutch went after 47,000 miles."
Mr Andrew Tucker - Lincs
"Average car but that was expected. No frills but not many thrills either."
Mr Anthony Willcocks - Cambridgeshire
"Reliable, smooth and always a pleasure to drive."
Mr Harry Ruel - Berkshire
"I have been very pleased with it in terms of reliability and practical use."
Mrs Zephanie Thompson - Northumberland
"It isn't an Audi or an Alfa Spyder, but it does the job of reliably getting me from A-to-B at reasonably pleasant level of driver comfort and low overall costs, plus I can fit my two under-5's in the back. Prior to Ford's total overhaul of their production quality in the mid-90's I would never of looked at Ford, I now also have a Mondeo Estate..."
Mr Roland Bell - Northamptonshire
"Its a very honest car. Well built and so far reliable with it. Fuel tank could do with being about 10 litres bigger and consumption (although good) is not as amazing as I expected compared to my old car. This maybe down to the Focus estate's extra weight and size.(A three-door Pug 306 1.9td had bigger tank and amazing economy.) It is good fun to drive, with a keen turn in and a lot of grip to lean on. It gives you confidence to carry a lot of speed in corners without threatening to throw you of the road if you have to lift mid corner (unlike the Pugs!). This can be thanks in part to the weight being tightly controlled by quite a stiff set-up. On the whole the ride is very good but on a British B-road it can feel a bit too stiff. The engine pulls well with a good spread of torque over the whole rev range but does a bit sound rattly like diesels of old did. I had a problem with a leaking clutch master cylinder on my car but this was quickly replaced under warranty. I also had a courtesy car whilst the work was done so felt well looked after. Was a little shocked at the cost of decent tyres for the car though. am looking at £60 up for a reasonable named tyre. overall though I really like the car, nice to look at, fun too drive, very practical and so far reliable."
Mr Paul Bowers - Derby
"Great for a 2nd hand motor"
Mr Darren Hodgson - Leeds
"The saloon is not very practical however it still drives as well as the hatch back Focus I used to own."
Mr David Dufton - Scotland
"If the quality was better, average."
Mr Andre Kendall - Northants
"Focus ST when i brought it fantastic, now the new model is out it don't look quite so good, but still happy with it."
Mr Graham Everest - Kent
"Pretty good overall, excellent handling and gearbox, engine feels like its missing some of its 150 horsepower."
Mr Grant Kleiner - Herts.
"A good solid, reliable car that suits my needs."
Mr David Mayo - Lancashire
"I am well pleased with the car, this is my second Focus and if I change again I will buy another one."
Mr Philip Black - Berkshire
"Good to drive, handles well,could do with more acceleration, interior a bit drab, economy very good, paint finish could be better, still pleased with, though."
Mr Jeff Heslin - Liverpool
"Always liked the Focus and has not disappointed me one bit was thinking of getting new ST but not that keen on new shape!"
Mr Colin Hart - Cleveland
Manufacturer Verdict (Position - 20th)
A credible rise of four places has let Ford break into the top 20. Given its position in the sales charts, this is hardly anything to write home about, but at least it is going in the right direction. The firm''s worst rating comes for the comfort of its cabins. You tell us finding the best driving position is a real pain in the back. But the blue oval has finished a full eight places ahead of arch-rival Vauxhall.